Albertan Riley Gagnon heads to Texas for Stateside Campaign
By: Covy Moore Tuesday, April 27, 2021 @ 9:34 PM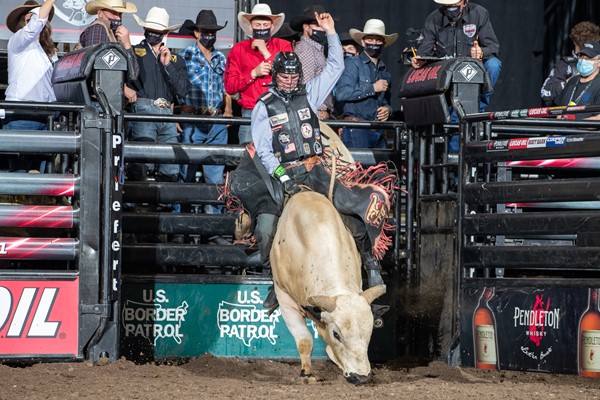 AIRDRIE, Alberta – Coming off a tough PBR Canada Finals in 2020 that saw him leave the season ending event with a concussion, Didsbury, Alberta's Riley Gagnon focused on his recovery. 
Unhappy with his performance at the nation's finals, coupled with the future opportunity to compete stateside, the young cowboy was motivated to get healthy ahead of 2021, uncertain as it was.
"I was devastated honestly," Gagnon began. "I was supposed to head south right after that and go to World Finals to be around to help with some bull stuff. After the PBR Canada Finals, I smacked my head pretty good there. I needed to get my shit right. I was thinking about going to work, and staying focused on bull riding, but not heading south and expect myself to go really hard and make a run at something."
But the delay of his southern travels was shortened when he was contacted by long time mentor Cody Lambert who told Gagnon to pack his bags and head down as soon as possible, with a unique opportunity looming on the horizon.
RELATED: With the Help of a Legend, Gagnon Reaches Career-Highs in Calgary
"Cody Lambert asked me if I had been getting on bulls," Gagnon detailed. "I told him I haven't been, but I have been working out and riding horses bareback and stuff. I hadn't been on a bull in a while. He said he had an opportunity for me, but they want bull riders, not guys who aren't getting on."
Immediately booking tickets to travel to the United States, Gagnon then began a rather brutal routine of getting on five or so head of practice bulls regularly in private sessions with a local contractor. 
"At the end of the month, I will be ready to go," Gagnon said. "I will be physically ready to go, seasoned. In the best riding shape I have been in my life. I was training like I was riding, but I didn't have the bulls under me. I called Nansen Vold and he arranged a little practice for me."
"I was doing five a night for a while there and wondering if there was any more at the end of the night, but he hadn't any more ready."
For the 21-year-old rider, the opportunities to ride for an extended period of time without some sort of injury creeping up have been slim.
But his off period following November's 2020 PBR Canada Finals has given Gagnon the opportunity to get in the best riding shape of his life ahead of his run down south, despite starting out with a forgettable result in Wichita, Kansas last weekend. 
"I have been on more bulls in the last two months than I have in the last two years," Gagnon added. "I stubbed my toe [in Wichita]. I messed up some bulls that I have no reason to fall off of. I was telling dad it's frustrating, but in the last four years I haven't been able to go two full months without getting sidelined or hurt.
"Everything feels good. Things are still feeling fast, and I am not on the very top of my game yet, but that will come." 
As with any rider, for Gagnon, the goal is to win. And he knows that the path to winning, and eventually a gold buckle, is to be consistently finishing bull rides. 
"Doesn't matter what I am entering, my goal is to stay on everything. Through all the injuries, it's something I have been working on my whole career. You have to stay consistent in this sport. My end goal is to earn a gold buckle, but I have to find a way to get there. And right now that way is stay on my bulls." 
"I have the best team in the world," Gagnon continued. "The guys in my corner, they may be some hard asses. You may have rode that bull, but they push you to say you could do even better. If you fall off, you are going to hear about it where I am at. We don't just get on bull around here. There is a lot of pressure, but it's not because who just wants to get on these animals. My main deal down here is to get the tools sharpened to be able to ride everything and be ready for anything. I want to get back in that groove, back in the same groove I was in when I was riding Happy Camper."
In 2019, Gagnon made a splash in PBR Canada competition when he rode then PBR Canada Bull of the Year and three-time PBR World Finals qualifier Happy Camper for a monster 89 points. At the time the ride was just the fifth ever aboard the bull, with Gagnon joining the likes of Dener Barbosa, two-time PBR Canada Champion Zane Lambert and Jared Parsonage as the small contingent of riders to have covered the bull.
With six Canadian's currently competing regularly on PBR's various US tours, Gagnon said being able to see the guys you have grown up with, or normally compete with, and against, at home is a bit of a relief. 
"I think it's awesome. When I was back home and everyone was down here, I thought why am I not down there," Gagnon said. "I have such an opportunity down here. I love seeing it." 
"If you want to be the best, you have to come down here because this is where the best are. Not saying Canada doesn't have the best, because there are a lot of great bulls and a lot of great riders, but certainly in times like these, I don't see why everyone isn't down here.
"There is so much opportunity down here. It's nice to go to an event, and your brothers are there. I am forever grateful for being able to compete in the states right now, but I will never forget where I am from.
"And to see my Canadian pals down here too, I won't change that for the world."