Nansen Vold Successful in Billings, Leaves Six Contenders Stateside for UTB Competition
By: Covy Moore Friday, September 18, 2020 @ 5:10 PM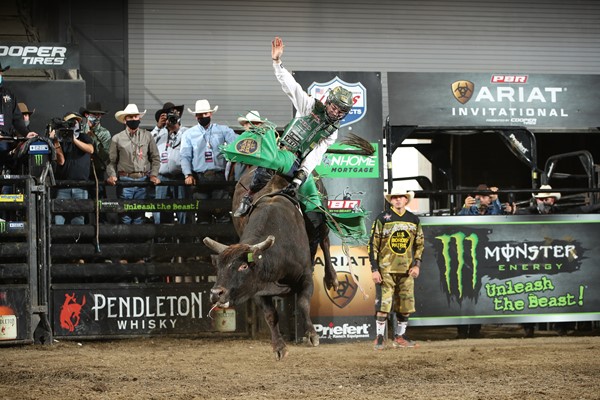 AIRDRIE, Alberta – Five-time PBR Canada Stock Contractor of the Year Nansen Vold traveled to Billings, Montana for last weekend's Unleash The Beast event with a liner of nine bucking bulls, with the intentions of showcasing what his ranch and the country of Canada has to offer.
However, when he returned to Canada following Championship Sunday, he only unloaded three.
Selling five bulls, including standouts such as One for the Money and Big City Nights to the Kruger Ranch, and his high-marked bull of the weekend Swagger to J.W. Hart, Vold says the weekend was a success not only from a business perspective, but also to be able to get those particular bulls to a level of competition they deserve to participate in.
"That is kind of what I was hoping for," Vold said of the weekend. "I got some bulls coming back home too. J.W. is interested in those three, but he wants to see some more trips on him and I think there is a great chance that they will be going to the PBR World Finals, and maybe have a home down south by then too."
The elite Unleash the Beast is no stranger to Canadian bred bucking bulls with names such as Oz, Milk Man, Canadian Mist and Nailed among many others to have made a name f orthemselves in the United States over the past few years.
But this year's batch of bucking bulls that Vold sold south of the border had a fantastic coming out weekend.
RELATED: Canadian Bulls Wow at PBR Unleash The Beast Event in Billings, Montana
Jess Lockwood, who was making his return to competition following a near six-month recovery for a torn groin, was matched up with One for the Money. And for Vold, making the 12-hour trip to Billings, Montana with that match up in mind made the drive very easy.
While the bull didn't perform to his usual intensity, marked 40.75 points, the two-time PBR World Champion found his way to the buzzer in an effort that logged him 84 points.
"He was not his self," Vold explained. "He had lots of up and down and had some switchback, but never got into what we call spinning and turning back. He was still good. The score was a bit lower, but they should be in the high 80s when they ride him. He will be fine, I am not worried about that bull."
"He will be staying down south with the Kruger family, he has found a new home and he is going to show well for that family."
The other matchup that Vold was excited about in the Friday night draw was Andrew Alvidrez on Big City Nights. The two teamed for and 88.5-point score and left a smile on the Ponoka, Alberta stock contractor's face.
"That is what he is about, around to the right, in the gate, kicking and spinning. He had a great day with a great rider," Vold said.
"He was pissing around in the chute a little bit, but that guy did a great job getting out on him. Andrew was really good in the box with him and was 88.5. Could have been more, but that was as close to 89 as they were marking all weekend. That bull is solid and as consistent as you can find them. He has been ranker on occasion. But when they ride him for 88, you can't complain at all."
The bull that left the biggest impression on everyone in Billings, however, was Swagger. Originally purchased approximately two years ago from Kyle and Erin Nelson, in Longview, Alberta, Swagger was the high-marked bull of the weekend for Vold, earning 44.5 points.
Dener Barbosa attempted to bull on the first night of competition, bucked off and sustaining a broken jaw which required surgery, as the bull was marked 42.75 points. On Sunday, however, Mauricio Moreira went up against Swagger in Round 3, bucked off in 3.31 seconds as the bull posted a head-turning score.
"He was just flashy, out there to the left, around to the right," Vold said of Swagger. "He really got it on. He has been picking it up this year and that trip proved that he is meant to be down there on that level. We are happy to see where he will go with J.W. He will get some good exposure with that outfit."
"If you take the wreck out of the equation, he performed outstanding. That is what that bull does. You never want to see a guy get hurt on your bull, or in the sport at all. But the bull, he bucked through it. Then the next day proved that, he was two points better on the bull score even. That is what those guys are looking for down there. I am 99% sure that bull will be at the World Finals this year and will likely be able to find the short round for J.W."
One bull that made the trip back to Ponoka, Alberta was Trapped. Matched up with Lockwood on the second day of competition in Billings, Vold says once that bull gets a bit more experience he feels he could be a World Champion contender. Trapped was marked 43.25 points as he sent the Montanan to the dirt in a close 7.79 seconds.
"I think he has the potential at a run at a World Championship. He has about one third the amount of trips that Swagger has, and J.W. wants to see a bit more from him. He is consistently getting better each trip, and by the end of the year I am pretty confident we can have him in contention down in that country."
Fans can relive all the action from Billings at RidePass.com or via the RidePass mobile app.
Be sure to stay tuned to PBRCanada.com and follow the tour on Facebook (PBR Canada), Twitter (@PBRCanada), and Instagram (@PBRCanada) for the latest results and schedule of events.