Canadian Bull Power Returns to Unleash The Beast in Billings
By: Covy Moore Thursday, September 10, 2020 @ 10:07 AM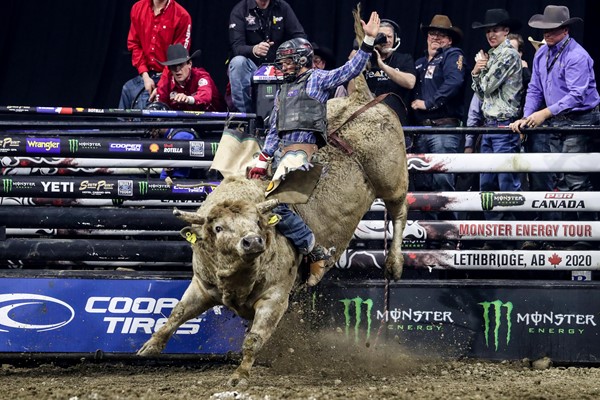 AIRDIRE, Alberta – Ever since the events landscape was altered by the ever-evolving COVID-19 (coronavirus) pandemic, Canadian bull power hasn't been seen stateside bucking on the elite PBR Unleash The Beast.
However, that all changes this weekend, as Vold Rodeo will haul nine bulls to Billings, Montana for the PBR Ariat Invitational, presented by Cooper Tires.
RELATED: Watch all the action LIVE on RidePass!  
Hailing from Ponoka, Alberta, Trapped, Vertigo Spy, Big City Nights, Jayded, Swagger, One for the Money, and Twisted are all in the draw for Round 1 on Friday evening.
With the return of two-time and reigning PBR World Champion Jess Lockwood set for this weekend, he will face none other than a standout from Nansen Vold's pen -- One for the Money.
 "One for the money and Big City Nights are the two veteran bulls going down, they are going to be six years old," Vold began. "After the last couple weekends we have had a few events up here in Canada and Big City Nights looks the best he has ever looked before. He looked really good with Zane Lambert in Stavely too.  I thought he was outstanding."
"We have a few solid younger bulls in Swagger, Jayded and Vertigo Spy. They are our solid five-year-old bulls that are really, really good. They all have a lot of snap and kick, there will be some good matchups when we get to Billings here."
While the Lockwood and One for the Money matchup should yield impressive results, Vold says his next pick would be Andrew Alvidrez on Big City Nights.
"That is a matchup I am excited for too, after the last couple trips here at home I think he is the one that will showcase," Vold said.
"[Alvidrez] is small and a really good rider, so I think they will match up really well and get a chance to come back in the championship round on Sunday."
As one of Canada's biggest producers of bucking bulls, Vold packs some of the best bulls in the business.
With Canadian Mist, Oz and Nailed consistently putting up World Championship-calibre scores on the elite tour, all of whom were born and raised in Canada, Vold only keeps the best.
And one of the best bulls going in Canada right now is Jayded.
A big red, short-horned bovine that is undefeated in Canadian competition, he is set to match up with Eduardo Aparecido in Billings Friday night.
"I don't think he has got a whole lot tricks," Vold said of the bull. "Normally he is going to go out a couple, then you don't really know which way he is going to go from there. The last three or four trips he has gotten really consistent going right."
"He has a bit of a twist with his back end on the corner there, which might be what gets guys on the ground there. He has gotten a lot stronger and put on some size in the last couple years."
"We bought that bull from Tyler Thomson a couple years ago and I think he is going to be a really good contender down in the states if someone decides to keep him down there and can keep going on this adventure with him."
And for Vold, leaving a few bulls down in the States is on his mind. No stranger to selling and trading bulls south, Vold says that this season is especially important to earn a little extra with a shorter, less busy year in Canada.
"That is the plan with this trip is to move a couple of these bulls to stay in the States," Vold said.
"There are a couple guys wanting to look at these bulls. We will see how that goes. We have had some fortune in getting some traded down into the states in the past that are still bucking down there. Nailed, Canadian Mist, Oz, bulls like that. If we can keep things like that up, and with not too many events we can try to keep on rolling."
"Three out of the nine on the truck we have raised on the ranch, the rest we had as yearlings or two-year-olds and watched them go through their steps.  That is quite a journey, it's a little emotionally tough to see them go, but if you look at the pen next to them there are 35 more that are coming up beside them."
"If a guy didn't have to sell them, it would be outstanding to keep this type of bull pen up in Canada, but at the same time I think these bulls can showcase better where they are going, and see some success on the biggest stage in bull riding."
Late this month, the Vold family will host a PBR Canada Touring Pro Division in their hometown on September 26 in an effort to give back to the PBR Canada community, keep their bulls in bucking condition and ensure that riders are set up well for whatever events are still to be held in this unprecedented 2020 season.
"We talked about it two months ago. It has been in the back of our minds to put on an event in our backyard, a little hometown deal. We spoke to Blaine Fyson and Jason Davidson and worked on getting the sanctioning, despite the prize money and sponsorship being down. It's really tough with sponsorship this year. My wife, Jenn, has been working very hard at lining up sponsors for this event. It's a minimalist event, but we have some excellent sponsors who are stepping up and supporting the sport and this event."
"It's going to be a small town feeling with the big time bull riding," Vold continued.
"It will be good, we are looking forward to it. It is coming up fast. It's good for the riders to keep things in motion and keep getting on, it's good for the bulls up here too. It's going to be a really good event for this weird year and help set some guys up for whatever the rest of the season holds for us."
Fans will be able to watch the action in its entirety from the elite tour event in Billings via PBR's digital streaming platform RidePass.
The network will be the exclusive broadcast home for both Round 1 and Round 2 of the PBR Ariat Invitational, presented by Cooper Tires. The LIVE coverage of Round 1 will begin on Friday, September 11 at 9:45 p.m. ET, followed by the stream of Round 2 getting underway on Saturday, September 12 at 8:45 p.m. ET. RidePass' listen LIVE coverage from Championship Sunday will begin at 3:45 p.m. ET on Sunday, September 13, featuring Round 3 and the championship round.
Be sure to stay tuned to PBRCanada.com and follow the tour on Facebook (PBR Canada), Twitter (@PBRCanada), and Instagram (@PBRCanada) for the latest results and schedule of events.