Buttar Captures Coveted Glen Keeley Victory as His Dominant 2020 Season Continues
By: Covy Moore Wednesday, September 2, 2020 @ 8:48 AM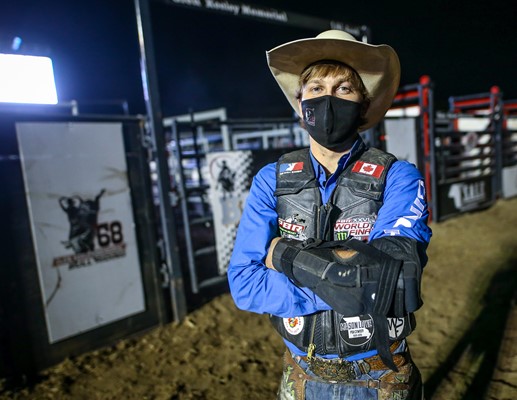 AIRDRIE, Alta. – There is a list of events any bull rider wants to not only be at, but win during their career.
In Canada, that list, among others, includes qualifying for both the PBR Canada Finals and Calgary Stampede.
But, there is another event, one that punches above its weight class, that is held in similar regard – the Glen Keeley Memorial held in Stavely, Alberta.
For PBR Canada season leader Dakota Buttar, the excitement of that event, this season marking its 17th annual edition, has often led to disappointment, never able to capture the elusive buckle.
However, that all changed this season.
RELATED: Dakota Buttar Records 90-Poitn Ride en Route to Victory at the PBR Canada Glen Keeley Memorial
With the 2020 season taking a never-before seen course due to the evolving COVID-19 (coronavirus) pandemic, the event was held in the shadow of the hill where Glen Keeley's ashes were spread by his family in 2000, in order to practice the necessary health and safety protocols.
"I have never really had any luck at the Keeley bull riding before," Buttar began. "It was really special to have it right there on the ranch. I didn't know that hill was Glen's hill where his ashes were spread. That is so cool, he was right there watching us."
"And for as tough of times as things are right now, for Justin, that committee and his sponsors to put on an event like that for us, shoot that just means a lot. Just to keep us going and put a bit of money in our pockets. It was fun all around."
Winning Round 1 with an 87.5-point score on Pinch Hitter, the Saskatchewan-native had the top pick in the championship round bull draft.
Selecting Tykro Pound Sand for the fourth time in his career, and third time this season, Buttar was confident heading into the final round.
"There were a lot of good bulls in that short round at the Glen Keeley, easily five or six that I would have picked, but when he is in there it's hard not to pick him," Buttar said of the Wild Hoggs bovine athlete. "Especially with how much I have been on him and all the luck I have had on him. Why change something that is working."
"Every trips he seems to have that little bit of move forward, which can shake you loose a little bit." Buttar added.
"The trick to him is you have to wait on him enough so that he doesn't drop you in there when he moves ahead, but you have to be ready to be there when he does. You have to wait to go at him.
"He didn't feel too bad, but watching the video it looks like he had that move ahead quite a bit there for a couple rounds. That's the biggest he has been in any time I have gotten on him. His back was really wide. Could be him having some time off too, he has had a chance to fill out a bit and get a bit more power to him. That could have been what was different."
The result was not just another qualified ride, and subsequent event win, but Buttar's high-marked ride of the season – a 90-point score, with many siting the effort as the bull's best trip to date.
Under the lights, the event kept the hometown feel that the Glen Keeley Memorial brings each and every year, but gave a very personal touch being at home on the Keeley property.
Buttar said that while he wasn't competing with, or knew Keeley in any way, its idols of the sport like that who have inspired his entire generation of Canadian bull riders.
"Everyone that talks about Glen talks about the way he spurred. Growing up, as a young steer rider or young bull rider, you always wanted to talk about how you spur bulls. Seeing how he jerks his leg and getting to go to town on them, that's what gets me fired up. I don't spur bulls like that, I used to. I like to kick loose on one when I can. Seeing him do it gets me fired up," Buttar said.
"This summer, some old photos of Glen popped up on Facebook when he was 15 or 16, it was a frame by frame set of photos. He got jerked down in the second jump and the bull caught him in the forehead and ripped him open and was bleeding. But, he got sat back up and frame by frame he got to spurring after taking that shot. How can that not get you fired up? That was a real battle. He was a gritty son of a gun."
With a 99.5-point lead in the PBR Canada national standings, Buttar remains focused on what lies ahead in 2020. While not knowing what events will remain on the schedule is tough, he says maintaining his health and focus should be all that's needed to attain his goal of winning a PBR Canada Championship.
"My goals are set. That's it," Buttar said without hesitation.
"We just don't know when the next time we will be able to compete is. I am still staying focused for when we do get the call for the next one. I will be ready to go when we do."
Be sure to stay tuned to PBRCanada.com and follow the tour on Facebook (PBR Canada), Twitter (@PBRCanada), and Instagram (@PBRCanada) for the latest results and schedule of events.