PBR Canada's Dedicated Sports Medicine Team Looks to Future After Successful Fundraiser Golf Tournament
By: Covy Moore Friday, October 9, 2020 @ 10:06 PM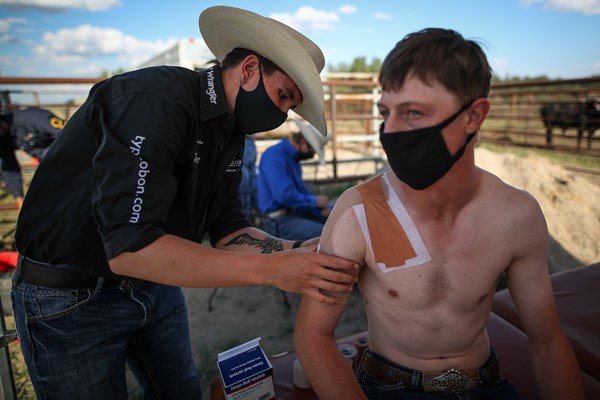 AIRDRIE, Alberta – The Canadian Pro Rodeo Sports Medicine Team (CPRSMT) is a mainstay at each PBR Canada event across the nation. From the Monster Energy Tour to the Touring Pro Division, and everything in between, the organization prioritizes the health and wellness of rodeo and bull riding competitors nationwide.
The fourth annual CPRSMT Golf Classic took place last month at the Valley Ridge Golf Course in Calgary, Alberta, and despite a smaller, more intimate event due to health restrictions in the region, the tournament went off without a hitch and left CPRSMT spokesman Brandon Thome impressed with the results.
"We hummed and hawed over whether we should or shouldn't have it," Thome reflected. "I wanted to make sure we had it to keep the momentum going into next year, and the year after that. Then two days before it I panicked. What happens if it sucks and the momentum is lost because it wasn't good."
"We weren't allowed to have a supper and we had to cut about 60 participants, a few things were different. It still went off, and I got a lot of comments from old and new sponsors who told me they still had a great time. I am so happy we were able to pull it off, and pull it off to that standard. "
"The importance of that event for us is huge," Thome continued. 
"In the last three years this event has brought in over $130,000. It helps us with our bottom line, it goes a long way. It also makes it so that our cost to event committees doesn't go up and up and up. We are always doing our part to bring in money to keep costs down for everybody else. If we do our part and everybody else does theirs, we are all in this together and we can keep making the sport better. We did as good as we could have considering the year, and I am very happy with the numbers so far."
One of the challenges for the CPRSMT in any normal year is working to get each and every rodeo and bull riding committee on board to bring them in to look after the pre-event, during event and post-event care of the health and wellness of everyone involved.
While nearly the entire PBR Canada calendar brings this team of professionals in to their events, some smaller events still struggle with the costs associated.
"We are trying to get in front of some of these committees to make sure we are educating them that we are out here for the sport. We aren't just out here for fun. If there are no cowboys because they are all hurt, there are no events. We want to make the sport safer for everybody so we can make sure it has longevity."
"We have some very good committees that have been with us for a long time that have brought us out without question every year," Thome continued. "We want to try and build relationships like that with all of the rodeo and bull riding committees in Canada. The PBR events that have been going on through this slowdown have been out biggest supporters."
Despite the slower than usual year, Thome says that he has still been treating a fair amount of rodeo and bull riding competitors.
"Guys are still practicing," he said. "In the beginning everyone was staying sharp and keeping fit for whenever we were going to be able to go. And some were getting hurt too. When we started moving into these events, and with some jackpots and PBR putting on events, guys are still getting hurt. Are we as busy as we normally would be, no not really. But we are definitely busy treating competitors and working with them.  There are a lot of guys down south rodeoing and bull riding."
"From the standpoint of getting guys back to healthy, we certainly are still busy keeping guys on the road."
As the year begins to come to a close, Thome admits that in 15 years of being a part of the sport, he has never gone to so few events, but also said that his most memorable event in those same 15 years happened this past summer.
"I can't speak to the Glen Keeley Memorial PBR itself, or speak for Justin Keeley and his family by any stretch. If it was any other year I am not sure if they would have had it at the Stavely arena or not. I think one of the coolest things that's happened this year was that event pivoting from the Stavely arena to the Keeley Ranch. I have been doing this for 15 years and have been to a lot of places. But that event, by far and above, was one of the best bull ridings, best one night event I have been to ever," Thome said.
"You went from looking around while they are playing the Glen video to the emotion that comes with that, and having Glen's hill silhouetting the sunset, all of a sudden I was looking at my watch at it was 11 o'clock. I just think that that whole event and whole scenario may or may not have happened with this hiatus wasn't a thing. That event will stick out in my mind forever."