Brock Radford Eyes Career-First PBR Canada Championship and World Finals Berth at Season-Culminating Events in Grande Prairie
By: Covy Moore Tuesday, October 27, 2020 @ 1:52 PM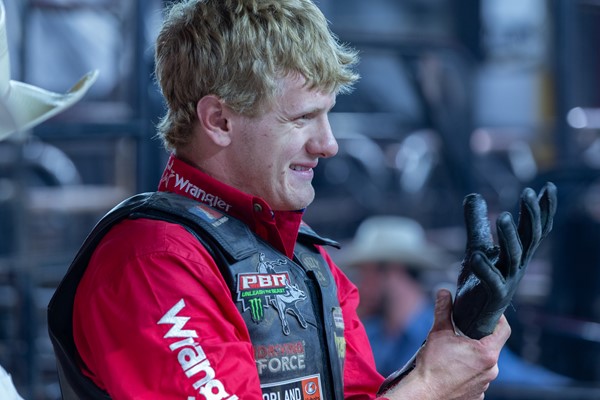 AIRDRIE, Alberta – For PBR Canada No. 2 Brock Radford he is hoping that 2020 is finally the year when he concludes the season-culminating event at arena center, crowned the PBR Canada Champion.
After finishing the 2017 and 2018 campaigns No. 2 in the nation, the most recent 2019 season finished with Radford ranked No. 6. Now, as Radford attempts to capture his career-first PRB Canada Championship, he is No. 2 entering the final four events of the year, a mere 99.5 points behind No. 1 Dakota Buttar.
With an event victory and 5/5 Bucking Battle win on his resume, along with a pair of runner-up efforts overall in PBR Canada competition, Radford says he is approaching things a little bit differently this season.
And it's the runner-up finishes which Radford is finding motivation within.
"If I told you then it wouldn't be a secret would it," Radford remarked. "I think I have finished second to Dakota more than anyone. Nothing pisses me off more than finishing second. I think last year he was the last guy out on six different occasions and beat me."
"The finals is an event where a guy can definitely put aside the friendships and camaraderie of the bull riding community and root for himself a little bit. When it's all said and done, we are all friends and will remain that way, but I am going to the finals with one goal in mind."
With a contestant capable of earning a maximum 310 national points, all competing riders have a pathway to winning the national title.
And for Radford, who has the smallest deficit to overcome, he says he is going to be drawing on experience to surge himself to the front of the pack.
"I have been in that situation so much, being in contention during the finals. There are so many points up for grabs that it's really anyone's game, but I look to those guys with the experience of being in those high pressure situations, and I am one of them. There was the year with my knee, [the 2018 finals], then last year coming back from injury to settle just outside the Top 5," Radford said.
"I have been there before. You can tell the guys who really want it, the guys who are there at the end of the year are the guys who keep their hand shut in those moments. The guys who don't keep their hand shut in those moments are probably not in contention for a championship for a reason."
When asked who else in the PBR Canada ranks he has his eye on for a surge towards a title Nov. 5-7, Radford said that there is one other name in contention who has that high-pressure, championship experience.
"We are all there to win, and everyone is going to be showing up, but none of those other guys really worry me. I would look to Zane Lambert. He is a guy with so much experience and time and time again is there at the end of a season when it counts the most," Radford said.
The 2020 PBR Canada Finals in Grand Prairie, Alberta on Nov. 5-7 at Revolution Place will be one of the first events for the sport in Canada that will be held live in front of fans since the start of the pandemic.
For Radford, one of the more fan energy-motived riders, he says while the chance to ride in front of fans is great, he is more focused on getting back to competing for the 2020 PBR Canada Championship, a title some were unsure whether it would be awarded or not.
"I am just glad to be able to compete," Radford said. "I am just glad to see that PBR Canada has set something up that can be done safely and set an example for others in Canada."
More broadly, Radford is currently No. 46 in the PBR World Standings, 39 points outside of the Top 35 and a berth to the 2020 PBR World Finals: Unleash The Beast in Arlington, Texas at AT&T Stadium Nov. 12-15.
With one rider capable of earning 60 world points should they win all four events over the three days in Grand Prairie, Radford said there is a little bit extra pressure and motivation.
"There is a bit more pressure," Radford explained. "I love making it down to those events, the competition and bulls down there are so good. I feel like any time I go down there and compete against those riders, I just get better, and when I come back I feel like nothing can throw me off."
As for bulls that can throw him off, Radford kept his cards close to his chest as to what bovine athletes he would be looking at picking in the rider-drafted rounds that are on tap for the quartet of events for the PBR Canada Finals.
"Well I can't tell you that. But we all know what bull that Dakota will be taking in these rounds. There is only one Tykro Pound Sand in the draw. I am just going to be going up there and riding whatever they run under me."
The bull riding action begins at 7:00 p.m. MT on Thursday, November 5, Friday, November 6, and Saturday, November 7 at Revolution Place in Grande Prairie, Alberta for the three-day 2020 PBR Canada Finals.
Tickets for the indoor watch party at Bowes Event Centre are on sale now and start at $50, standard fees may apply. They can be purchased online at RevolutionPlace.com, by phone at (780) 538-0387, or at the Revolution Place box office.
The three-day, four-event 2020 PBR Canada Finals will also be broadcast LIVE nightly on RidePass, available at RidePass.com or via the RidePass app available on iOS, Android and Roku. The TSN family of networks will also broadcast the event, stay tuned to PBRCanada.com for your local listings.