Two Bit Nation Bovine Athletes Dominate 2020 PBR Canada Bull of the Year Race
By: Covy Moore Monday, November 30, 2020 @ 10:34 PM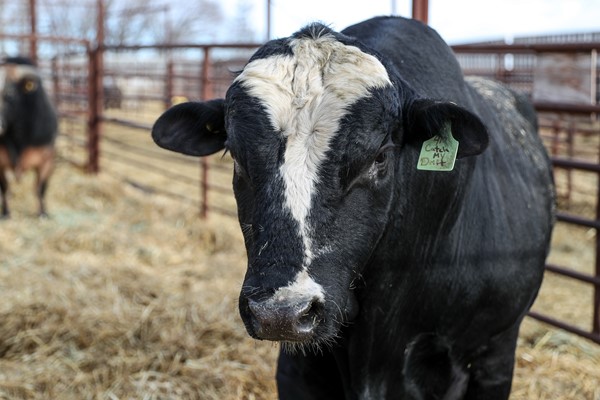 AIRDRIE, Alberta – With the 2020 PBR Canada season officially wrapped up, more than just a bull rider took home the title of Canadian Champion on Nov. 7 in Grande Prairie, Alberta.
This season's PBR Canada Bull of the Year was decided on a bull's three-best trips during the regular season, and two scores logged during the 2020 PBR Canada Monster Energy Tour Finals Week, a three-day, four-event marathon of season-culminating competition.
And one bull bucked above the rest.
Despite travelling to the first Canadian Finals in Alberta since 2009 ranked No. 4 in the race, 0.17 points behind the trio of Finning Lil Shorty, Happy Camper and Tykro Pound Sand who concluded the regular-season atop the standings, Two Bit Bucking Bulls' Catch My Drift mounted an incredible come-from-behind surge to capture the year-end honor compliments of two 44.5-point scores at Revolution Place.
RELATED: 2020 PBR Canada Bull of the Year Contenders Announced
The striking bovine athlete first scored the marks when he dispatched 2017 PBR Canada Rookie of the Year Coy Robbins in 3.19 seconds. Two short days later, delivering the high-marked out of the event, Catch My Drift clinched the prestigious honor on the final day of the season when he made quick work of Tanner Eno  in the PBR Built Ford Tough Championship, sending the young gun to the dirt in 2.71 seconds.
Catch My Drift concluded the year with a league-best 43.8-point average to earn the $2,500 bonus.
RELATED: Dakota Buttar Crowned 2020 PBR Canada Champion
Hot on his heels, Catch My Drift narrowly defeated fellow Two Bit Nation bovine and 2018 PBR Canada Bull of the Year Happy Camper who finished No. 2 in the race for the second consecutive season, with a 43.7-point average.
"It was awesome," Two Bit Bucking Bulls' Josh Berezay said. "I thought all the bulls showed up, and when you are not using them like we usually do, it's great when you can put a couple back-to-back events together. Catch showed up and showed that he was tired of being second."
"Intensity and he was all there. He leaves and rides that gate out of there then he completely drops out of the sky. When he turned back he meant it. It was awesome."
And while Catch My Drift has been a key part of several flashy and high-point rides with the likes of 2020 PBR World Champion Jose Vitor Leme, two-time PBR World Champion Jess Lockwood, Chase Outlaw, and 2019 PBR Canada Champion Daylon Swearingen, his mannerisms at home are slightly more playful than one would guess from his performances inside the arena.
"He's a tough muley till the gate opens," Berezay remarked. "He likes to push on all the fences, he is easy going. He isn't a mean bull."
"He is a pleasure to be around. He is just kind of a trouble maker sometimes."
Unlike Happy Camper or Bull of the Year contender Spooky Lukie, Catch My Drift was born on the Adamus property, and was sold to Berezay at two years of age.
"Cody and his dad are great people and we have a relationship with them on things that they think will work and they send them my way. We try and develop that talent with them. Sick Rhymes is another bull that we have with them," Berezay said.
"Catch My Drift just took a little longer to show up. He has been a great bull ever since we brought him home. He was a great futurity calf, I saw it in him. Immediately worked to making a deal with Cody and get that done and get that bull to our place. They are just awesome great people to work with, they love bucking bulls. They are a nice young family and are continuing to raise good bulls. We have two heifers we have sent him and whatnot. The future is bright."
With only so much science involved in finding those great bucking bulls, Berezay says that the partnerships with other bucking bull breeders is pivotal to all stock contractors in the business.
"We are in a position to showcase their bulls," Berezay began. "Without partners you can't make this work. To find those great bulls is so hard. You are so blessed every time you find a great bull. We have been fortunate to have a few of those types of bulls come through the doors here. I hope to continue that relationship for years and years to come."
And beyond the already established Two Bit standouts, the future is bright for the up-and-coming talent slated to debut from the Magrath, Alberta ranch. Among the rank contingent are four coming three-year-olds that are showing promise, showcasing some deep rooted bloodlines, hallmarks of both the Berezay line of buckers, as well as Alberta stock as a whole.
"We have got a little black muley that is coming up, he will be three. You will see him next year, we won't show him too much next year. He is a Buck Wild calf out of a Bucking Fantastic daughter. I think he is something special. Tammy has a good little blue bull here that goes back to some Kelly Armstrong breeding that is pretty jam up too," Berezay detailed.
"We have one from Cody Adamus that is a honky little bugger that is coming as well. Those bulls will be three next year. Then we have a four-year-old here that comes out of Devil's Wing, he is just so mean we haven't really been able to show up much. Hopefully he will get settled down and we can get him on the road."
As for claiming another Bull of the Year title in the future, or even taking home the title of Stock Contractor of the Year, Berezay says the family works towards it every day, but doesn't see a scenario where the Vold operation can be dethroned of the title they have won five years running.
"I don't know if that will ever happen when you are competing against the Vold's," Berezay said. "Nansen has such great partners and raises so many great bulls that I think he deserves to be the Stock Contractor of the Year."
"We show up with six or seven bulls, and I want them all to be honky. Nansen is a great guy, has a great family. Him and Jen work so hard that, it's tough to see knocking that dynasty down, even though we work towards that same goal every day."