Two Bit Bucking Bulls' Happy Camper and Josh Berezay Hopeful to be first ever Two-Time PBR Canada Bull of the Year
By: Covy Moore Tuesday, November 3, 2020 @ 9:13 PM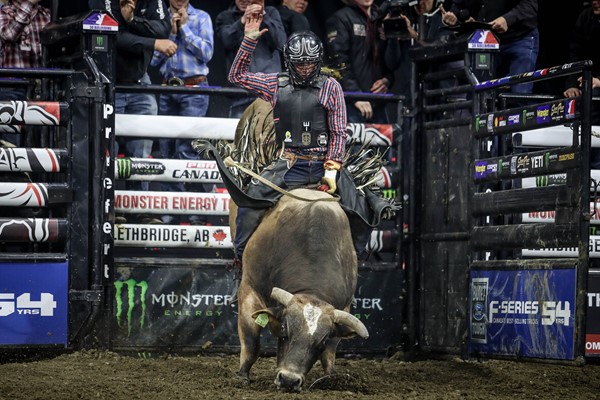 AIRDRIE, Alberta – While many eyes are on the race for the 2020 PBR Canada Championship, there is another year-end honor that all of the nation's stock contractors are monitoring closely – the 2020 PBR Canada Bull of the Year race.
The 2020 PBR Canada Bull of the Year will be the animal athlete with the top average score when combining his Top 3 outs from the regular season and two trips from the four events that will comprise the season-culminating events held from Nov. 5-7 in Grande Prairie, Alberta, at Revolution Place.
With those metrics applied, at the conclusion of the regular season, there is a three way tie for No. 1 ranking in Canada with the Wild Hoggs' Tykro Pound Sand, Flying Four's Finning Lil' Shorty and 2018 PBR Canada Bull of the Year Happy Camper from the Berezay Family and the Two Bit Nation each holding a 43.5-point season average.  
RELATED: 2020 PBR Canada Bull of the Year Contenders Announced Ahead of PBR Canada Monster Energy Tour Finals Week Nov. 5-7 in Grande Prairie, Alberta
With one championship under his belt already, Magrath, Alberta's Happy Camper is a favorite among many in the PBR Canada ranks and is eyeing history. Should the "Bucking Sensation of the Two Bit Nation," once again earn the season honor, he would become the first bovine athlete in the nation's history to be a two-time Canadian Bull of the year.
"It was 15 years in the making," said Josh Berezay of Happy Camper's first PBR Canada Bull of the Year title. 
"You try and raise great bulls and when you get one, they're special. He showed from the time he was a calf that he was special, but he put an exclamation mark on it when he won it. We were over the moon about it. He has the heart of a lion. He has a big heart that bull."
The family-run Two Bit Bucking Bulls outfit had never won the coveted title with any of their bovine athletes prior, but said that you can tell when a bull is going to shine.
With two outs on tap for Happy Camper at the PBR Canada Finals this weekend, Berezay said that he just needs to show up and do his job as the bull can perform as well as any going on the PBR Canada roster.
"He needs to have two good trips," Berezay said. "The bulls that he is running against they are great bulls too. Whatever bull shows up this weekend will be crowned the champ."
"I wish the best to everybody and just hope that we have two safe outs for both animal and rider. I think the bull that goes up there and puts the two most solid opportunities together is probably going to be your Bull of the Year."
Berezay, who has nothing but praise to load on his competitors, said that despite their being some very impressive bull power in Canada, he feels that there is no readily obvious choice for a Bull of the Year due to the shortened season.
"I don't think we have had enough events to call that out," Berezay began. "There is so much time between trips for these bulls this year that not one bull has had a chance to put together a run that makes it easy to call one out."
"I have seen Lil' Shorty and that Finning Drop Bear, those are great bulls, Pound Sand shows up every time. I am not in the business of calling one bull out ever really, because I think the bulls do the talking."
This year, Berezay has three bulls that are in the running for the title with Catch My Drift entering the event tied for No. 4 and 0.17 points back, while Spooky Lukie is tied for No.7 and 0.67 points behind the top ranking.
"Spookie is a breed all of his own," Berezay said of his other bovine athlete. "He is ranch raised too so we are awfully proud of him. I am hoping he shows up. That bull is Nevada's bull. She picked him when she was 12 or 13. I have to pull for him. There have been times we have bucked him and I have thought he was a $100,000 bull. He needs to show up and get his consistency figured out and get things done."
With a talented group of bull riders heading to Grande Prairie, Alberta this weekend to contend for the 2020 PBR Canada Championship and accompanying $20,000 bonus, Barezay says that what he is looking for in riders that may draw his bulls is a guy that doesn't take his time in the chute.
"My biggest thing is to draw somebody that gets in there, gets their rope tight and nods their head, Berezay said. 
"When you get in there and pick a fight with the bull, the bull is going to start acting up and that can be a rough go that way. When you don't get out clean on them, these bulls at this level have so much fire to them that they will ball up in a corner, or start from their knees."
"You want to draw someone that gets in there and gets their part done," Berezay continued. "At this level, all the guys that will be up there are all capable of riding any bull we bring there, so you just want a guy that is going to get in there, not pick a fight with your bull and get out clean and let the bull and him do the talking. You can't win inside the bucking chute, you win in the arena. So the faster you get out of there, the better I like them."
With a load of 10 bulls headed north to Grande Prairie, Alberta, Berezay says he is excited to get back on the road, crown some champions and look towards 2021.
"It's phenomenal that we have a finals to go to right now. We are all fortunate to get up there and do what we love."
Action for the three nights of competition for the 2020 PBR Canada Monster Energy Tour Finals Week will begin at 7:00 p.m. on Thursday, November 5, Friday, November 6, and Sunday, November 7.
The three-day, four-event 2020 PBR Canada Finals will be broadcast LIVE nightly on RidePass, available at RidePass.com or via the RidePass app available on iOS, Android and Roku. The TSN family of networks will also broadcast the event, stay tuned to PBRCanada.com for your local listings.