The Morning Line – 2020 PBR Canada Monster Energy Tour Finals Week – Day 3
By: Ted Stovin Saturday, November 7, 2020 @ 9:23 AM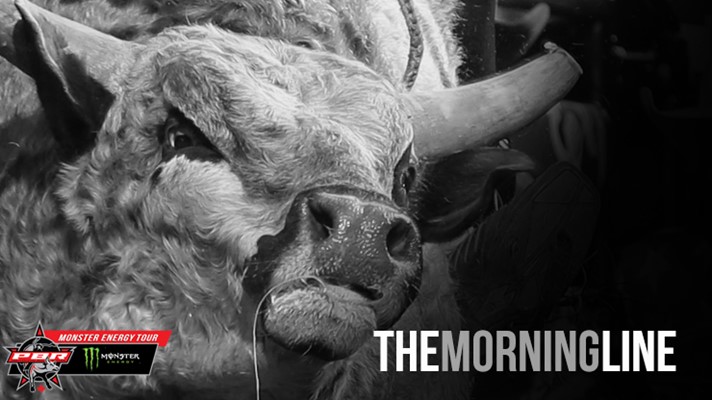 GRANDE PRAIRIE, Alberta – After two nights of bull riding, tonight we crown the only champion in Western Sports in Canada for 2020. Spoiler alert, the list is going to be really short.
We've got two events left, one pertaining to the first round and another Finals event with the Top 15 in the country doubling as the Championship Round.
The big check for $20,000 and the name in the record books is up for grabs and it's going to be a great night.
On top of the race for the 2020 PBR Canada Championship is that of the Bull of the Year race. After being out on Thursday we once again see the likes of Finning Lil Shorty, Happy Camper, Tykro Pound Sand, Catch My Drift and VJV Whiskey Hand. Currently, Catch My Drift from the Two Bit Nation leads the charge.
RELATED: Click here for the full Saturday daysheet
Garrett Green vs. 421 Finning Hou's Deacon
Green slipped up on Friday and put himself out of the running, but Finning Hou's Deacon is a nice bull from the Flying Four crew that he can win some money on tonight. In 25 outs he's been ridden nine times for an average score of 84.5 points. Most recently in Lethbridge by Green on the way to the event win for 85.5 points. A big white, horned bull, watch out for another 85.5 at least.
Zane Lambert vs. 61 Finning JB Muley
For me, I think Lambert has been one of the bigger surprises honestly. He's 4-for-4 so far and in the No. 2 spot in the country. Zane is fresh and has made some really impressive rides. Thursday on VJV Whiskey Hand was some of his best work. With the bulls we've got out tonight Zane could get into the 90's and go 6-for-6. For the record, this bull doesn't have anything to do with JB Mauney, it's all about Jesse Byrne. In five trips on record to date he's been ridden four times, last year by Zane too for an 83.5. Chalk this up at 5-of-6 for Zane.
Jared Parsonage vs. 593 Hanna Motors Full Throttle
As per Lane Skori, Hanna Motors Full Throttle is a home raised bull sponsored by Hanna Motors of Hanna, Alberta. He's a tan brockle-faced and a good one to ride. They were 87 on him at Glen Keeley this year as well in Stavely, Alberta. A five-year old, this is one Parsonage can make up some coin on after being out of the money on Friday night.
Aaron Roy vs. 51 Smash
Lambert rode this bull on Friday for 82.5 on his way to a second-place finish on night No. 2. With 24 rides in 39 outs the average ride score remains right around 83 points. This may be one of the final few times we see Aaron compete in the PBR Canada ranks so you better enjoy it. This is as much of a lay-up as there can be in bull riding.
Brock Radford vs. B50 California Moon Eyes
Coming in at 0-for-2, Brock is unfortunately not going to be the winner once again this year. It's been a tough year, but it's taken Dakota Buttar a couple to get his title as well after starting off with a pair of Canadian Pro Rodeo titles earlier on in his career. California Moon Eyes comes from Vold Rodeo and is a down-horn, black and white bull according to Nansen Vold. He's "pretty hot" as in he might be a skosh mean, par for the course with Nansen. He bucked off Wacey Finkbeiner this spring in Claresholm. I'm looking for a strong finish for Radford after a disappointing first couple days.
Dakota Buttar vs. 3 Split Lip
Split Lip is a new bull for Nansen Vold that actually came from Quebec. He was probably a little too good to stay out there, but we'll find out tonight. According to Vold he's a good built Brahma looking grey with big horns that should be out the left to the left. Nansen says he will be 86 plus and I believe him. It's about to be a walk-off championship for Buttar, all he's gotta do is nod. I'm proud of the guy for all his hard work and proud of the PBR here in Canada for awarding a title in 2020.
The 2020 PBR Canada Monster Energy Tour Finals Week concludes on Saturday, November 7 with the PBR Cooper Tires Classic and PBR Built Ford Tough Championship.
The evening's events will begin with 25-rider PBR Cooper Tires Classic at 7:00 p.m. MT.
Featuring one round, the event winner will be the high-marked rider of the event. Following, the Top 15 riders in the national standings will advance to the final event of the 2020 season, the PBR Built Ford Tough Championship. In the season-culminating event, the 15 qualifying riders will face one final bull in an effort to be crowned the 2020 PBR Canada Champion and earn the accompanying $20,000 bonus.
Fans can catch all the action LIVE on RidePass.
Stay tuned in to PBRCanada.com and follow the tour on Facebook (PBR Canada), Twitter (@PBRCanada), and Instagram (@PBRCanada) for the latest results, news, stats and more.
Follow Ted Stovin on Twitter @TedStovin, and don't miss his insider commentary on Everything Cowboy and the popular podcast Cowboy Sh*t.