The Morning Line – 2020 PBR Canada Monster Energy Tour Finals Week – Day 2
By: Ted Stovin Friday, November 6, 2020 @ 9:38 AM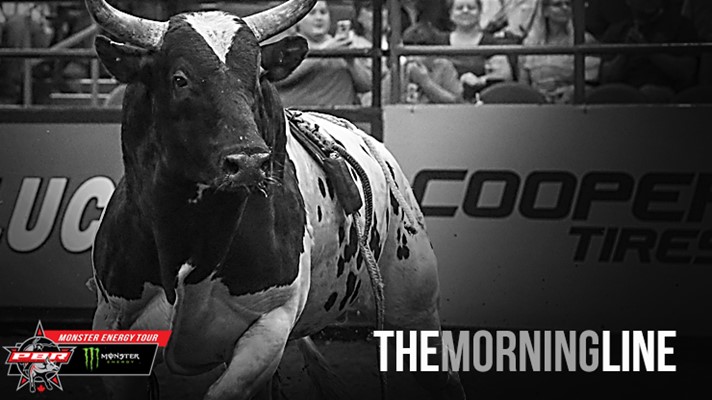 GRANDE PRAIRIE, Alberta – It might have started off a little rough on Thursday with five re-rides in the first round but that streak of eight rides in the row in the championship round was a heck of a run.
The guys made it 9/10 after Jared Parsonage took down a pair of re-rides. We even had Lonnie West ride Bull of the Year contender Happy Camper for 90 points. An 87 was seventh place. Seventh. We would have to look back a long ways, but there probably hasn't been that deep of a round in ages, maybe ever.
RELATED: Two-Time Canadian Champion Lambert and Australian Sensation Miller Split Victory on Opening Night of Competition for the 2020 PBR Canada Monster Energy Tour Finals
Talking about the bulls, Catch My Drift, also from the Two Bit Nation, took over the lead for the PBR Canada Bull of the Year title. That's a race we'll see finished up on Saturday night.
At this point, with 215 points left to win, the five guys I'm talking about in this article are the five still in the race for the Canadian title.
RELATED: Click here for the full Friday daysheet
Dakota Buttar vs. 695 Stay Black
Finishing off the event on Thursday night with yet another ride on Tykro Pound Sand, Buttar remains in the driver's seat, 137 points ahead of No. 2 Garrett Green. Stay Black from the Carlier's is a big black, down-horned bull they are partnered with Bobby Stevens on. According to Mr. Carlier this bull should be right at the latch to the left, right into Buttar's wheelhouse. A few more rides and things might be decided tonight. Last year when I said this, it didn't work out. But I've got a good feeling here for Dakota.
Brock Radford vs. 144 Slap Shot
Another Carlier/Bobby Stevens partnership bovine includes this stocky, red, flat-horned bull. He's out of the right and should be right at the latch to the right. Zane Lambert was last night's co-champ and rode this bull here in Grande Prairie last season for 85.5 points. After an uncharacteristic buck off on Thursday, if Brocks-Maid wants a win he's going to have to change his mind for Friday and Saturday.
Zane Lambert vs. 51 Smash
Smash from the Skori's has made some miles as a bucking bull. Ridden 23 times in 38 outs, the average score checks in at 83.04 points when matched with a rider. Based on the stats, he's ridden as much by right handed riders as left handers. This match between the two is the third bout in where Lambert won the first two. Will he make it 3-for-3? If you have money, this is a safe bet.
Jared Parsonage vs. 686 Dirty Lies
After taking on four bulls on Thursday, three of which were in the short go, Parsonage made a couple great rides, but didn't make up any points on No. 1 Buttar. This bull comes from Shay Marks and he bucked off Wyatt Gleeson in Lethbridge back in July. At 170 points back, it's not very likely, but I'm no ProBullStats.com. Advantage Parsonage always.
Garrett Green vs. 6317 Turn Back Time
Cher, great song. Hopefully I remember to play it tonight here. Turn Back Time has been ridden three times in four outs on record, scores ranging from 82 to 85.5, most recently by Zane Lambert at Tanner Byrne's in August. A red, flat-horned four-year-old. Green is a real threat, but he can't make any mistakes.
Action for the 2020 PBR Canada Monster Energy Tour Finals Week continues at 7:00 p.m. on Friday, November 6, and Sunday, November 7.
The three-day, four-event 2020 PBR Canada Finals will be broadcast LIVE nightly on RidePass, available at RidePass.com or via the RidePass app available on iOS, Android and Roku. The TSN family of networks will also broadcast the event, stay tuned to PBRCanada.com for your local listings.
Stay tuned in to PBRCanada.com and follow the tour on Facebook (PBR Canada), Twitter (@PBRCanada), and Instagram (@PBRCanada) for the latest results, news, stats and more.
Follow Ted Stovin on Twitter @TedStovin, and don't miss his insider commentary on Everything Cowboy and the popular podcast Cowboy Sh*t.