The Morning Line – 2020 PBR Canada Monster Energy Tour Finals Week – Day 1
By: Ted Stovin Thursday, November 5, 2020 @ 8:00 AM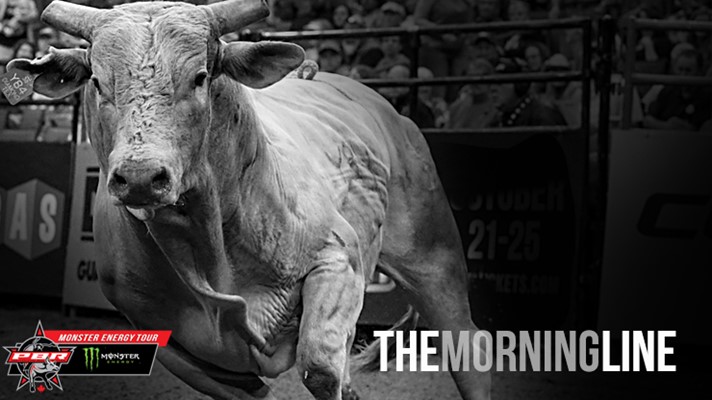 GRANDE PRAIRIE, Alberta – The PBR will be the only professional Western sport in Canada to crown a year-end champion this year.
Let that sink in for a moment.
The 2020 PBR Canada Champion also earns a bonus of $20,000. It's down a bit from last year's $50,000, but what isn't?
I won't get into specifics, you can listen to the podcast for those, but the PBR is the only sport in our business that has had events during this pandemic.
Moving from Saskatoon to Grande Prairie, this is the first year since 2009 that the PBR Canada Champion will be crowned in Alberta. Of the eleven PBR Canada Champions crowned thus far, four have hailed from Alberta. This year, likely for the first time ever, every contestant at the Finals hails from Canada so we're ensured to have a Canadian win the PBR Canada title.
Starting Thursday, we have a two-round event with a similar separate event on Friday. Each of the first two days have a 25-man first round with a 10-man final round and a winner crowned each night. On Saturday we have a 25-man single event followed by a championship round which features the Top 15 in the nation after Saturday's first event. Nearly anyone in the field has a chance at the title, leaving things in the most entertaining fashion.
If a rider makes all three final rounds, they have the opportunity to compete against six bulls over three days.
Just like the World Finals, the juice is out on Thursday night. The only difference is that the best bulls are out again on Saturday instead of Sunday.
In Thursday's championship round we'll see the likes of some former World Finals selected buckers in: Blow Me Away, Grey Tower III, VJV Whiskey Hand, Happy Camper, Tykro Pound Sand, Timber Jam, and the feared Finning Drop Bear, a dam salty pen of bulls.
I'm glad to see the PBR crowning a champion this year here in Canada and looking forward to a great event this week.  
RELATED: Click here for the full Thursday daysheet.
Aaron Roy vs. L11 Broken Trigger
With 15 rides in 39 outs, I think Broken Trigger from the Skori's is a bull I write about nearly every time he's out. According to the stats, it doesn't seem to matter which hand a guy rides with either, he's about even either way. Most recently, the big brown and red banana-horned bull was ridden by Lonnie West in Prince Albert for the win at Tanner Byrne's house. The average ride score is 83.42 points and this bull actually bucked Aaron Roy off in Prince Albert at the Clunie-Cooper Memorial in May of 2019. While we're at it and talking about Prince Albert and Tanner Byrne, Broken Trigger bucked off Tanner in Kinsella in 2018. Aaron is already a three-time PBR Canada Champion and 191.5 points back of No. 1. A total of 375 points are available in Grande Prairie. There's no telling what A-a-ron can do but he always shows up at the biggest events.
Zane Lambert vs. 640 Tractorland.ca
I don't ever like leaving Zane out of the talk when it comes to the PBR Canada national title. He's the only guy now that's been to all 15 PBR Canada Finals since 2006. Tractorland.ca from the Wild Hoggs bucked off three guys in a row, all this year, including Nick Tetz back in Lethbridge in July and PBR Canada No. 1 Dakota Buttar in Stavely at the Glen Keeley Memorial this summer. The average bull score here is 20.67 which ends up being about 41.5 for a total with Zane between 83-8 points5. At 168 points back, Lambert is the No. 5 man in the nation.
Jared Parsonage vs. 594 Tractorland Arizona Dreamin'
I got thrown for a bit of a loop with this one, I thought Jared was getting his hernia fixed and calling it a year. Turns out he got it fixed, but now he's back in time to contend for his first PBR Canadian Championship. This toro from the Wild Hoggs has been ridden just five times in 26 outs. The average ride score is 84.6 points and he's a bit tougher for lefties, the bull is 8-2 against them. Last month he was in Nampa, Idaho for the PBR's elite Unleash The Beast. Boudreaux Campbell team up with him there for 87 points. A red bull, he won't be easy for J-Rock, who's third in the nation 140.5 points back of No. 1.
Garrett Green vs. 32 Finning Medicine Man
I find Garrett a dark horse here, similar to Daylon Swearingen, last year's champ. Garrett hasn't ever really put together a full season yet in his career, he's always had something to keep him from really contending. This year though with the shortened year, he's done really well as much as usual, but there hasn't been that dip throughout the summer when he gets wore out. I think Green will like this first bull in Finning Medicine Man from the Flying Four crew that's been ridden seven times in 11 outs with an average score of 83 points. There's no book on this bull since last year's finals in Saskatoon either and the last score goes back to last summer in Moose Jaw where our pal Klayton Lakevold teamed up with the bovine for an 87-point score. For Green, 101.5 points back of No. 1, a solid week and a couple fumbles from Radford and Buttar could mean the difference.
Dakota Buttar vs. 546 Just A Jam'n
Similar to last year, this title is Buttar's to lose. I don't mean to sound negative here, but when a guy comes in with the No. 1 ranking, he's got a target on his back. After falling back and ending second in 2019, Buttar isn't planning to make the same mistake he made to finish last season. Just A Jam'n from Nansen Vold is a Fig Jam product that's out of the right and around to the right, just like the next bull I'll talk about. Last year in Dawson Creek Tim Lipsett put up an 84.5 in one of the only two outs on record. Nansen says these two are nice bulls, I expect to see a couple rides a little north of that with the hype of the final few and the race to boot. Sorry to the guys further down the list and earlier in the night.
Brock Radford vs. 577 Straight Up G
With Dakota opting out of an event on the big tour back in the spring, it opens the door for Brock to make his way back to the PBR World Finals this year if he wins the national title. Currently 99.5 points back in the No. 2 spot in the country, 2020 might be the year of the Brocks-Maid. It might be about time too. It's going to take some grit to take the cake this year and that's something this guy has got. There are only two trips on this bull so far, same as Buttar's bull, again from Nansen Vold. Both scores in those previous outs checked in at 83.5. Like I said with Dakota, the score should be a skosh higher than that, but anything can happen and it's going to take rides to win.
Action for the three nights of competition for the 2020 PBR Canada Monster Energy Tour Finals Week will begin at 7:00 p.m. on Thursday, November 5, Friday, November 6, and Sunday, November 7.
The three-day, four-event 2020 PBR Canada Finals will be broadcast LIVE nightly on RidePass, available at RidePass.com or via the RidePass app available on iOS, Android and Roku. The TSN family of networks will also broadcast the event, stay tuned to PBRCanada.com for your local listings.
Stay tuned in to PBRCanada.com and follow the tour on Facebook (PBR Canada), Twitter (@PBRCanada), and Instagram (@PBRCanada) for the latest results, news, stats and more.
Follow Ted Stovin on Twitter @TedStovin, and don't miss his insider commentary on Everything Cowboy and the popular podcast Cowboy Sh*t.