Lambert Looks to 2021 After Runner-Up Effort in 2020
By: Covy Moore Wednesday, November 25, 2020 @ 11:39 AM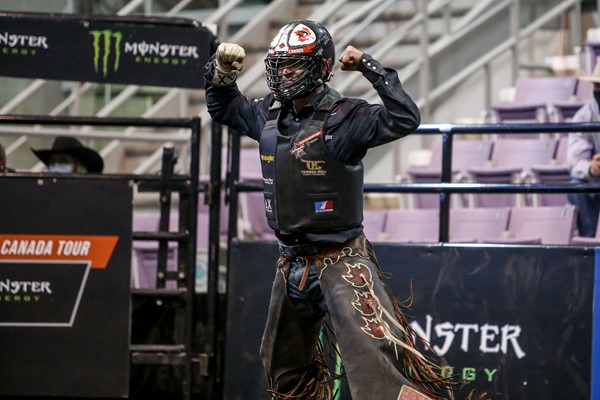 AIRDRIE, Alberta – Ahead of the 2020 PBR Canada Monster Energy Tour Finals in Grande Prairie, Alberta, Zane Lambert was within reach of what could be his record-tying third PBR Canada Championship. 
Ranked No. 5 in the nation, the Alberta-native was within 168 points of No. 1 Dakota Buttar before the first bull bucked inside Revolution Place.
And once action got underway at the three-day, four-event series of season-culminating Monster Energy Tour stops, Lambert was quick to strike.
Going a perfect 2-for-2, Lambert tied for the victory at the PBR Shell Rotella Challenge alongside surging Aussie Callum Miller.
RELATED: Two-Time Canadian Champion Lambert and Australian Sensation Miller Split Victory on Opening Night of Competition for the 2020 PBR Canada Monster Energy Tour Finals
And splitting the first event win at the finals was exactly what Ponoka, Alberta's Lambert needed to do taking home a large haul of 63.33 national points to inch within 146.67 points of the No. 1 ranking.
Heading into the second day of competition, Lambert admits he was reasonably sore.
However, Lambert went on to cover two more bulls that evening, but was unable to gain ground on Buttar who bested the veteran rider by three points in the event aggregate to claim the win.
RELATED: Dakota Buttar Dominates Second Night of Competition for the 2020 PBR Canada Monster Energy Tour Finals Week to Inch Closer to Career-First National Championship
In the face of his successes, Lambert was battling a nagging shoulder injury and his attempt with Flying Four Bucking Bull's J.B. Muley on the third and final day of competition didn't help his cause, leading Lambert to turn out of the remainder of the finals week knowing the title was out of reach mathematically, and on the suggestions of the Canadian Professional Rodeo Sports Medicine team. 
 "I think the finals went good," Lambert began. "I started off with some good momentum coming in healthy and feeling good. I kind of got sored up that first day and was riding sore the second day.
"I rode good, things were clicking really good. Came a little short for that title, but I definitely put some pressure on Dakota Buttar and made it so he had to ride there. He rode really good though. If he let me, I was there to steal it from him. He didn't, so good on him, happy he got that title he set out to get."
"Came a little short on the season," the 34-year-old, who finished No. 2 in the national standings added. "That is my goal too, so it would have been good to win. I think I ran out of bulls. I think if we had kept rolling I could have got him, and the season was a little shorter this year. There were 5/5 bulls that I wasn't able to get on, which put me behind by three bulls. But at the same time I messed up on a couple too, so I can't complain. Good race, good season, short but sweet."
Looking back on the season, Lambert feels he and Buttar would have been neck-and-neck into finals if he hadn't messed up on two bulls during the PBR Canada Touring Pro Division schedule, as well as missing the early season 5/5 Bucking Battle special rounds that were introduced for the 2020 Monster Energy Tour season.
"Two really cost me," Lambert reflected. "They were the only two I slipped on all year. I drew really good in Ponoka and that gave me a good pick, I picked Timber Jam. That bull had an outstanding day and flat out bucked me off. Kudos to the bull, If I could have walked away with the win there it easily would have had me within 100 points going to finals."
"Dakota didn't do anything there," Lambert continued. "That was a huge missed opportunity for me there in Ponoka. I think I ended up third overall, won the long go, but it would have been worth about what I needed to be near neck-and-neck with him."
"At Stavely, I picked a bull over my head and I wanted to win. Dakota kept picking that white bull [Tykro Pound Sand], and I had to have something that could beat him. I went with that grey bull of Nansen Vold's, Big City Nights. He bucked me off. I didn't place in the average because my long go bull was a bit weaker. If I could have had the win there, that is a place Dakota made up a lot of points on me."
With a clear view of what could have been different during the 2020 season, Lambert added that the point standings are not something he looks closely at during the year. 
"Seasons are so long you can't really look at that stuff while it's going on," he said. "This season you could break it down a little easier. You can do that when it's a long season too, but I don't think you can dwell on that stuff. I don't like to look at points, some people can get really happy or some riders that are so pumped by May thinking they are going to win it, they have a lot of points and money and they let off the gas pedal. They let up and coast a bit. That is never going to work when you have guys that are riding every bull they get on. They are going to catch up to you."
"Ride everything you get on," Lambert said of his approach. "Try every time you go at it and get as many points you can. They add up over time. That's been the story of my career is that it all adds up. I always get on more bulls than everybody, pick away and pick away at it, and have always ended up in the race somehow."
"I remember one year coming in leading it and getting beat. That was the worst feeling ever. It's what I was talking about. Maybe I was coasting a little bit or feeling a bit more confident with the spotlight on you a bit more. I hate coming into the finals leading it, I would much rather come in second or third, or even exactly where I was coming in. I was in a good spot to win it, Dakota just stepped up to the plate too. No one else did, no one else in the Top 5 were even going to challenge him."
What lessons have been taught during this unorthodox season will be different, but for Lambert, who is the only rider to compete at every single PBR Canada Finals that has been held in the league, the lesson this season is simple.
"I know I will be wanting to be in the Top 5, so I can be in those 5/5 rounds," Lambert laughed. 
"Take every bull, ride everything they run under you. Take it one bull at a time, one jump at a time and keep a positive attitude and things will work out. That's the way I have always gone at it and it seems to work."
Lambert heaped praise on the PBR Canada administrative and production team for working to ensure the sport continues in a tumultuous time. 
"Being able to trust these guys that there will be something for us to go to, as bull riders, is awesome. They worked hard to put these finals on, and crown a champion. A lot of kudos to them. When I walked into the arena up there, it was them putting in the work. There weren't hired people, extra people around. It was right from the heart group of people trying to put on a great event. When that happens, it makes the events so much more special I think. It's a great venue, the city was great for us."
"They have an awesome production crew with Jason Davidson and Blaine Fyson and they can put on a heck of a bull riding," Lambert concluded. "By far the best in Canada that we have got. It's amazing they were able to put something like this on for us in 2020. Big thanks to them."