Canadian Bucker Power Dozer Impresses in World Finals Debut
By: Covy Moore Monday, November 23, 2020 @ 3:58 PM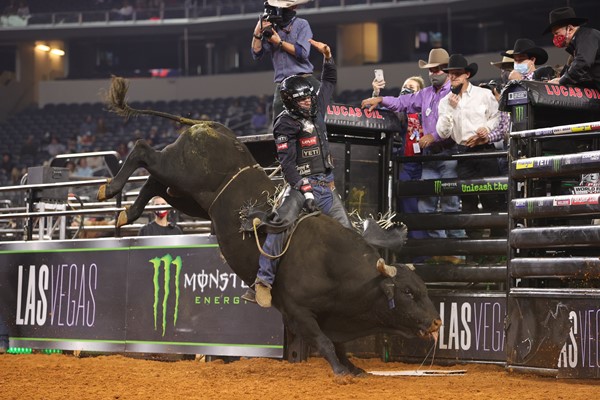 AIRDRIE, Alberta – Canadian bucking bulls had representation at the 2020 PBR World Finals: Unleash The Beast in Arlington, Texas, with the likes of Jayded and Vertigo Spy, who competed alongside the likes of former standout bovine athletes from the nation in Canadian Mist, Nailed and Oz.
However, one bull quietly snuck his way into Championship Sunday as Ellie and Lane Skori's Hanna Motors Power Dozer made a trip with Cody Teel in Round 4.
Getting a bucking bull to the PBR World Finals is towards the top of the achievement list for any stock contract, let alone Canadian stock contractors. 
For Lane Skori, of Skori Bucking Bulls, he knows the bright lights of the PBR World Finals well, having sent down flagship bucker Minion Stuart on multiple occasions.
This year, however, with a shortened season north of the 49th, there haven't been too many opportunities to show off what the bull power in Canada looks like, thus, there were a few less Canadian buckers in Texas. 
Skori said that about two months ago, he moved four of his standout animal athletes to the M Rafter E Bucking Bulls Ranch owned and operated by Sam Mitchell.
With the intentions of showing them off stateside and the goal of getting them sold down there, Hannah Motors Homeboy, Dunt, Snap Shot and Hannah Motors Power Dozer were to be spending the winter attending and performing at events stateside. 
After a couple local bull ridings, video was sent to PBR Livestock Director Cody Lambert who told Mitchell that he would like to have Hannah Motors Power Dozer buck at the Sioux Falls, South Dakota-hosted PBR Pendleton Whisky Velocity Tour Finals on Nov. 6-7. 
"He performed really good there and got picked to be out Sunday at World Finals too," Skori explained. "It was too late to pick him to be considered for two trips, but if he bucked good at Sioux Falls he would work on squeezing him in for a trip in Texas." 
Hanna Motors Power Dozer was marked 44.5 points for his 1.67-seconds buckoff of Kyler Oliver at the Velocity Tour Finals, and that was more than enough for Lambert to choose the bull for a single trip at the PBR World Finals. 
"It's pretty awesome to get a bull down there," Skori continued. "That bull was one of maybe five or so that we have ever bought. We didn't raise him. We bought him off my cousin Brian Cummings, he raised him and we put him on our truck and hauled him for the first part of last summer until we felt he was going to be consistent." 
"He was super excited to hear that he got to go have a trip. It's the first bull he has raised that will have gone to something big like that."
As for the 43-point trip that Hanna Motors Power Dozer put up, bucking off then perfect Teel at the 7.87-second mark, Skori is very pleased with how that bull represented Skori Bucking Bulls, the Cummings Family and Canadian bucking bull industry as a whole. 
"He was good. He wasn't maybe what he was in Sioux Falls the week before, but it's been a long road getting him there. He only really has had 4 trips during the summer really. It has been a hard month on him after not going hard all summer, then going hard for a straight month like that. Not necessarily the shape you want to see them in, but Sam has done a really good job in getting him fit and ready for it," Skori said. 
"It's just good to keep those bulls bucking," Skori continued. "They miss it as much as we do for sure."
"The good bulls start to miss a step when you don't buck them, or give them a half a year off or something like that. It's just better to keep them active. The weather is nicer down there too. If they don't sell, I will bring them home and hopefully Power Dozer could compete for Bull of the Year up here. I can't complain, after all he has been through the last month getting a 43 bull score. He hasn't let us down, that's for sure."
With the prospect of a much busier 2021 on the horizon, Skori says that between the Hanna Motors Power Dozer story and the Vold Rodeo crop of buckers on the Unleash The Beast series stateside, the contractors in the United States are very aware of the Canadian programs.
"Those guys down South know as well as we do that our programs are good," Skori said. "They like our bulls down there. They like the size, they are a bit hotter in some ways than the US bulls are. Those guys are always looking for that next big strong Canadian bull."