Scott Byrne – Prolific Bullfighter Turned TSN Commentator
By: Covy Moore Tuesday, May 26, 2020 @ 5:48 PM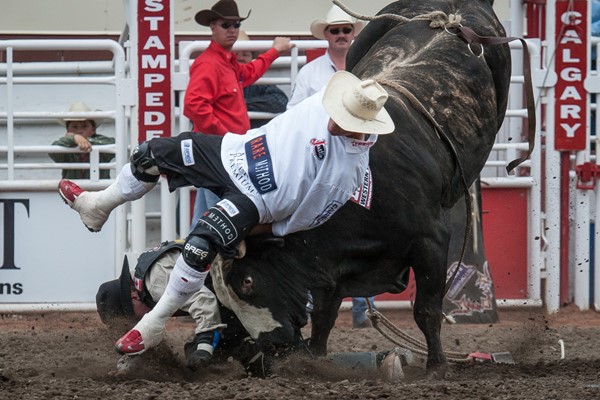 AIRDRIE, Alberta – It was 1995 when Scott Byrne came to a realization.
Hailing from a family akin to bullfighting royalty, Byrne concluded the bull riding may not be his calling, but rather bullfighting, following in his Uncle Ryan Byrne's footsteps.
"I had all the try in the world and no talent," Scott said of the first four years of his career when he rode bulls.
"It was the first thing I wanted to do. I have said it a thousand times and I mean this. I was terrible at riding bulls. I always wanted to fight bulls, watching my uncle Ryan. I just never had the courage to ask him. Ryan took me aside after my fourth year trying to tame the beast, so to speak, and said, 'This is not for you. You are going to end up getting killed here.' I told him right there that I want to learn to fight bulls."
And as Scott simply says, "The rest is history."
That same year Scott attended the Johansen Brothers Bull Riding/Ryan Byrne Bullfighting School. Being around the sport most of his upbringing, Scott said nothing was overly challenging for him, aside from learning to slow down.
"It was such a great place to learn. I walked in there having never fought a bull in my life. I had gotten on the bull though, which helped me know what was going on. I knew when stuff was going wrong, because I had been there -- a lot," Scott laughed.
"Within the first five bulls at that school, that was it. I knew I wanted to do this for many, many years. I could read cattle really well, and I was lucky. I would really run around a lot.
"As a bullfighter, there is a fine line, you want to be able to do your job and be in the spot you need to be in without running around and being everywhere all at once. Ryan once told me he was going to buy a collar and tie me to the chute. Within that first year I got that side of things figured out."
In bullfighting there are many intermediary steps before you reach the top level of the sport as a professional.
Not only must you prove to event producers and sanctioning bodies your fortitude, but you must also show the fellow bull riders that you are physically able to handle the rigors of ensuring their safety after they come off the bull.
And those steps after a 20 year career are easily spotted as the big breaks.
For Byrne, there are three that he says helped him make a name for himself.
The first was being able to work with former bullfighter, now PBR Canada Director of Operations, Jason Davidson as a shadow bullfighter. Scott says working with Davidson gave him the exposure that ultimately led him to his first amateur contracts.
The next was his first break in the professional ranks when former PBR stock contractor Kevin Girletz called and needed a bullfighter for his home rodeo in Hanna, Alberta.
But the last, which was both the most unexpected, and at the time unbeknownst to Byrne, would also be the place that his last performance inside the arena would occur.
"Winston Bruce [former Calgary Stampede Rodeo Director] calling me out of the blue one day would be one of those big key points in my career," Byrne said.
"Bruce hired me in 1997 to do one performance at the Calgary Stampede. I look back now and that phone call, I didn't realize what an impact that would have on my career. It helped get my name out there. Everything just kind of built from there. Being only two years into fighting bulls and walking into the arena at the Calgary Stampede was a jaw dropping experience."
Looking back, Byrne says there are many memorable moments from his PBR and rodeo careers, but one standout happening was a rather harrowing hang up for PBR Global Cup Team Canada coach Scott Schiffner.
"The one that comes to mind was one of the longest and most played that I see. It was a Scott Schiffner hang-up at Rodeo Royal in Calgary on a bull called River Rat. Dave Sandilands and I were fighting that one," Byrne recalled.
"He hangs a spur in his rope, we finally get him out of that. As we get him out he hangs a spur in the flank. We happened to be mic'ed up as well so there is quite the montage from that whole hang-up."
Byrne affirmed that the motivation of his entire career was to ensure the bull riders, who he also called friends, would be able to get up and head off to their next bull safe and sound. And this sentiment is what fueled yet another standout moment.
"I would have to go to the Canadian Finals Rodeo in 2004 or 2005, I think it was the third performance of the week. It was one of those nights where everyone was coming off bad, and I had to take quite a few cool shots. It was one of those where you get back into the dressing room and it's like 'Yes, that's what it's all about.'"
"That is what I loved doing. Those are the ones that stick out in my mind."
Early on in his career, Byrne had the opportunity to fight one of the biggest shows of his young career alongside mentor Davidson and his Uncle Ryan in one of the PBR's Bud Light Cups in Vancouver, British Columbia.
"I got to fight bulls for Tuff Hedeman and Ty Murray and those guys. For me to step into that arena, that early in my career, talk about making a guy nervous, all these guys you watched on TV and look up to," Byrne said. 
"And for the record, Tuff Hedeman cussed me that night. I covered all the angles for that event."
While it may not be a moment that happened inside the arena, for Byrne, bringing the PBR to different regions of Canada was a highlight.
"I was lucky to be a part of that first time we got to go out east [in 2011] and introduce our sport to a whole new group of people and see the look on their faces," Bryne said.
"Being involved in that aspect of the PBR was so cool. They never see that stuff, it was like David Copperfield doing a trick. Being on the ground floor and in the dirt when it was going on was so cool."
With two boys and wife Raegan supporting him through his years of bullfighting, Byrne made the call to make 2015 his final year of bullfighting. He "had other things to do in life," but admits it was far from an easy decision to make.
"It wasn't an easy one. It was and it wasn't. I have said this to Brett Gardiner in our travels. I was so ready to retire, not really, do you know what I mean? It was just time. I never wanted a bull rider to walk up to me and say, 'You know man, maybe it's time.'"
"I wanted to go out fighting the Canadian Finals Rodeo and the PBR Canada Finals. I wanted that to be the end. I knew I could probably go a few more years and be competitive and do my job, but I also had other things to get going on. It was just the right timing."
"With that being said, the fall of 2015 it was all done, rigging bag was over in the corner," Byrne continue.
"Spring of 2016 rolls around and the rodeo and bull riding season starts. After 20 odd years of doing it you are so programmed to be in certain places at certain times of the year. We had some of the east bull ridings starting up again, you talk about having to dig deep, I was having to dig deep to not bawl. It was frustrating and the thoughts of why did I do that, should I still be going."
But then the biggest blessing in disguise came Byrne's way in 2016, when about a month from the season's Calgary Stampede, and in response to PBR Canada bullfighter Brett Monea sustaining an injury, Byrne got a call to fill in and make a brief return.
"I was out back kicking stones and feeling sorry for myself," Byrne said.
"That came out of the blue, out of nowhere. It was about a month-and-a-half before. Was I willing to come back? I didn't just say yes right away that I'm ready to come back. I thought was there someone younger, a spot am I taking? Probably yes. But at that time Calgary Stampede wasn't willing to risk it with a rookie there that year. I knew I could do my job in my heart and mind."
"With that being said. I told Kynan Vine [Western Events Manager] and Barry Magrath [Rodeo Manager], you don't have to introduce me. I just want to be there as the third wheel. I'll be damned if the first bull on the first day I have to pick him up, son of a bitch breaks my finger. I thought well we are really doing it," Byrne continued.
"Eighth performance, half way through the bull riding, it was cold and wet that day. It hit me like a rock and I thought, I am done. I don't want to do this anymore. On the way home I looked across the truck at Raegan and said I am done, I am so good to never fight a bull again. Obviously I missed seeing the guys and everything, but I was ok. People ask me all the time if I miss fighting bulls. I don't miss fighting the bull, I miss the people the sights and sounds and smell. Blessing in disguise. You couldn't write a script any better than that."
But his time away from the arena didn't last long. In 2017 Byrne made his TSN debut with the PBR Canada Monster Energy Tour as a color commentator, traveling with his mentor Davidson, Uncle Ryan, now a judge for PBR Canada, and the riders he had previously protected and watched rise through the ranks.
"I was honoured for one, but I also hung up the phone and was nervous as shit. You are getting into the other side of things. It was easy to be interviewed. I work at it all time, but interviewing someone is completely different," Byrne said.
"Having producers in your ears talking while you're talking, shoot, I can't tie my shoes and have a conversation at the same time let alone that. Every time I do it, I think I get a little bit better. I got to get involved again in a different part of the production. I understand the game and the sport, and as long as I can do my job and they want to keep hiring me, I will keep going."