Rank Reports: Liquid Fire
By: Covy Moore Thursday, May 21, 2020 @ 10:38 AM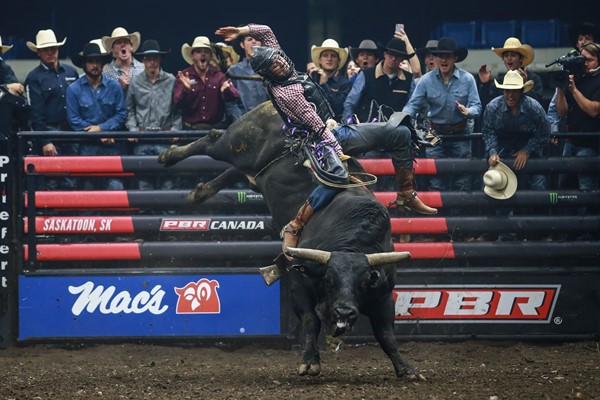 AIRDRIE, Alberta – In 2016 PBR Canada launched the Monster Energy Tour, bringing the nation its first-ever unified, cross-country, televised bull riding series. In addition to bringing new competitive bull riding opportunities to the world's best competitors, the inaugural year of competition also featured an added layer of excitement – the bounty bull.   
With one bovine athlete selected to be the bounty bull, the concept was simple. At each event the winner would receive the chance to attempt said bull. If the rider could reach the 8-second whistle, he would earn the purse, or the bounty, that was placed on that bull. Bucked off and the purse would roll over to the next event, increasing as the tour travelled city-to-city.  
In 2016, that bull was the Wild Hoggs' Liquid Fire.
Sent to the Wild Hoggs' firm from a pair of bull breeders from the Peace Country of Alberta, Justin Volz identified the prowess Liquid Fire had right from a three-year-old.
"They sent him our way as a three-year-old to train and buck and get a look at him. He looked pretty good from the start, did good with the dummy. Eventually we got riders on him and he kept getting better and better," Volz said.
"As a young bull he was a handful. He was big and wild and strong. It took lots of work, a few times a week we would run him through our system just to calm him down and teach him how to conserve his energy.
"Standing in the chutes was never a problem. But as far as handling in the back pens if he had the chance he would hook you as a young bull, but as he got older he would settle in. There were some days you could scratch him through the fence, and other days he would be feeling a little crusty and he would walk over to the fence and give it a little rattle. He always kept you on edge."
And it was that intensity Volz said that likely gave him the shot of being the bounty bull for the 2016 season.
"I think why they liked using him as a bounty bull was that he had all the tools. He had the look, he had the hook and he had the buck and that consistency," Volz added.
"Every time you bucked that bull he was good. He would be right there to the right, and he would go back to the left at the whistle if guys were still there. He bucked hard enough to be able to get guys into that 88-90 range. It didn't end when the whistle went, he would put a show on with them bullfighters. He kept them on their toes."
Liquid Fire's bucking style was fast and strong. His ability to get to spinning right at the chute gate made him both tough to ride, but flashy all the same.
"He was big, he was strong, he was intimidating, and he was right in the latch to the right. He wouldn't take one jump out, or two jumps out. When the gate cracked he was right there. The tip of his horn would just miss the latch every time. He would fade out into the arena," Volz said.
"For a bull rider what would make it tough would be getting your timing down right there at the chute. Also with how he would kick and spin, he would be so close to the chutes that he would push back to get away. He would want to pull you down.
"Once he was away from the chutes enough, then he would start moving forward and drifting. So the momentum and the timing would change. He just kept guys working the whole time. But at the same time he was one that everybody wanted because he would give you an honest chance to win first just about every time you would buck him."
In his career, Liquid Fire logged 51 outs on record across all levels of competition, ridden just nine times.
One of those riders who made the eight is current Canadian No. 1 Dakota Buttar, who in three meetings covered the bull twice.
"He was one of my favorites when he was going. He didn't get rode very much back then, so I was pretty excited to get him rode," Buttar said.
The two first met at the Pro Rodeo Canada event in Cochrane, Alberta in July 2014. While the trip didn't end in a qualified ride, when Buttar next attempted him in May 2016 at the PBR Canada Touring Pro Division event in Prince Albert, Saskatchewan they danced for an 88-point score.
Their final meeting was witnessed at the 2016 PBR World Finals, Buttar's debut at the prestigious event. Marking Buttar's first-ever qualified ride at the PBR World Finals, the duo combined for a 70.5-point trip in Round 3.  
"He was always so consistent, he was always right there to the right at the gate. He was big, and he was strong. If you rode him you were going to be 88 or more. He was so big that if he got whipping, into your hand or even away from your hand he was a handful. He was good every time."
While Brady Oleson was the rider that finally broke the bounty bull streak at the PBR Canada Finals in Saskatoon in 2016 for a cool $20,000 cheque, it was another PBR athlete taking home a much bigger cheque that sticks out in Volz's memories of Liquid Fire.
"The one that stands out the most is when Cody Teel won Calgary on him," Volz said of Teel's 91.5 point ride aboard Liquid Fire to win the 2016 edition of the "Greatest Outdoor Show on Earth."
"The mud was deep, conditions weren't ideal at all. That bull had once of the best trips he had ever had. And Cody put on a clinic, rode him to 91.5 and dominated and then he got paid $100,000 for it."