Built Ford Tough Top 50: Three-Time PBR Canada Champion Aaron Roy Wins 2014 PBR Canada Finals in Historic Return to Competition
By: Kacie Albert Thursday, May 7, 2020 @ 4:01 PM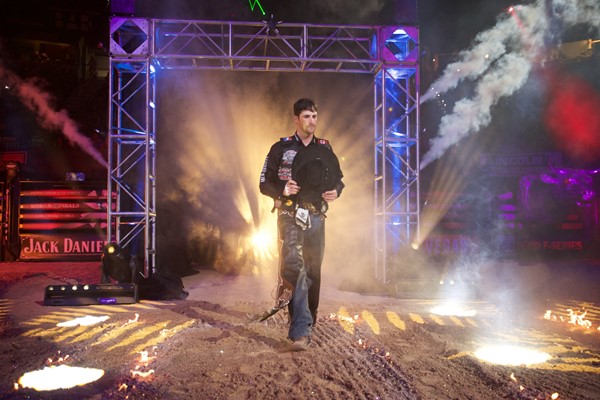 NEW YORK CITY – On July 11, 2013 at the Calgary Stampede, three-time PBR Canada Champion Aaron Roy was involved in a wreck that many are unable to forget.
Attempting Gretzky at the "Greatest Outdoor Show on Earth," the Saskatchewan native was stepped on, resulting in multiple jaw fractures, but also a life-threatening lower back fracture that required emergency surgery to insert two rods and eight screws.
Following surgery, Roy's recovery trajectory was largely unknown, with the greatest concern being his mobility and whether or not he'd be paralyzed from the ribs down.
But Roy defied the odds.
Within 12 hours of undergoing major surgery, Roy began to reach milestones, making two, short-distance walks, foreboding the awe-inspiring comeback that he was about to embark upon.
Remaining at Calgary's Foothills Medical Centre for 10 days, Roy was then moved to Regina General Hospital where he stayed for four days.
After walking out of Regina General Hospital with merely a cane, and the assistance of his wife Hallie, Roy remained at home for two straight months with limited activity, as doctors cautioned the new father that he'd be unable to lift more than five to 10 pounds for the foreseeable future.
By September 2013, Roy was walking without his cane, moving about under his own power.
Next came Roy's ability to work out on his own in December 2013, followed by the clearance to lift 50-100 pounds in January 2014.
Then, in February 2014, Roy was given the clearance to begin horseback riding, taking a job on horseback at the Prairie Farm Rehabilitation Administration's (PFRA) pastures in May.
It was a few weeks after that when Roy began to forecast a return to the sport, climbing aboard a bucking barrel while coaching a bull riding school in Manitoba.
"I got on the barrel and rode it a few times and it didn't bother me," Roy said. "It kind of put in my mind, maybe I should go and try and do this and use up my five events."
"My surgeon isn't encouraging me to return, but he has said he won't keep me from trying," Roy said further in conversation with the Calgary Herald one year after his injury. "I want to get back to where I was. If I can't do it at that level, I don't want to do it any more."
"I won't be scared," he added. It might be a little nerve-racking but I won't be scared. I feel just as good as I did before it happened."
And after a 491-day recovery, Roy made his return to competition at the 2014 PBR Canada Finals less than an hour from his Asquith home in Saskatoon, Saskatchewan.
"It's kind of unexplainable for it to be at home and for the first event for my kid to see me ride at a finals," Roy, who welcomed his first son Axel just a few months after his injury, told Global News Saskatoon.
"From the time I woke up out of surgery I was asking what my re-ride bull was at Calgary, it was my goal to be on a bull again and ride."
"Me coming into this event, it's all just proving to myself that I can still ride," Roy said further in interview with the Global TV affiliate. "The injury didn't end my career, I'm just here to have fun, just prove to myself I can still compete at this level."
But Roy did more than prove he could "still compete" – he won the event.
Despite bucking off his first bull back, dispatched by Buffalo Chip in 3.06 seconds, Roy was back to his winning form in Round 2, covering Eno Bucking Bulls' Country Junkie for 85.5 points to advance to the championship round.
And just as Roy's wreck won't soon be forgotten by western sports fans around the world – neither will his championship round effort inside the SaskTel Centre at the 2014 PBR Canada Finals.
Squaring off against the Wild Hoggs' Bull of the Year contender Trendon, Roy reached the 8-second whistle for a monstrous 90 points.
As a result, when the dust settled at his first event back, Roy emerged the victor, winning the 2014 PBR Canada Finals.
"This means a lot," Roy told Everything Cowboy's Ted Stovin. "I had been chasing this finals title for a long time and I came in this weekend just hoping to get at least one rode."
"To win this finals, have Hallie and my son here to witness it, through all the dedication we've had this whole 16 months, It means a lot."
"That was kind of one of my dreams," Roy's wife Hallie added. "To have our children see Aaron ride and kind of witness how talented of a bull rider he is. It was very emotional and very exciting to have Axel there, and definitely a huge highlight and simply amazing. [Aaron] went into that kind of just hoping to be able to cover one bull, let alone pull off a 90-point ride and win the Finals."
"It is pretty crazy," fellow 2014 PBR Canada Finals rider Tanner Byrne said at the time. "They pretty much told him he would be lucky to walk and never be able to ride bulls again. It is pretty impressive for the guy to not let adversity take over and to see him come back with a total 180 and start getting on bulls again."
 And the impact of the event didn't subside for Roy as time passed.
"It was kind of unexplainable to go in there and even put two rides together, let alone stay on in the short round" Roy said four months later as he prepared to return to the elite Unleash The Beast.  "I don't know how to explain it. I was kind of speechless there for a while."
Now more than five years removed from his historic return to competition and event win, Roy remains a formidable opponent in PBR Canada competition, even after suffering yet another career-altering injury at the 2016 PBR World Finals.
Tune-in to RidePass today, to relive some of Roy's recent successes at RidePass.com or via the mobile app.