Built Ford Tough Top 50: Red Hot Radford Wins Four in a Row in 2017
By: Kacie Albert Tuesday, May 5, 2020 @ 11:09 AM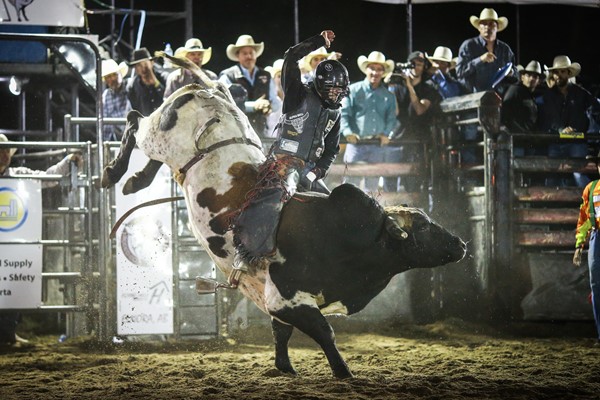 NEW YORK CITY – In Canadian competition, the waning months of the Touring Pro Divisions season belonged to one man – Brock Radford.
With the final six events of the series held in a two month time from July 26-September 21, Radford appeared unstoppable, winning four consecutive events, to not only reach new heights in Canada, but also on the global stage.
The Alberta man's dominance began on July 26 in North Battleford, Saskatchewan.
Covering Big Shot for 85.5 points, the high-marked score of Round 1, Radford was the victorious rider at the 4th annual Gold Eagle Casino PBR Classic, presented by McDonald's.
RELATED: Radford Wins in North Battleford
In addition to collecting a cheque for $3,292.48, Radford also earned a crucial 275 national points.
Climbing to No. 5 in the Canadian standings, the Albertan was positioned within 393.34 points of the No. 1 ranking.
Next, Radford set his sights on the first-ever stop in Kelowna, British Columbia.
Just seven days after his victory in Saskatchewan, Radford was back atop the podium at the Okanagan PBR Challenge.
RELATED: Radford Wins Inaugural Touring Pro Event in Kelowna
First covering Snapbacks for 80 points in the opening round, Radford became the only cowboy to go a perfect 2-for-2 when he topped the championship round with an 84.5-point effort aboard Pozzy Time.
Additionally recording a sixth-place finish courtesy of his double entry, Radford earned a collective $5,136.98 along with 305 Canadian points, allowing him to gain even further ground in the national standings.
Catapulting to No. 3 in Canada, Radford demolished the lead held by the then No. 1-ranked rider, inching within a slim 78.34 points of the top spot.
Radford then returned home to his home province of Alberta, and the momentum continued to flow.
At the 19th Annual Elnora Brahma Rama on August 12, Radford recorded his third consecutive event win as he continued to dominate Canadian competition.
RELATED: Radford Wins in Elnora
As one of only two riders to deliver a perfect 2-for-2 performance, the then 22-year-old paired an 81-point trip on Devil's Wing with an 86.5-point effort aboard Buckington to secure the victory.
For the second event in a row, Radford also recorded an additional Top-10 effort at the event courtesy of his double entry.
Also Riding Yellow Moon for 81 points in Round 1, Radford additionally left the Touring Pro Division stop with a sixth-place finish.
Collectivley, Radford earned $4,501.41, but more importantly netted a massive 305 Canadian points.
As a result, Radford left the event as the No. 1 man in Canada, his first time holding the top ranking that season.
His top performances also allowed him to surge to a commanding lead, catapulting 226.66 points ahead of the then No. 2-ranked rider.
Next on the calendar was the 17th Annual Coronation Royal Rumbull on August 16.
Inside Coronation Memorial Arena, Radford not only continued to dominate, but he inched one step closer to actualizing his dreams of competing on the elite Unleash The Beast.
As the only rider to go a perfect 2-for-2, Radford won his fourth consecutive event title.
But his 82-point ride on Bobby McGee and 88-point trip on Big Shot, weren't his only qualified rides of the event.
Again double entering, Radford not only recorded his third consecutive Top 10 effort to compliment his win, but he finished second courtesy of his 84.5-point, Round 1-winning ride aboard Nugget.
RELATED: Radford Sweeps Coronation
For his sweep, Radford collected a $5.514.98 cheque, and a massive 455 Canadian national points.
As a result, he surged to a commanding lead atop the national rankings as the riders jockeyed for the final points in the race for the 2017 PBR Canada Championship, positioning himself more than 706.66 points out front of the No. 2 cowboy.
"Just not thinking, letting it happen, not really putting too much thought and over-thinking stuff," Radford said of his plan at the time as he looked ahead to the final events of the year. "Just going there and getting on whatever I've got to get on, no game plan, riding them jump for jump. It's what everyone says to do but sometimes it's the hardest thing to do."
However, his win in Coronation was more so defined by the crucial 85 world points he also collected.
Mirroring his rise up the Canadian national standings, Radford was also steadily climbing the world rankings.
And in Coronation, he cracked inside the coveted Top 35, leaving the event No. 35 in the world, positioned inside the cutline for a berth on the league's premier series.
RELATED: Red Hot Radford
"I honestly have no idea," Radford quipped when asked what was fueling his win streak. "Just staying healthy, and I've got a good group of guys I'm in with."
While his streak of Canadian event wins came to an end on September 2 in Stavely, Alberta, where he finished fourth, they still continued to pay Radford dividends.  
A few short days after the Stavely event, Radford received what for many is a career-defining phone call – the call informing him he'd be making his Unleash he Beast debut on September 8 in Springfield, Missouri.
RELATED: Welcome to the Big Leagues
"This is where I want to be, this is where I can really make some points," Radford said.
"My goal has always been to go to the World Finals, so I am super excited. This is another step towards where I want to be and finish at the end of the year."
Despite being shutout in his debut, Radford made two additional appearances on the elite Unleash The Beast before his season came to a close in Saskatoon, Saskatchewan for the Canadian Finals.
While he fell short of his goal, finishing No. 2 in the nation, and outside of a berth to the PBR World Finals, Radford was more determined than ever for what 2018 held.
"The best thing that ever happened to me right now was losing Canada. Now I am out for blood. The World Finals is a goal of mine, but I also want to get to the Top 25 too. I know I can do it. I cracked the Top 35 (in 2017) and that is my plan for this year."