Built Ford Tough Top 50: Lambert Victorious at First-Ever PBR Event in Front of Home Province Crowd
By: Kacie Albert Monday, May 25, 2020 @ 10:55 AM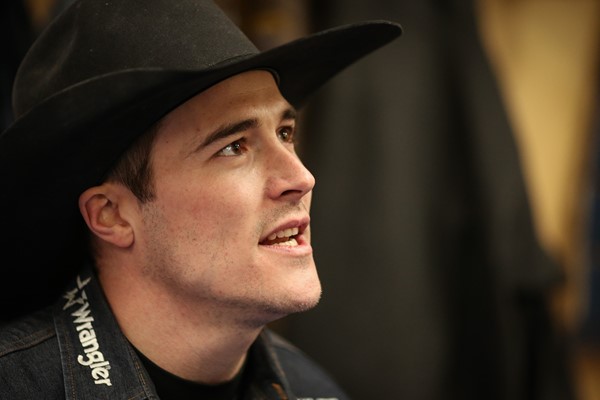 NEW YORK CITY – In the sport of bull riding, a milestone for any competitor is their first event win.
While for some, that may feat may take months, for now two-time PBR Canada Champion Zane Lambert it was a marker he reached right out of the chutes -- not to mention in front of a home province crowd.
RELATED: Back Where it Began
Newly 18, the Westbourne, Manitoba-born rider made his PBR debut on June 2, 2006 inside the now Bell MTS Place in Winnipeg.
"My points weren't qualifying me in the Top 35 to qualify for this event, but I ended up getting in as an alternate," Lambert recalled.
"I got phoned a couple days after entries and they needed some riders, so I got in."
Making a splash, Lambert delivered a massive 89.5-point ride to not only quickly make a name for himself amongst the PBR ranks, but also win the event.
"It was my first big win, and that's what got me going in the PBR," Lambert said.
"After that I got into everything." 
In the more than decade that has passed since, Lambert, who has won 28 events across all levels of PBR competition, has established himself as one of the nation's top talents.
As the only rider to qualify for all 14 editions of the PBR Canada Finals, Lambert, also a five-time PBR World Finals qualifier, is the only rider to win the season-culminating Canadian event in multiple seasons, let alone back-to-back years (2016, 2017).
Additionally, Lambert, the 2013 and 2015 national champion, is one of only two multi-time PBR Canada Champions, joined by three-time PBR Canada Champion Aaron Roy.  
RELATED: Zane Lambert Calls His Ride to Become Second Multi-Time Champion in League History
And while Manitoba served as the host site of Lambert's first-ever event, and event victory, the province holds additional sentiment for Lambert.
"I think I was seven or eight when I first kind of fell in love with the sport and wanted to see it," Lambert recalled.
"Dad and mom took me to an event in Winnipeg, it was a Cody Snyder Bullbustin', and I remember watching it and then going down behind the scenes when they signed autographs and standing in line and getting to meet all the cowboys."
"I got them all to sign my hat, and that's where I started asking, 'What should I do if I want to get into this sport?'"
"Some of the riders suggested I go to this Jimmy Lawrence bull riding school that was two-and-a-half hours from the house, and dad thought that was a good idea, so I went."
Since his notable, and victorious, debut, Lambert has competed at PBR events in Winnipeg nine additional times, logging four Top-10 efforts, including a fifth-place finish at the most recent Monster Energy Tour stop in the city in 2019.
"I always like competing in this arena. I've had some success, so this is definitely one of my favorite arenas to ride in."
To relive Lambert's most recent Top-10 finish in Winnipeg tune into RidePass at RidePass.com or via the mobile app.
Be sure to stay tuned to PBRCanada.com and follow the tour on Facebook (PBR Canada), Twitter (@PBRCanada), and Instagram (@PBRCanada) for the schedule updates.