Built Ford Tough Top 50: Klayton Lakevold Walks In Arena at Lethbridge Ahead of Retirement from Professional Bull Riding
By: Kacie Albert Thursday, May 28, 2020 @ 12:12 PM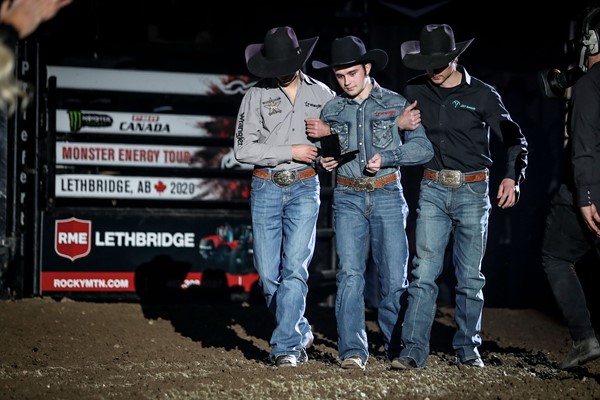 NEW YORK CITY – At a PBR event, it isn't always the jaw-dropping feats of athleticism by both rider and bull that often leave the crowds speechless.
Throughout the league's 27 years of operation, PBR has also come to be known for honoring the world's heroes and illuminating the incredible stories of not only those in the local area, but also those within the western sports community.
Specifically in Canada, those moments have included highlighting the incredible work done by the Ronald McDonald House, working to support those impacted by the tragic Humboldt Broncos bus crash, and most recently showcasing bull rider Klayton Lakevold's incredible odd defiance as he walked across the arena at the early-March Monster Energy Tour event in Lethbridge, Alberta.  
RELATED: Lakevold Injured at PBR Canada Event in Lloydminster
Rewind nearly 365 days, and on July 12, 2019, Lakevold's life was forever changed.
Sustaining life-threatening injuries while competing at a PBR Canada Touring Pro Division event in Lloydminster, Saskatchewan, Lakevold remained hospitalized for 249 days as he went from being in a coma, to being able to move from a bed, to standing on his own.
"Doctors told us his chance of surviving was very slim," Lakevold's father Darcy said. "People that experience this type of injury very seldom survive, let alone have any quality of life. Klay has beaten the odds, he is in that 1%."
Before his triumphant homecoming on March 18, Lakevold made an appearance at the PBR Canada Monster Energy Tour's event in Lethbridge, Alberta.
RELATED: Lakevold's Recovery Continues as he Walks in Arena at Monster Energy Tour Event in Lethbridge
Rising from his wheelchair with the help of fellow cowboys Lonnie West and Todd Chotowetz, Lakevold presented event winner Dakota Buttar with his buckle, which Buttar quickly passed back to Lakevold.
"It was awesome," Lakevold said. "[Jason Davidson] told me to come down, and I ended up giving the buckle out too which was awesome."
"[The buckle is] already on my shelf. Giving that buckle was special to me. Dakota has been kicking ass, which is rightfully so. He tried the hardest, and it really pays off for him."
"His no quit attitude and strong will to recover keeps us all going," Darcy Lakevold added.
"He has kept his same try-hard mentality throughout all of this. He also has remained positive and happy throughout, always saying 'hello, how's your day?' to others in the halls, making his therapists laugh and smile, and being cordial to everyone."
A month after Lakevold walked in arena inside the ENMAX Centre, he announced his retirement from the sport on Facebook.
"It is with a heavy heart that I have to make this decision to retire as a bull rider for good, but the people I've met and the friends I've made have made it all worth while for sure!"
"You may be retiring as a professional bull rider, but you're not retiring from the PBR," PBR Canada Director of Operations Jason Davidson said in a video tribute to Lakevold. "We've got work to do, and I look forward to doing it with you."