Built Ford Tough Top 50: Coy Robbins Earns First-Ever PBR Canada Rookie of the Year Title in 2017
By: Kacie Albert Friday, May 8, 2020 @ 2:08 PM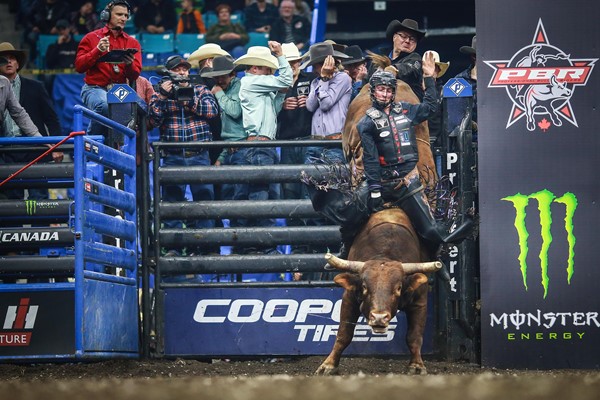 NEW YORK CITY – In 2017, a new honor was debuted on Canadian soil – the PBR Canada Rookie of the Year title.
A year-long race, the honor would be won by the first-year rider in PBR Canada competition who amassed the most national points at season's end.
And while a fierce race was brewing for the 2017 PBR Canada Championship, an equally intense competition was forming amidst the tour new-comers, with the Rookie of the Year not decided until the final outs of the PBR Canada Finals.
Entering the season-culminating event, the top two contenders were a pair of Alberta young guns -- Dayton Johnston and Coy Robbins.
As they both readied for their Canadian Finals debuts, Johnston was ranked No. 25 in the nation, while Robbins was No. 29, 65 points behind Johnston.
PBR Canada fans were first introduced to Johnston on March 3, 2017 when he competed on the Touring Pro Division in Lethbridge, Alberta.
While Booster Juice bested Johnston in an ever-close 7.5 seconds to end his debut event in quick fashion, Johnston's very next outing amongst the PBR Canada ranks solidified that he was a rider to watch.
Going a perfect 2-for-2, covering Marshals Law for 81 points and Village Idiot for 87.5 points, Johnston won the first-ever Teepee Creek PBR Classic, presented by Lyons Production Services on March 11.
RELATED: Johnston Claims First PBR Victory in Teepe
With momentum at his back, Johnston continued on, logging four additional Top-10 efforts prior to the Canadian Finals.
Robbins, however, did not make his Canadian debut until several months later.
Turning 18 on June 23, Robbins first competed on July 12 at the Touring Pro Division event in Kinsella, Alberta.
Making the 8 aboard his first-ever PBR Canada draw, an 81.5-point ride on Finning Regulator, Robbins logged a sixth-place finish at the stop in his home province.
Entering seven additional events prior to the PBR Canada Finals, Robbins earned six Top-10 finishes, headlined by a runner-up effort in North Battleford, Saskatchewan.
As action got underway for the 2017 PBR Canada Finals, Robbins began to instantly gain ground on Johnston.
While Johnston was bested by Southern Heat in a quick 2.19 seconds, Robbins recorded the second-best marks of Round 1, covering Grey Eyes for 86.5 points.
The ride earned Robbins an ever-important 150 national points, propelling him from No. 29 to No. 22 in the nation, 85 points out front of Johnston.
As a result, Round 2 was a must-ride moment for Johnston.
Facing Southern Heat, the Milk River cowboy, however, wasn't able to convert, bucked off in a quick 2.19 seconds as his first-ever PBR Canada Finals came to a conclusion.
Much the opposite, Robbins continued to find success.
Drawing Pozzy Time, he recorded his second-consecutive qualified ride when he reached the requisite 8 for 81 points to clinch the inaugural PBR Canada Rookie of the Year honor.
"He just has all the try in the world," Three-time PBR Canada Champion Aaron Roy said of Robbins. "He wants to go somewhere and he wants to win first every time."
While Robbins' streak came to an end in the championship round, he concluded the season-culminating fifth as he stood on the dirt being presented the Rookie of the Year buckle.
"He is one of the best riders in Canada going right now," Roy said. "He has it to be on the Built Ford Tough. If he keeps going at it riding and he keeps his attitude, the way he has been, he will be on the Built Ford Tough."
Following his win, Robbins went on to compete for Team Canada at the first-ever PBR Global Cup held in Edmonton, Alberta.
While injuries have plagued him the duration of the 2018 season, Robbins finished No. 18 in the 2019 PBR Canada national standings.