The Morning Line – Lethbridge – Day 2
By: Ted Stovin Saturday, March 7, 2020 @ 9:19 AM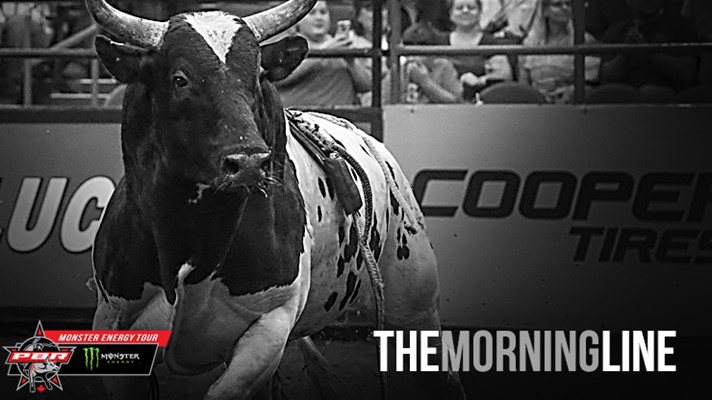 LETHBRIDGE, Alberta – For being off the last six weeks, I think Friday night was one of our best first performances of an event in a long time. For those of you that missed it, you can always catch up on RidePass, or make sure you get off work early enough and buy tickets for both nights next year.
On the Monster Energy Tour, we're always treated to the top bull power in the country in the championship round.
This year is no exception.
Magrath, Alberta's three-time PBR World Finals selected and 2018 PBR Canada Bull of the Year, Happy Camper from Two Bit Bucking Bulls highlights the field. Fellow stablemate and World Finals selected Catch My Drift is also in the elite final round followed by 2019 PBR Canada Bull of the Year Homegrown from Eno Bucking Bulls.
We also can't forget World Finals bull Tykro Pound Sand from the Wild Hoggs.
Come on down to the ENMAX Centre and see yourself some of the best bull riding in the world on Saturday night, it's going to be a rocker.
RELATED: Click here for the full Saturday daysheet.
Dakota Buttar vs. 529 Jappy Feeling Dangerous
After bucking off Big Tymer last week, Buttar made it right on Friday, taming the bull for 84.5 points. That put him 7-for-7 on the year so far before he added an 86-point score on VJV Whiskey Hand in the 5/5 Bucking Battle. Jappy Feeling Dangerous won't feel too dangerous after Buttar goes 9-for-9 on Saturday night in Round 2. The last time the two danced it was for 87.5 points in Northern Alberta way up in Falher in 2019. Look for a possible 10-for-10 start with another ride in the championship round later on. If you're betting, pick this guy, he won't disappoint.
Jared Parsonage vs. 434 Crank It Up
For Parsonage, he almost didn't have enough bull on Friday night for 80 points on Preacher Man. It was seventh of the seven recorded rides which puts him in position to repeat as the Lethbridge event champion. It's going to be an uphill battle however as Parsonage is 0-for-2 so far against Crank It Up from the Eno's. They first met in Medicine Hat last June and the bull won again in Coronation in August. Crank it Up has been ridden three times in 13 outs on record, with the high score checking in at 85.5 points on the little, black horned bull with a white face.
Garrett Green vs. 504 Sick Rhymes
Sick Rhymes has only been ridden once in 12 outs including last night, including last night's match-up with Jake Gardner. Sick Rhymes looked a little tough then, going right, but in this showdown it will be into Green's hand. There aren't many guys that ride as good as this guy in the spring and he's off to a hot start once again despite getting a no score in Round 1. Green did, however, win the 5/5 Bucking Battle after an 88.5-point trip on Vertigo Spy from Vold Rodeo. Sick Rhymes will be a tough match, but should green get a score it may very well get him into the championship round.
RELATED: Lethbridge Game Notes
Lonnie West vs. 1 Dunt
Lonnie West bucked off this bull in Coronation back in August of 2019 in a quick 3.44 seconds. The black horned bull from the Skori's has been tamed four times in 17 outs. The most highlight reel worthy spin was an 88-point effort against Shay Marks back in Stavely in September of last season. The bull went right into Marks' hand, but he's away from West's hand which was a disadvantage for the two last time around. Lonnie came down in Round 1, but he'll be looking for redemption tonight in his return to the sport.
Brock Radford vs. C4 Power Dozer
Power Dozer from Vold Rodeo has been ridden five times in 11 recorded outs. This is a rematch from Lloydminster in the summer of 2018 where the two hooked up for 80 points. A black horned bull, he went right in the last video I watched of him. But then he went left with Parsonage in Stavely for the highest scored ride on this bull so far at 85 points. Radford was bucked off in Round 1, but now is 2-for-2 against Cool Bricks in the 5/5 Bucking Battle. He's going to need to ride Power Dozer for a good score to make it back. I expect him to do just that.
Tickets remain available for the 2020 PBR Canada Monster Energy Tour South Country Co-op Showdown and can be purchased from the Enmax Centre website. Fans will also be able to watch all the action LIVE on RidePass on Saturday, March 7 at 7:00 p.m.
Stay tuned in to PBRCanada.com and follow the tour on Facebook (PBR Canada), Twitter (@PBRCanada), and Instagram (@PBRCanada) for the latest results, news, stats and more.
Follow Ted Stovin on Twitter @TedStovin.