Brett Gardiner – A Man of A Million Words
By: Kacie Albert Wednesday, March 25, 2020 @ 12:15 PM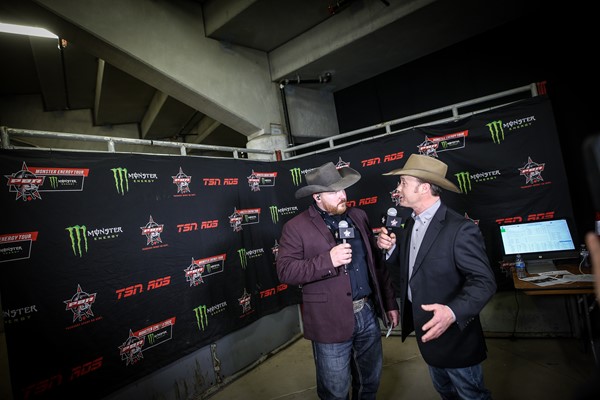 NEW YORK CITY – If you have ever attended a PBR Canada tour stop, or tuned into one of the events on the TSN family of channels, or the league's own OTT network RidePass, you have most likely heard the ever talented Brett Gardiner.
One of the most renowned western sports announcers to emerge from Canada, Gardiner has been an integral presence on the Monster Energy Tour since its launch in 2016, chronicling many of the pivotal bull riding moments in the nation's history, while also bringing to life countless other Touring Pro Division stops and rodeos across the nation.
Now, Gardiner is preparing to add yet another item to his resume, set to launch his Instagram Live program, Brett Gardiner Live, this Wednesday, March 25, at 7:30 p.m. MT on his account @gardinerrodeo.
Ahead of the program's much anticipated first episode, PBR Canada caught up with Gardiner, learning more about how he came the industry, while also hearing about some of his most memorable moments and getting a sneak peek at the tonight's launch of Brett Gardiner Live.
Be sure to tune in tonight at 7:30 p.m. MT on @gardinerrodeo, or relive some of your favorite PBR Canada moments online at RidePass.com or via the mobile app.
You are known as one of the preeminent voices of PBR Canada, dazzling arenas coast to coast. For those readers who may not be as familiar with you, tell us a bit about yourself, and how you came to announcing PBR and rodeo events?
I grew up in central Alberta, and like many young Canadians, hockey was my first love. Of course my plan was to play in the NHL, however that just didn't work out! Although growing up hockey was my number one priority, my family had horses and we grew up going to rodeos and bull riding events as spectators.  During this time my brother started competing in the bareback riding, and western sports started to become a bigger focus in our house. 
When I moved back home after a very lackluster hockey career I had a year of high school left and my friends all competed in the High School Rodeo Association, so I decided to enter up.  I competed in the bareback, tie down roping, steer wrestling and team roping events. It was also at this time I started to announce the odd event, I just volunteered here and there, but had the support of a few local people who helped steer me in the right direction.  And then one Friday night I got a phone call to announce a bull riding the next night, I certainty wasn't ready, nor was I any good but I made it through.  When it was over they paid me more money than I had ever made as a competitor, I wasn't a very successful competitor, and offered me all their rodeos the next year.  So, that night I had a decision to make, I decided to give the announcing thing a go, and 17 years later here we are.
What goes into preparing for an event? Walk us through your process when you're managing a roster of more than 30 riders and bulls.
Let's talk about the PBR Canada Monster Energy Tour in particular.  I have to say one of the really nice things from an announcing standpoint is that on tour we see a lot of the same competitors at each event, both bulls and riders.  So, from a "homework" standpoint there is probably only a few hours that will go into every performance because a lot of the major statistics won't change.  So, the majority of that time is spent updating current standings, getting bull stats and making sure we know what has happened most recently.  As a team we are always trying to dig for those cool little stories that the audience may connect with.  But what time the tour allows us in consideration of homework, it takes up in production. 
 Right now, the Monster Energy Tour shows are truly one of the very best shows that I've ever been fortunate enough to be a part of, and it takes time to make sure they go off as good as they do, especially with the fact that they are on TSN and the PBR's RidePass.  So a lot of time is spent during the week leading up to the event making sure the entire production team is ready to go and hit a home run.  There are so many moving parts, but with that there is an incredible team that has become more like a family, and together everyone works so hard to create the best product we can.  I'm really proud to be a part of the team that Jason Davidson, Blaine Fyson and Pete Gebraad have assembled.
You have called many pivotal moments in western sports history. What have been some of those highlight moments for you and why?
I have been very fortunate to be a part of some very special moments.  When I think back I have been a part of so many cool moments, seen rookies become contenders and go to win world titles, and probably have seen more 90-plus-point rides then most.  But when I think special moments there are a few in particular that come to mind. I hope people don't take this the wrong way, but I have gotten to be a part of some pretty special retirements.  I announced the last ride for Denny Hay, Kyle Bowers and Scott Schiffner.  I was interviewing Rod Hay when he announced his retirement, and was a part of Scott Byrne's retirement ceremonies at both the CFR and the PBR Canada Finals.  But the one moment that probably means the most was announcing Ty Pozzobon as the 2016 PBR Canada National Champion, and then a couple months later was tasked with delivering his tribute at the Lethbridge PBR.  A moment that was very difficult, but it was one I wanted to do it, I wanted it be done right for Ty and his family, he was my friend and that moment is very special to me.  I know most people think of those 90-plus-point rides, or huge wins would come to mind, but I really feel that being a part of someone's final performance is truly an honor, to be a part of a moment that encompasses an entire career.
We understand you also hold another job as a teacher at your local high school. Tell us what it's like balancing the two jobs, while also being a dad?
Balance, if someone can figure that out please let me know.  But first off, I'm so lucky, and I know it.  I have two jobs that I really do love, a wife who is my best friend and has supported me throughout my entire career, and three kids who are healthy and I adore.  But as a school teacher I have worked at HJ Cody High School in Sylvan Lake for the past 12 years.  Our school is grades 9-12, we have around 650 students and I have taught every one of those grades and nearly every subject.  For the past five years I have worked as a half-time teacher and I'm usually able to be home from school early afternoon on a pretty regular basis.  But, a question I always get is "why do I still teach?" I love to do it.  The past few years I have been able to teach predominantly Sports Performance, which could also be referred to as Strength and Conditioning.  I have always enjoyed working with kids and helping them reach their potential in the weight room.  I strongly believe, that if a student can feel better about themselves in their own skin, it is a step in the right direction, regardless if they are an athlete or not.  I love to tell my students, together we will build strong bodies and strong minds so we can live a strong life.  I do make it to school around 180-185 days a year and then will be on the road another 100 or so to fulfill my announcing obligations, so it gets hectic at times, but we try the best we can to make it work, or should I say my wife Jaclyn does. If it wasn't for her, our world wouldn't turn.  She manages the announcing side of things, and takes care of a busy house that includes our three children, Grady (10), Hadley (8), and Blakely (3).  We are always in search of balance, not sure we will ever find it, but we just keep making changes that seem to get us closer.
We're in unprecedented times right now. How are you and your family keeping busy?
To be honest, we are still trying to figure that one out.  The kids started their "homeschooling" a couple days ago and like most people we are just trying to get in a routine that works for everyone and maintains some sanity.  We have been playing games, going for walks etc.
While PBR Canada fans are accustomed to seeing you behind the mic, you've recently launched a new endeavor, Brett Gardiner Live on Instagram. What prompted this and what can fans expect from the show?
To be honest, I was sitting at home last Saturday, when I was scheduled to be at an event, and I was just missing the PBR family.  I was also missing that connection to the audience. As an announcer it is your job to connect with that audience, regardless of where you are at, or how many people are in the seats, and I just really missed it.  So, I thought how can I still engage with a live audience and at the same time tell some stories and have something to look forward to during these uneasy times.  So, with that, Brett Gardiner Live was born. 
Now the format has been something I've always wanted to do, but just never seemed to the find the time, so this slowdown has given me that.  And that format is really a casual, hot stove-type format that allows viewers to see the other sides of these incredible people.  I of course want to talk about accolades in the arena, but I also plan on talking about family, food, mental health, favorite moments, career highs and lows and whatever else we may get to.  And I have to say I'm really excited about the lineup of guests, not only will there be western sport athletes, but some really cool people from all walks of life have committed to being a part of this project.
Your show starts Wednesday welcoming legendary bullfighter, turned TSN commentator Scott Byrne. Can you give fans a preview of what will be discussed?
First of all, I'm really excited to have Scott as the first official guest.  Scott has always been one of my heroes, but also is someone who I consider one of my very good friends.  Viewers can expect to hear the Scott Byrne story, how and where his career began, the ups and downs of his career, and I'm sure we will talk a lot about his family.  And I'm also interested to hear his thoughts on his transition from the arena floor to broadcast booth.  However, I have a feeling that some of the best stuff may come from the fact that we bunk together for the Monster Energy Tour, and together in 2016 we made our TSN debuts.  So, over the past few years we have gotten into our fair share of fun together.  But, I also have a few questions I'm hoping to surprise him with.
While people are eagerly awaiting the first episode, who would be some of your dream guests and why?
That's a great question.  Here it goes:
Hadley Barrett—In many people's opinion Hadley Barrett was one of the greatest rodeo announcers of all time, and I never had the pleasure to meet him.  Every announcer who did, always says they learned so much from him.  I would love to sit down and talk with Mr. Barrett for an hour.
Ty Pozzobon—I was very fortunate to watch Pozzy's entire career.  I remember I was a young announcer and the first time I said his name was in Williams Lake, British Columbia, when he was entered in the steer riding.  Ty and I talked every time we saw one another, but I would give a lot to sit down and talk with him again.