Women of the PBR – Jenn Vold
By: Covy Moore Tuesday, June 30, 2020 @ 10:20 AM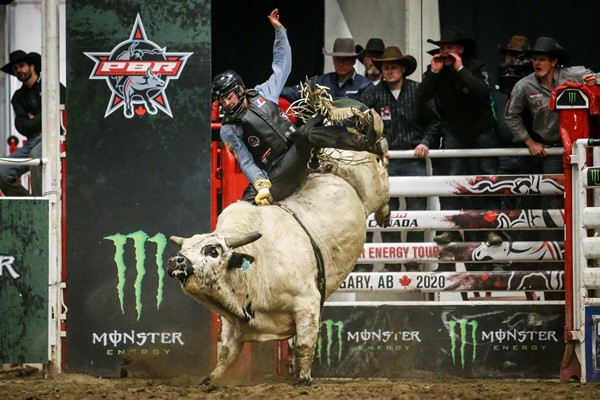 AIRDRIE, Alberta – If it takes a village to raise a child, then it takes an unstoppable woman to run a stock contracting business. 
Jennifer Vold has been next to Vold Rodeo's Nansen Vold for 22 years now.
From meeting in high school, to connecting through the western event world and now running one of Canada's largest and most successful bucking bull operations, Jenn has been a part of every step.
Born in British Columbia to a farming and livestock-friendly family, Vold made her way east into Ponoka at an early age. She quickly became enamoured by the chuckwagon community, spending time riding Troy Dorchester's horses and helping out with his race team. 
Not long after getting involved with Dorchester's team in an unofficial role, she was approached by the King of Canadian Chuckwagon Racing at the biggest event on the World Professional Chuckwagon Association calendar – the Calgary Stampede.
"We went to Stampede one year and Kelly Sutherland approached me and said he noticed that I rode some of Troy's horses, would I like to come and do some work with his team. I said well sure," Vold recalled. 
"I worked for Kelly and Mark for about a year, and then I worked for Mike Vigen for a couple of years, worked with Norm and Judy Cuthbertson for probably three or four years. Then I went to Troy and worked with him until about 12 years ago."
An eternal lover of horses, the Chuckwagon lifestyle fit Vold like a shoe.
"It was a family oriented operation," Vold began, "You really have to love horses to love it. They are high strung. It was just a way of life.
"I still to this day I miss it. Any time I can, at Calgary, Ponoka, Grande Prairie, Strathmore, I get over to the chuckwagon barns and lend a hand. The horses are your life. They are a part of the family just like our bulls and horses on the rodeo side. I loved dealing with horses every day." 
The differences between the chuckwagon community and the rodeo and bull riding community are immense.
Instead of arriving and departing often in one day, as you see in the bull riding world, you packed an entire barn and living quarters for a chukwagon event along with a pair of liners transporting between 24-36 horses. 
"When you are on the chuckwagon side you have an entire barn to set up that comes out of a truck or two. Feed buckets to fill, hay nets to fill, fencing to set up, harnesses to organize clean and hang," Vold said. 
"On the rodeo side of it, it's really just making sure they have feed and water in front of them, and that everyone is looking and feeling healthy. Lots of committees supply the hay and whatnot. For the bull part of it, you just need to grain them and make sure they are healthy. You move them around some, make sure they aren't sore anywhere. With horses, there is so much more hands on stuff."
For Vold, she said the most memorable days in the chuckwagon world for someone who is involved in any team is day money. 
"Winning day money is the biggest accomplishment for anyone on a team, because you are a part of the family and are feeding and helping take care of that driver's team. So when you are in the day money, or take home a show win, it's a huge accomplishment for that driver, and for his team because it takes everybody working with him to be competitive."
Meeting Nansen, however, set up the flip to the bucking bull industry quite quickly for Vold, with his uncle Duane being a driving force to putting them on the path the couple is today.
Now, years later, Vold says she wouldn't trade it for anything in the world. 
"When Duane was around, and we started getting into the bulls, I really started to like the rodeo side of things," Vold said.
"We started bringing bulls anywhere we could, Curtis Sawyer started bringing us places. It just got bigger and bigger. Nansen and I got married in 2008, and it's been the best ever. You couldn't ask for a better family to be a part of."
"What we have accomplished to what we are now is humungous. We are somewhat taking over the bull side of things in the family. Being a part of the Wayne Vold Rodeo Company, and getting involved with a few horses up here is amazing. I am very proud of where we started off with five or six bulls we could take down the road, now we have entire liner loads to bring down the road. I am really proud."
Each of those bulls that have helped build the brand to what it is today are important to Vold. But she says one bull in particular stands out for her -- VJV Slash. 
"VJV Slash made our program. I remember that bull from the beginning. He was a big black and white muley. We always said if Slash had horns that bull would have been a champion everywhere he went."  
"I know Nansen was offered quite a bit of money for that bull. Nansen said this bull is going to take us where we need to go. He was quiet and did his job so well. If you ask Scott Byrne, him and Scott had come together time and time again and thank god he was a muley. That bull definitely made our way into the CPRA, the PBR. The only thing that bull didn't accomplish was going to the NFR. He went everywhere else."
The Nansen and Jenn Vold clan now have two young children, but are on the road just as much as ever. At home, Jenn has more than just 'mom' duties, as bull care, training and organization is an important task best suited for her, and the kids as they continue to get older and more invested in the family business. 
"I video everything we buck at any professional event. My son now works on video for us too, especially at home which frees me up to do other stuff.
"If we didn't have video to go back and get selected to the World Finals and NFR, that's a big job. You have to get a lot of people involved if you don't video things. Now, between my son and I, we do that ourselves. Nansen can watch video back from just about any event. I am starting to do the books now too, so I like to think I am helping Nansen know where we are at all times." 
"The best part about this whole sport is it's a big family," Vold continued. "When you go to a rodeo, or if people come to your house, it's always family. There are kids involved, the best part about it is when you get anywhere there is someone who wants to know how things are, or can sit around and have a drink and talk about things that we all love. How the event went, how that bull was. I love it when a cowboy comes up to Nansen and says wow that bull bucked. There isn't anything better than a ranch-raised bull doing well. Knowing you raised that animal and turned out the way he did is awesome."
As for the PBR Canada schedule, Vold said she doesn't want to ever miss the Monster Energy Tour stop in Lethbridge, Alberta.
And the reason?
Simple. The people she gets to see that weekend. 
"I really enjoy Lethbridge. We get to hang out at the Two Bit Bucking Bull ranch. They are amazing people Josh and Tam Berezay. You go there and you are treated like family. Our bulls stay at their place too.
"And Lethbridge is just an amazing show, the crowd is crazy, it's always packed full. It's an atmosphere that I don't want to miss."