Tetz Takes Downtime to Refocus as He Eyes Top-5 Finish at Season's End
By: Covy Moore Thursday, June 11, 2020 @ 5:58 PM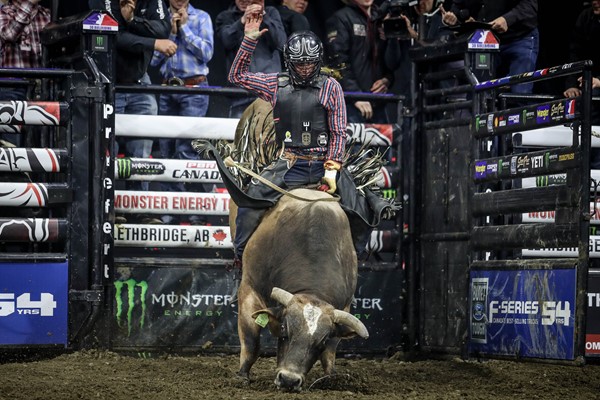 AIRDRIE, Alberta – Prior to the unprecedented shutdown, 2018 PBR Canada Rookie of the Year Nick Tetz had begun to build momentum.
Going 2-for-3 at both the season opening Monster Energy Tour event in Calgary, and the subsequent stop in Lethbridge, Tetz, who had ventured to the United States in January to compete on the Pendleton Whisky Velocity Tour, was establishing himself as a contender for the year's national championship surging to No. 7 in Canada.
However, with the season coming to a screeching halt the weekend after the Lethbridge event in Mid-March, Tetz has taken the downtime as an opportunity to refocus, fill the bank account and get ready to "hit the ground running" when bull ridings resume later this year.
Looking back at his efforts in Lethbridge, one thing that Calgary-native Tetz said he would have changed would have been getting on reigning PBR Canada Bull of the Year Homegrown, as opposed to his pick, 2018 PBR Canada Bull of the Year Happy Camper.
"I want to get him rode," Tetz said of Homegrown. "I am going to talk to the Eno's and see if they will buck him for me before things get going here."
"I have been on him seven times," Tetz added of his long history with the bovine athlete.
"I have rode him once, but he had to have been two years old. I saw him at high school rodeos when Jay Nelson was packing him. I went to one rodeo that year, rode one bull, he was called Spuds back then. I ended up making nationals that year because of it. The reason I always want to pick him is that he is big, and I haven't rode him yet."
RELATED: Consistency Key for 2019 PBR Canada Bull of the Year Homegrown
"He is my buddy's bull too," Tetz continued. "I hate when Tanner or Lori post a video that I have bucked off of him, or fell off. I don't know what the trick is to him, but when I get it figured out I hope we will see some big numbers."
And for Tetz, his inability to convert, in his words is, "all mental at this point."
"The first few times I got on him I didn't know what he was really," Tetz illustrated. "Guys would tell me to stay over the front, he is big and strong. Sure enough the third or fourth jump he got me out the back end."
"I just need to go out there and ride him. It's not so much about what he is, I just need to get the job done."
Tetz admits that he is slightly saddened by this unprecedented hiatus, having to find a day job in the interim, but added that it lets you focus on the things needed to be successful once events resume.
"It has been good and bad. I haven't been able to ride bulls and that was my main source of income. I am basically broke, so I got a job. I wanted to spend my entire bull riding career earning riding bulls and worry about working when I was done. All this has made me have to change the plan a bit."
"It's important to have a bit of money in the bank for when things get rolling as well though."
One thing that Tetz hasn't missed is the feeling of getting on bulls.
While he is currently nursing a strained groin sustained a couple weeks ago in the practice pen, he has been keeping fresh and ready to roll whenever restrictions are lifted in parts of Canada.
PBR Global Cup Team Canada member Shay Marks' practice pen is a common destination for the Calgarian. After linking up at the end of last year to make a trip to the United States for PBR events in the winter, the two riders have struck up a friendship.
"I like going and spending time around him and his people," Tetz said. "He has been to the top and to the bottom too. He has had the shoulder problem too. We are able to gel on that. This winter, him and I went down to the states in January and hit some Velocity and Touring Pro events. We bonded over that. Whenever he is bucking bulls, it's time to head up to Shay's."
"He has a lot of good bulls there too."
Tetz is aiming to conclude the 2020 season ranked inside the Top 5 of the PBR Canada national standings. Currently No. 7, he is within 35.5 points of tying current No. 5 Aaron Roy.
In his rookie year in 2018, Tetz entered the PBR Canadian Finals No. 9, unable to gain ground after a 14th-place finish at the season-culminating event.
The analytical Tetz says that a Top 5 finish this season is doable, as point's leader Dakota Buttar has shown that he intends on keeping a distance between himself and the rest of competition.
"When you look at the standings, looking at where I am compared to where Dakota is, I have rode four bulls compared to Dakota's 13. He has been able to distance himself a bit from the pack. With a shortened schedule, you kind of get stuck to where you were. I was starting to get hot, and now things are slowed down, it's tough to make a run at that," Tetz said.
"I think that is doable this year for sure," Tetz continued.
"You've got to ride your bulls, but at the same time you have to go out and make decent bulls rides look like really good bull rides. They hand out more points for the top of the event than the lower spots so you have to style them up when you can. Your bulls have to have a good day too, and if you can make your bulls look better than everyone else that helps."
"Jess Lockwood and Jose Vitor Leme always seem to make their bulls look that much better, and that helps keep them at the top of event standings."