Lambert Hones Skills and Mentors at Flying Four Practice Pen
By: Covy Moore Wednesday, June 3, 2020 @ 10:05 AM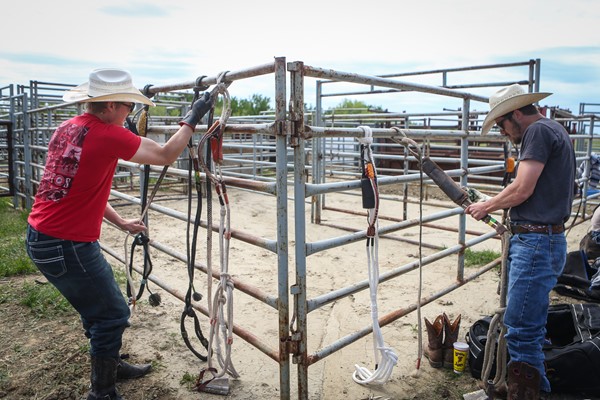 AIRDRIE, Alberta – Last weekend, 2015 PBR Canada Champion, turned Monster Energy Tour bullfighter Tanner Byrne hosted bull riders Jake Gardner and Zane Lambert for a small practice pen that featured some of the best bovine athletes from Flying Four Bucking Bulls.
In a friendly competition, backed up with a YETI cooler from PBR Canada Director of Operations Jason Davidson, Lambert and Gardner drew two bulls and chose a third to see who was the least rusty during this unprecedented hiatus.
"Tanner Byrne and some of the 3D guys got together and figured we needed to let off some steam and get off some bulls," Lambert said.
"This is the longest break I have had in 15 years of bull riding so it was good to be back on the road and it felt like rodeo for sure. It's about a six-hour drive for me, and Jake came even further. Felt like we were back at it rodeoing. We got together and had some fun with a bit of social distance and followed the rules with only a few people out there."
The friendly competition, embarked upon via an idea had by Gardner, ended up going Lambert's way when he covered PBR World Finals bucker and 2019 PBR Canada Bull of the Finals Finning Lil' Shorty.
While there were no marks for his efforts, the victory was decided by the few people who were in attendance, concluding the that covering a bull of that caliber, after three months away from the sport was worthy of the win.
"He was a pretty good bull," Lambert said. "I was 86 on him in 2017 when I won my title when he was a four-year-old. I knew he felt good. I have seen a bunch of guys have success with him. They took him to World Finals. I had my eye on him when I got in the truck and knew I was going to that ranch."
"He was a lot bigger than the last time I got on him," the two-time PBR Canada Champion added.
"He will go either way depending on the day, he is heads up. He is a great practice bull for that type of thing. I don't need to practice to be 82 points."
And for Lambert, the practice pen also afforded him new experiences.
Apart from both being on Team Canada for the 2020 PBR Global Cup USA, Gardner and Lambert don't normally travel with one another.
However, the 15-year veteran of the sport and the relatively young Canadian Gardiner bounced well off one another.
"It was good to jump in with a good young guy with a good mindset and good attitude that is going to do well in the sport," Lambert explained.
"He is a great young guy who keeps really fit and wants to always drive hard in anything he is doing, so it's good to get in with someone like that because it makes you want to do better. Having a guy like that in the truck is always a good thing. We helped each other on and we might just travel a bit together here too when we get back going."
Along with the six bulls that were bucked underneath the pros, a handful of junior bull riders were also in attendance to knock off some rust.
Lambert said they were all eager to get back at it, and that it was valuable to be able to get some one-on-one time with them for a pointer or two.
"As bull riders we talk about problems we are having," Lambert said. "It's great for them young kids to feed off of us. It's easier to tell someone what they are doing wrong when you see what they are doing. We all ride bulls and we are all trying to get better, the rest is up to them."
"There are some great young guys coming up and they were hungry for it. It's good to see them out."
In the meantime, Lambert said he is doing a fair amount of "dadding" to his toddler son Everhett at home in Ponoka, Alberta, all the while sprucing his house up to make a potential move to a larger property outside of town.
"It's a bit of a catch 22 being off of work, but I get to spend so much time here with Everhett. I am dadding it up here. Changing diapers, making meals. We are just hanging out, growing my little boy strong and keeping him healthy," Lambert said.
"Stacy and I are trying to sell the place here in the next couple months. Living in town rodeoing it's been handy, but with a little guy I want him to be around animals and be a farm kid like I was growing up."