Built Ford Tough Top 50: Scott Byrne Retires as One of Nation's Top Bullfighters
By: Kacie Albert Friday, June 5, 2020 @ 4:17 PM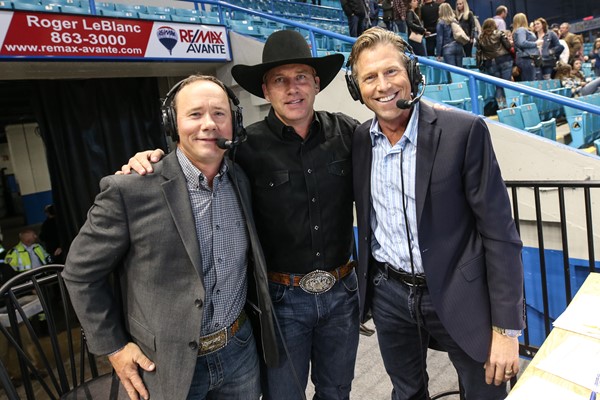 NEW YORK CITY – In the Byrne family, there is no shortage of individuals who have established themselves as history-makers in Western Sports.
After Ryan Byrne became the first-ever Canadian to cowboy protect at the National Finals Rodeo (NFR in 1987, son Jesse Byrne became the first-ever bullfighter from the nation to work the PBR World Finals in 2008.
RELATED: Jesse Byrne Comes First Canadian Bullfighter to Work the PBR World Finals in 2008
Most recently Ryan's youngest son Tanner Byrne historically transitioned from bull riding, to bullfighting, becoming the first man ever to have both ridden and fought bulls at the PBR Canada Finals.
RELATED: Tanner Byrne Makes Historic Transition from Bull Rider to Bullfighter in 2019
However, one can't forget Jesse and Tanner's cousin Scott Byrne.
After initially pursuing a career as a bull rider, in 1995 Scott transitioned to bullfighting.
"I had all the try in the world and no talent," Scott said of the first four years of his career when he rode bulls.
And ever since the initial moment when Scott first worked up the courage to ask Ryan for assistance in the switch, as Scott says, "the rest is history."
Throughout a career that spanned more than 20 years, Byrne earned 16 consecutive selections to the Calgary Stampede, 14 consecutive selections to the CPRA's Canadian Finals Rodeo and 10 consecutive nods to work the PBR Canada Finals.
RELATED: Scott Byrne – Prolific Bullfighter Turned TSN Commentator
Moreover in 2016, he not only won the Glen Keeley Memorial Award, but was also named the Canadian Cowboy of the Year.
The decision, however, to hang up his cleats, was not one that came easy, nor stuck on the first try.
"It wasn't an easy one," Byrne said of the decision. "I wanted to go out fighting the Canadian Finals Rodeo and the PBR Canada Finals. I wanted that to be the end. I knew I could probably go a few more years and be competitive and do my job, but I also had other things to get going on. It was just the right timing."
After Byrne worked the 2015 Canadian Finals Rodeo, held from Nov. 11-15, in Edmonton, Alberta, he travelled to Saskatoon, Saskatchewan for what was poised to be his final event, the PBR Canada Finals in Saskatoon, Saskatchewan, concluding on November 21.
"Tonight is a bitter sweet night for all of us who have over the last 20 years, had the honor and privilege of knowing this man," Dave Poulsen said as Byrne entered the arena. "There is no better definition of a champion than a man who is willing to lay his life on the line for his friends.
"For two decades one man, this man, has done that. Becoming the most trusted lifesaver in the sport of bull riding. Every bull rider in this arena will attest to that. They know what it is to be hung up underneath a 1,500-pound bull, with menace and mayhem on his mind. The one helping hand, the one face they want to see has always been there.
"Tonight, we say goodbye to a friend, a teammate, to a champion. Everybody in sports dreams of going out on top. Today that dream is realized, because for the final time in his storied career we welcome into this arena the man from Prince Albert, Saskatchewan, Canada, the bullfighter, the friend, the champion, Scott Byrne. "
However, despite the sendoff, Byrne felt the itch to come back.
"Spring of 2016 rolls around and the rodeo and bull riding season starts," Byre recalled. "After 20 odd years of doing it you are so programmed to be in certain places at certain times of the year. We had some of the east bull ridings starting up again, you talk about having to dig deep, I was having to dig deep to not bawl. It was frustrating and the thoughts of why did I do that, should I still be going."
But then, an opportunity presented itself for Byrne to make a return.
About a month before the 2016 Calgary Stampede, and in response to PBR Canada bullfighter Brett Monea sustaining an injury, Byrne got a call to fill in and make a brief return.
"I was out back kicking stones and feeling sorry for myself," Byrne said.
"I willing to come back? I didn't just say yes right away that I'm ready to come back. I thought was there someone younger, a spot am I taking? Probably yes. But at that time Calgary Stampede wasn't willing to risk it with a rookie there that year. I knew I could do my job in my heart and mind."
Answering the call to emerge from retirement, Byrne's comeback was short-lived.
"Eighth performance, half way through the bull riding, it was cold and wet that day. It hit me like a rock and I thought, I am done. I don't want to do this anymore," Byrne detailed.
"People ask me all the time if I miss fighting bulls. I don't miss fighting the bull, I miss the people the sights and sounds and smell. Blessing in disguise. You couldn't write a script any better than that."
For Byrne, however, his time away from the arena didn't last long.
In 2017 the now Manitoba resident made his TSN debut with the PBR Canada Monster Energy Tour as a color commentator.
"It was easy to be interviewed. I work at it all time, but interviewing someone is completely different," Byrne said.
"Having producers in your ears talking while you're talking, shoot, I can't tie my shoes and have a conversation at the same time let alone that. Every time I do it, I think I get a little bit better. I got to get involved again in a different part of the production. I understand the game and the sport, and as long as I can do my job and they want to keep hiring me, I will keep going."
And while the 2020 PBR Canada season remains on hiatus, fans can relive all the action witnessed thus far, with the commentary from Byrne, today. Tune-in to RidePass at RidePass.com or via the mobile app.