Built Ford Tough Top 50: Liquid Fire Bucks The Competition as 2016 Monster Energy Tour Bounty Bull
By: Kacie Albert Monday, June 1, 2020 @ 4:23 PM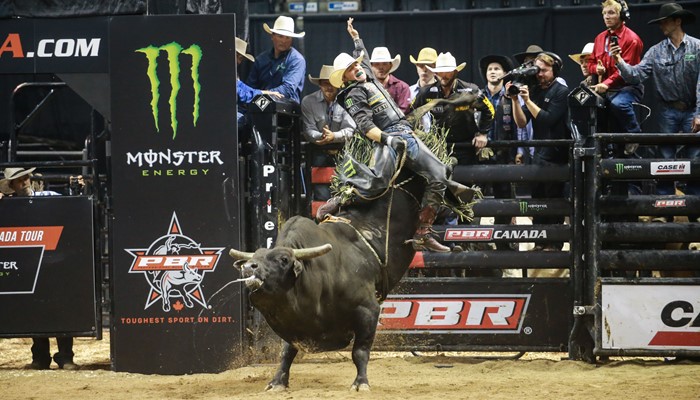 NEW YORK CITY – For PBR Canada competition, 2016 was a year of many firsts.
Marking the first season for the Monster Energy Tour, the first-ever unified, cross-country, televised, bull riding series in the nation's history, the year also featured an added layer of excitement for the tour's debut trip across Canada – a bounty bull.
RELATED: Monster Energy Tour Launches in 2016
The concept was simple.
At each Monster Energy Tour stop, of which there were six in 2016 including the PBR Canada Finals, the event winner would attempt one final bull following his victory.
If the rider reached the 8-second whistle, he would win the added bounty, but if he bucked off, the money would be placed on the bull, increasing the purse for the next event.
In 2016, that bovine athlete was the Wild Hoggs' Liquid Fire, with an initial bounty of $5,000.  
RELATED: PBR Canada Bull Profile – Liquid Fire
"He is a good bull, solid bull," Justin Volz of Wild Hoggs Bucking Bulls said at the time. "He brings it every time. Everybody says they love that bull and I think the love him because he gives you an opportunity to win every time. Guys are feeling good, and take advantage of that, they are going to win a lot of money."
Prior to his first trip at the series launch Monster Energy Tour event in Ottawa, Ontario that August, Liquid Fire had bucked 14 times in PBR competition in 2016, and made an appearance at the Calgary Stampede.
Fresh off his first-ever trip to the PBR World Finals in 2015, where he matched up with Chase Outlaw in Round 3, Liquid Fire made his 2016 debut in Red Deer, Alberta, making quick work of Wacey Finkbeiner to earn a massive 45.5-point bull score.
Next bucking in Lethbridge, Liquid Fire remained dominant.
After he posted a 44-point out when he sent Fabian Dueck to the ground in 3 seconds, Liquid Fire bested now two-time World Champion Jess Lockwood in a swift 2.4 seconds to earn year another monstrous 45.5-point bull score.
Liquid Fire then bucked in Marwayne, Alberta, before earning his first selection to a regular-season Unleash The Beast event. Earning two trips at the annual event in Billings, Montana, Gage Gay rode him for 86.25 points, before Liquid Fire dispatched Kaique Pacheco in a close 6.04 seconds.
Returning to Canada, Liquid Fire bucked at six additional PBR events, while also bucking at the Ponoka Stampede, where he was marked a career-high 46 points for his 3.38-second buckoff of Rorey Maier.
Liquid Fire then turned heads the Calgary Stampede.
As his second selection to the "Greatest Outdoor Show on Earth," Liquid Fire, marked 45.5 points, teamed with Cody Teel in a massive 91.5-point ride, propelling the Texan to the event win and $100,000 cheque.
"The mud was deep, conditions weren't ideal at all," Volz recalled. "That bull had once of the best trips he had ever had. And Cody put on a clinic."
In his last trip prior to his first bounty out, Liquid Fire made certain fans around the world knew why he'd been picked for the role.
In the bullpen for the Touring Pro Division stop in North Battleford, Saskatchewan, Liquid Fire narrowly bested Will Purcell, bucking him off at the 7.53-second mark, to earn 45-point marks, his fifth 45-plus-point score of the season across all levels of competition.
As Liquid Fire travelled East for the first-ever Monster Energy Tour event, Brant Atwood became his fist opponent as the tour's bounty bull.
While the American cowboy rode to victory at the inaugural event in Ottawa, his successes came to a halt when he climbed aboard the Alberta-raised bovine athlete.
With Atwood bested in 2.54 seconds, the $5,000 purse went unclaimed, upping the bounty on Liquid Fire to $10,000 ahead of the stop in nearby London.
While the arena may have been different in the province of Ontario, the fate for the second Monster Energy Tour winner was much the same as Atwood's.
After Reese Cates claimed the event victory inside Budweiser Gardens, Liquid Fire went to work.
Despite inching ever closer to the requisite 8, the Arkansas rider came down at the 5.39-second mark, with Liquid Fire logging yet another buckoff, and the pursue growing to $15,000 ahead of the next Monster Energy Tour stop.
Following a one-event break, not bucking at the tour's third stop in Winnipeg, Liquid Fire and the bounty bull returned for the series' debut in Calgary.
In front of a home province crowd, Liquid Fire once again bucked supreme.
With Brady Sims attempting to collect what would now be a $15,000 cheque for 8 seconds of work, Liquid Fire dazzled, marked a massive 45 points as Sims was sent to the dirt in just 1 second's time.
 "He was big, he was strong, he was intimidating, and he was right in the latch to the right," Volz said further of Liquid Fire. "He wouldn't take one jump out, or two jumps out. When the gate cracked he was right there. The tip of his horn would just miss the latch every time. He would fade out into the arena."
"For a bull rider what would make it tough would be getting your timing down right there at the chute. Also with how he would kick and spin, he would be so close to the chutes that he would push back to get away. He would want to pull you down.
"Once he was away from the chutes enough, then he would start moving forward and drifting. So the momentum and the timing would change. He just kept guys working the whole time. But at the same time he was one that everybody wanted because he would give you an honest chance to win first just about every time you would buck him."
After the tour travelled to Abbotsford, British Columbia, Liquid Fire prepared for what would be his final out of the year on Canadian soil, a trip at the PBR Canadian Finals in Saskatoon.
And the match-up was one for the history books.
In 2015, after travelling to Sin City for the PBR World Finals, Liquid Fire's year came to a conclusion at the PBR Canada Finals. Drawn by Brady Oleson, Liquid Fire was covered by the Idaho rider for 85.5 points en route to his event victory at the season-culminating event.
Fast-forward a year, and yet again Oleson would be climbing atop Liquid Fire inside the SaskTel Centre in Saskatoon, this time for a $20,000 pay day.
RELATED: Rank Reports – Liquid Fire
With the bounty bull awarded to the Canadian Finals Round 1 winner, Oleson earned the opportunity after he covered Battle River Rodeo's Hand Burner for 85.5 points.
As the raucous Saskatchewan crowd inched to the edge of its seats, the chute gate cracked open.
Reaching the 8-second mark, Oleson covered Liquid Fire for an impressive 89.5 points to win the $20,000 bounty.
"He was always so consistent," Volz continued. "He was always right there to the right at the gate. He was big, and he was strong. If you rode him you were going to be 88 or more. He was so big that if he got whipping, into your hand or even away from your hand he was a handful. He was good every time."
And while the bounty bull has yet to be duplicated in such captivating fashion on the Canadian Monster Energy Tour, the jaw-dropping moments have continued to flow.
To relive all the high-adrenaline action tune-in to RidePass today, at RidePass.com or via the mobile app.