Built Ford Tough Top 50: Four-Time World Finals Bucking Bull VJV Slash Retires
By: Kacie Albert Thursday, June 4, 2020 @ 12:57 PM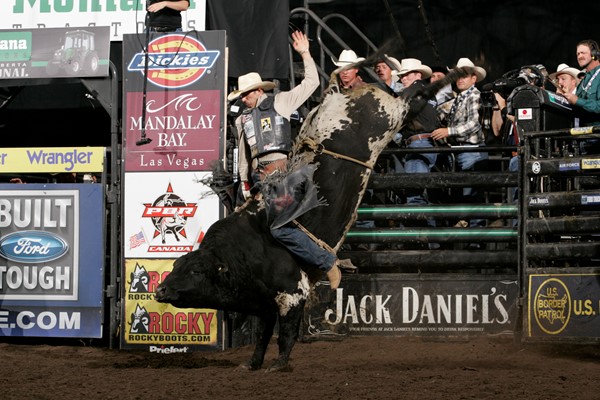 NEW YORK CITY – In the PBR Canada record books, few bucking bulls can compare to the likes of Vold Rodeo's VJV Slash.
Bucking from 2008 to 2013, the powerful bovine athlete earned six trips to the PBR Canada Finals, and Canadian Finals Rodeo, along with four selections to the PBR World Finals.
In 61 recorded outs, Slash was ridden to the 8-second mark just nine times, with six of those at PBR events.
Twice he earned a bull score of 47 points, at one point maintaining a 31-out buckoff streak, which former owner Nansen Vold estimates would be closer to 70 when including the outs not recorded. 
"He wasn't a hard and outrageous bull, he just had that kick and speed," Vold said. "The guys like him. He was rank, hardly had a bad day, but even if he did you would be 86."
Born in 2004, VJV Slash made his first recorded appearance among the PBR ranks at a regular-season Unleash The Beast event in Edmonton, Alberta in July 2008.
Despite making his debut on the league's top series, Slash's career did not begin with matched promise in his young years.
"We always buck our calves young, so he went through the same motions as everyone else did. He wasn't anything special to begin with," Vold said.
"As a long four-year-old, we put some riders on him, he started to show some pretty great potential. For his first trip we took him to Saskatoon to one of Jason [Davidson's] bull ridings, before the finals were there. Rocky McDonald got on him and he was the high ranked bull of the long round, and ever since that day he was a short round bull."
RELATED: Rank Reports – VJV Slash
Following his debut PBR trip, Slash recorded seven trips per ProBullStats.com before entering a 10-trip streak from August 2009-June 2010 where all but one of the outs earned the bull a score in excess of 45 points.
The impressive strong of outs began in Elnora, Alberta, with Slash marked a then career-high 45.75 points for his 4.5-second buckoff of Tyler Thomson.
"Tyler Thomson has a famous line about that bull that he was, 'the cockiest bull he had ever seen in his life,' he just stands in the chute, his ears might wiggle once or twice. He was one bull that the box didn't bother him. But when the chute gate opened it was go time," Vold recalled.
"He would just stand there, take the rope good and maybe twitch an ear. It's not easy to come by. Everyone wanted to get on him."
In his next trip, Slash's marks continued to climb. Bucking at the Touring Pro Division event in Calgary in December, Slash sent now three-time PBR Canada Champion Aaron Roy to the dirt in a swift 1.54 seconds to earn a massive 46.5-point score.
While 2008 PBR World Champion Guilherme Marchi rode him for 85.5 points later that event, in 2010, Slash returned with a bang.
Following a 45-point score in Chilliwack, British Columbia, Slash posted what would be his career-best score, and one he wouldn't match until his final season.
Matched up with Jared Farley at the March event in Lethbridge, Alberta, Slash bucked off the Australian in 2.3 seconds, resulting in a monstrous 47-point score.
In his subsequent trips, Slash was marked 46 points for besting Zac Peterson in 3.2 seconds in Edmonton in April, 45 points for his 3.86-second buckoff of Zane Lambert and 1.91-second trip with Kolt Donaldson in Prince Albert, and 45.5 points in June at the Canadian Pro Rodeo Association event in Innisfail when he bested Riley Harvie in 1.47 seconds.
Slash's incredible streak was punctuated in Calgary when he was marked 45 points after bucking off Daniel Hansen in 3.57 seconds.
As the year drew to a close, Slash's standout season culminated to his first selection to the PBR World Finals.
Adding to the significance of the moment, the nod marked the first time of Vold's bulls would travel to Las Vegas for the prestigious event.
"That was the first time we ever had a bull there and he went and did his thing and it was outstanding," Vold said. "We had chances to sell that bull lots over the years and I wanted to keep him. He was the foundation for our program and I think it really paid off in the end."
Bucking in rounds three and five, Slash first sent Colby Yates packing in 2.7 seconds, then dispatched Luke Snyder at 3.5 seconds. 
RELATED: Slash – The Canadian Icon
"He kick started our program for us," Vold continued. "He got us a name for when we got started in the contracting business."
 "It was just the fact he was that good. People get noticing that bull and people get asking what events that bull will be going to. When you are just getting your foot in the door, like everyone has to, they would want you to bring Slash, but also a bunch more. That's how it works. If you got a good bull, you will always be able to bring more."
Once again logging dominant seasons in 2011 and 2012, Slash once again returned to the World Finals both years, before embarking on his final season in 2013.
During those two seasons, however, Slash recorded one of the most memorable trips in PBR Canada History.
Drawn by Josh Birks in Stavely, Alberta in September 2012, the two dance for a monstrous 92.5 points.
"The best ride I've ever seen with Slash was in Stavely," Vold reflected. "It was a legit 92.5. It was the best ride I've seen in person in a long time and that was a pretty high point for that bull."
"I knew it was going to be good, Josh was pumped to have him and was just really pumped up that day."
Unridden throughout the regular-season in 2013, logging seven trips, Slash's historic career was punctuated by selections to buck at the PBR Canada Finals in Saskatoon, the PBR World Finals in Las Vegas and the Canadian Finals Rodeo in Edmonton.  
First bucking off Farley in Saskatoon at the PBR Canada Finals, Slash concluded his PBR career unridden at the World Finals when he bested 2010 PBR World Champion Renato Nunes in 3.6 seconds in Round 4.
Returning to Canada, Slash's career came to a poetic conclusion on home soil.
After bucking off Tanner Girletz in Round 1 of the CFR, Slash faced Tanner Byrne in what would be his final out.
Unridden throughout the entirety of his career in CPRA competition, Byrne covered the bull in his final out, riding to an impressive 89-point score as Slash was marked 45.75 points.
"We got a buckle with him that night," Vold said. "It was great. The last ride of your career, to have that big score at the end of the day, it was outstanding. He went home after that to green pastures and that was the last one." 
Following his retirement, Slash, who passed away in 2018 due to natural causes, travelled to the home of 2006 PBR Canada Champion Scott Schiffner where he would live out his days, a decision Vold points to as a great way to give the very accomplished athlete a great retirement.
 "Those girls of his fed him like a 4H steer and got him fat and happy," Vold said.
"The girls got on his back at one point. That is something I never thought I would see on a bucking bull of that calibre and that rank. He would just stand there, eat grain and be happy with them girls on his back."
"When you're a true athlete and a true competitor, you deserve to be recognized, taken care of, and celebrated for what you've done for your sport." Schiffner explained. "I think we honor a lot of great athletes of the human nature, so this is my way of honoring some of these bulls that have been so good."