Built Ford Tough Top 50: Aaron Roy Wins Historic Third National Championship in 2012
By: Kacie Albert Tuesday, June 2, 2020 @ 11:42 AM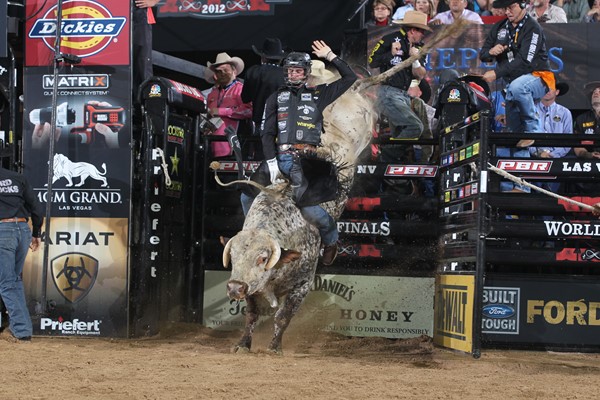 NEW YORK CITY – In the history of the PBR, there are only two riders to have ever won the Canadian national championship in multiple seasons.
While Zane Lambert became the second rider to occupy this rare air in 2017, having won his first PBR Canada title in 2013, there is only one man in the world that can say he has won the prestigious year-end honor three times – Aaron Roy.
"Oh it feels great," Roy told Everything Cowboy's Ted Stovin moments after winning the title in 2012. "Anytime you can be qualified as the best Canadian bull rider it's an outstanding feeling. And to do it in Saskatoon where I pretty much grew up, it's even better."
RELATED: Roy Becomes First Three-Time PBR Canadian Champion
Splitting his time that season between Canadian events and the elite Unleash The Beast in the United States, Roy was seemingly unstoppable.
After beginning his Canadian season with a sixth-place result in Ponoka, Alberta, it didn't take the Saskatchewan man long to settle into a winning groove.
At just his third PBR Canada of 2012, Roy won the Clunie-Cooper Memorial Touring Pro Division event in Prince Albert, Saskatchewan in early April.
Three months later, and after racking up an additional six Top-10 finishes, Roy was victorious again, topping the field in Manor, Saskatchewan.
Then, as the calendar flipped to August, Roy embarked on an event run that won't soon be forgotten.
On August 9, Roy dominated the field in Eatonia, Saskatchewan to win his third event of the year.
The very next day, he was stateside, riding in Tulsa, Oklahoma for the PBR's premier series.
While Roy didn't find success in the Sooner State, upon his return to Canada, he was quick back to competition, riding in Coronation, Alberta on August 15.
Reversing his fates, Roy collected his fourth win of the season at the Royal Rumbull, further solidifying his lead atop the national standings.
Taking no time to rest, the Canadian phenom was in Langham, Saskatchewan the very next day, where he finished third, before boarding a plane back to the United States for the elite tour stop in San Antonio, Texas.
Capping his incredible nine-day run, Roy was ninth at the Bas Pro Shops Chute Out as he worked towards his fourth PBR World Finals qualification.
"It's extremely hard to go from event to event, especially when you're riding in Canada one night, then you've got five hours to get to the airport, get on a plane and you're riding as soon as you get there," Roy said that season. "It's kind of hard to focus, but it is worth it when you're getting those big pay cheques."
As the season wound to a close, the Yellow Grass resident made one more appearance on Canadian soil prior to both the World and Canadian Finals.
And that event is yet another unforgettable moment from Roy's already remarkable season.
Allowing him to all but clinch the PBR Canada Championship, Roy rode to his fourth Canadian victory of the year in Lloydminster, Saskatchewan.
However, the win was earned via a ride that left many speechless.
Following an 85-point ride atop Morning Breath in Round 1, Roy was set to face VJV Slash in the championship round.
Having attempted the bull once prior, Roy was keen to even their record. First drawing the bovine athlete in December 2009 in Calgary, Alberta, Roy was sent to the dirt in a fast 1.54 seconds as Slash posted a monstrous 46.5-point score.
Also amid a dominant season, Slash, who was en route to his third selection to the PBR World Finals, had posted bull scores in excess of 45 points in his past two trips. While he had bucked off young gun Tanner Byrne in 6.47 seconds in August in Coronation to earn 45.5-point marks, Slash had been ridden by Josh Birks for a massive 92.5 points just weeks prior in Stavely.
RELATED: Rank Reports – VJV Slash
As the two powerhouses collided, fireworks erupted in the arena.
Reaching the 8-second whistle, Roy covered the powerful bovine athlete for an awe-inspiring 90.5 points.
In addition to elevating him to the event win, the 8-second effort also helped Roy win a brand-new Ford F-150.
Following a three-event series in the United States, including his fourth appearance at the World Finals, Roy concluded his year in Saskatoon for the PBR Canada Finals.
Courtesy of an 86-point ride on Little Bit of Sugar and an 85.5-point effort aboard Little Joe, Roy concluded the event tenth, but more importantly earned his third national title in front of a crowd packed with his family and friends.
 "It boots you along the entire time. It helps everybody out when they're riding. You can feel the support and hear them get behind you."
Despite two injuries which could have been career-ending, Roy remains an active competitor in the PBR.
After finishing No. 5 in Canada in 2019, Roy is currently No. 5 in the 2020 national standings as the season remains halted.
To relive some of Roy's most recent efforts, tune in to RidePass today, at RidePass.com or via the mobile app.