Behind The Chutes – Ted Stovin
By: Kacie Albert Wednesday, June 17, 2020 @ 10:55 AM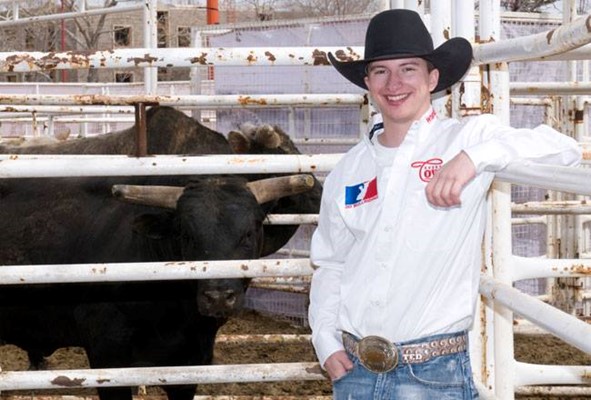 NEW YORK CITY – At any given PBR event, while all eyes are focused on the jaw-dropping feats of athleticism witnessed on the dirt by both riders and bulls, numerous event staff are hard at work behind the scenes working to ensure the high-level of production.
In the series "Behind The Chutes," PBRCanada.com will profile these staffers, giving fans an inside look at who is responsible for the operations of their favorite events, and how they came to the western sports industry.
In Volume 4, we catch-up with PBR Canada Sound Director Ted Stovin.
PBRCanada.com: How did you come to be involved in western sports?
Ted Stovin: There's a picture from my childhood that I think well explains how I became a cowboy. It's my dad's fault for sure, but I thank him every day for it. I remember riding horses out in the mountains on camping trips as a kid. We've always had horses. I grew up in Drayton Valley and we camped out West of Rocky Mountain House. I remember being at the Canadian Finals Rodeo (CFR) back when I was 10 or 11 years old and I saw the steer riding there from the nosebleeds. Reading the program, I saw the kids were only a year or two older than me. I decided that's where I wanted to be. Unfortunately for me, the steer riding was taken out of the CFR from 2003 to 2007 so when I qualified our finals were in Strathmore. I lost the season leader title in Canadian Pro Rodeo by $11.86. I remember I had it figured out that I had it won. When I told the kid I beat that I figured it was over, the payout miraculously was different the next day and I lost it by less than $12.00.
I grew up competing. I got entered in the junior bull riding by accident, but then won my first event. I remember back in the steer riding at one point in the beginning I was so scared that all I wanted to do was win a buckle and then quit. Then I won one and didn't get it until I won my second one. By then I was hooked. I could tell you for a lot of years what my scores were and how much money I won. I even had all my stats and earnings tracked in excel for every year I competed. I never did count up what it cost to get down the road though.
I rode bulls and did alright from 15-23. I went to school in Hobbs, New Mexico and finished online with an Associate of Arts. That was May of 2010. That summer I earned the nickname Jasper after fluking out and smashing out a 91.5-point ride in Jasper. The buckle has a mountain scene and a beaver on it which is the logo for the National Parks of Canada. How Canadian is that. I wore it until last year when I got my first-ever Music Director buckle almost a decade later. The summer before though was the beginning of the end looking back. I got this call about going to ride bulls in Brazil. I was pumped. Like two weeks before I was supposed to go I dislocated my shoulder. We went anyway and later that summer I rode at a rodeo in Mexico. School in the states got me four countries in two months which was pretty neat for 19.
So when I was in school in Vegas a couple months after the big ride in Jasper, which actually was how I filled my CPRA card, I got my shoulder fixed. I had a torn labrum. While I was laid up, my mom sent me to a course in Vegas to build a website after the semester and the NFR was over. That website is what is EverythingCowboy.com today.
PBRC: How did you become involved in the musical aspect of western sports events?
TS: EverthingCowboy.com went live mid-December 2010 and in January 2011 while I was home getting a checkup on my shoulder I videotaped the PBR in Edmonton from my phone on the back of the chutes. That year, once my shoulder healed up, I got back competing and went all year to the pro rodeos and PBR's winning basically nothing. So at all these events I would film things and started travelling just to film sometimes. By the spring in 2012, I was going to school at the University of Calgary and Jason Davidson hired me to cover Lethbridge with my website on my phone. I never ended up going back to school. Later that year I ended up buying a real camera and Jason kept bringing me to more events.
In 2013 I ended up getting video from the screen providers like Feature Productions which allowed me to still have event coverage, but expand my production skills. I was the Chute Boss a couple times and even had a real bad time on the mic in Prince Albert for one promo for Lammle's. Not sure if the mic was even turned on. At that same event I roomed with Casey Deardorff and I got interested in music. He gave me a bunch of music just for fun, but said I should think about doing some music. Richard Jones was very involved over the years too and he let me jump on the tunes a couple places. Later that year I ended up at a production seminar in Vegas where Shaun Morton and I learned from Richard on the music. Brinson James was there too. The next spring Casey Duggan hired me for the PBR in Winnipeg and later that year I worked my first PBR Canada Finals in Saskatoon.
PBRC: For a PBR event, walk us through what a normal day-in-the-life looks like for the tour's official Music Director and audio technician prior to the start of action?
TS: Ideally I get the basics of my setup done the day before the event. This includes connecting my mixer to the house system, adding subs if required, connecting our wireless in-ear monitors (IEM), microphones, wired microphones, monitor speakers and the talkback mics for our producer, Peter Gebraad, which allow him to talk to our announcers, entertainer Brinson James and our in-arena commentator/bullfighter Tanner Byrne on two different lines. We also have connections with Feature Productions for video playback and what ends up getting recorded for RidePass and TSN. Our TSN producer Larry Isaac also has a line from Feature that runs through my mixer for our announcer and the on-air hosts. We also have the live event so we have three different sets of audio now to work with. After everything is connected, the next day we test all the mics, all the IEMS, the monitor speakers at front of house, make sure the connections are strong and clear with the wireless and there isn't any feedback in the room by tweaking the EQ's on each channel on the mixer.
If I get set up the day before I have a lot more time to tweak and edit music the day of and really dial things in with Brinson on some new things we're going to try. Starting off the day I always meditate, every day for that matter. I've done that since I had a lot of trouble with anxiety a few years back. It helps. Later in the afternoon on show day though I'll get back to the hotel for a shower then head over for the production meeting. One of my favorite parts of the day is the crew meal after the production meeting. It's kind of a calm part of the day before the storm that is the evening. What a rush it is during the show though, I'm glad I get to still be involved in some way.
PBRC: Beyond pumping the building full of music, you control many other elements of the live event. Tell us about these other intricacies?
TS: Choosing the music to flow with the event is a job that takes me both hands to do already. My right hand is on the mouse to make the timing precise and my left hand is on the mixer to ride the volume as the rides begin and end. The music goes up and down a ton during an event. As the Music Director I can add drama and excitement with music, changing the feeling in the room in an instant. So in saying that when an audio issue comes up, I have to pick the timing right to drop my left hand off the music fader to fix something. It can get stressful when a wireless mic picks up static and we have to change a channel mid-show when I'm trying to run the music. Luckily there are mute buttons on each channel which I'm constantly working with. Each mic has its own strip of controls which can be tweaked at any time. In-show, with the noise of the crowd, things change and people need to hear different things in their ears to execute the show properly. It ends up almost always having to be done during a break in the action or if another member of the production team can assist. If I change the music mid-ride to fix an audio issue, it changes the flow of the show and our fans would likely notice a drastic change.
This has all been quite the journey. I've never really had any formal training in the audio business, but on the music side I owe Richard Jones the most. Audio wise it's been a matter of failing forward over the past eight years in learning how things work, reading books, watching videos and asking a ton of questions to my friends in the business or the staff any time I'm in a store like Long and McQuade. With audio, there's always more to learn and different things that can happen, like a power outage or a loose or broken cable. Things happen and I've got to be able to do my best to get past a problem to keep the show rolling audio wise and keep the fans tapping their toes and engaged throughout. 
PBRC: What goes into curating the perfect playlist for an event?
TS: It's a total crap-shoot. I shoot from the hip, try to play to as many people as I can while we're there. I always like to get Brinson involved and dancing early on and then roll on from there. In a place like Lethbridge, a town that has had a PBR for decades now, they know how to party. With the work in engaging the crowd Brinson does, I can really play to them with what I play for music. It's a place I can get away with more new stuff to get the younger crowd more engaged. They are the future of our sport so I'm careful to cater to them as much as I can. At the same time, the classic rock always works and surprisingly, we don't end up using much country music. With the new modern sound in the cities we're going to, there's a very small amount of country played at our events. The PBR is a rock show mixed with a bull riding though, I've got to keep the energy high throughout. I want the music to be seamless with people barely even noticing that I changed a song.
PBRC: How do you maintain the balance of fresh songs, while also playing fan favorites?
TS: Again, I don't always nail this. I do my best every night to feel the room and play to the crowd and our crew. I get a ton of feedback from a lot of people, but do my best. I play more off the sound and feeling of a song than the lyrics. The lyrics don't always make sense anyway, so I do my best to create excitement at the start of the event with some hype, some fun with Brinson and some drama when we get to the intense moments of the night.
PBRC: Where are your go-to sources for new tunes?
TS: We do a podcast called Cowboy Sh*t and people always ask me about other podcasts. I don't even listen to podcasts. I've got the radio on in the truck, Shazam on my phone, and a constant background of tunes from Spotify. There are a lot of great playlists with new music on them that I'll listen to while I work at my desk. If it's good enough to catch my attention while I'm at my desk, it has a chance to change the mood of an event. I also get a ton of suggestions from a lot of people. Riders ask for certain tunes like Brock Radford and "Can't Stop" by the Red Hot Chili Peppers, Jake Gardner and "Mother" by Danzig with a celebration song after a good ride of "Nothin' But a Good Time" by Poison. Jake is a classic rock guy. Some guys like rap, I do my best on those around the language as I can. It's tougher than you think to find clean music sometimes. There are a lot of swears that get thrown in now. I pick some for the guys to work on a theme like Jared Parsonage with "Cowboy" by Kid Rock. Brinson brings me all the new dance tunes for him as well.
PBRC: What is your favorite PBR event to be at the helm of the sound board for and why?
TS: The PBR Canada Finals in Saskatoon. It has more drama than any other event in the country and the race for the title the past few years has been intense. I'm a fan of bull riding and rodeo and have been since I was a kid. I'm excited to see great rides just as much or more than anyone in the building. Second to that has to be the Glen Keeley Memorial PBR in Stavely, Alberta. I never knew Glen, but I love Stavely and all the people. It's the same as Saskatoon this past year with the Ty Pozzobon Foundation Sportsman's Dinner being a hit. We rarely get to hang out with all our favorite people in the same room without an event on the go. Usually it's in and out of a city in no time. These events and the Clunie-Cooper Memorial in Prince Albert, Saskatchewan are my favorites when we get some downtime to get to hang out with everyone when we're not really working.
PBRC: What is your favorite city that the PBR travels to and why?
TS: I have really enjoyed the shows out east over the past few years. They have been a ton of fun and to be able to work and see more of this great country of Canada that I'm proud to call home is pretty special. Quebec is such a neat place with so much history. That was a great trip all three years we went. Halifax is a great time as well and I was excited to see Sydney, Nova Scotia this year. I look forward to going next time around when things are back to normal.
PBRC: As the tour's official Sound Director, what is your favorite moment at each event?
TS: All of it really. I miss the heck out of it right now, but the biggest thing I miss are the people. I love playing a sweet tune when a guy throws down a 90, or the end when we crown a champion and everyone is still in their seats for the final pyrotechnics sell. Or pressing play on the last song of the night after a sold-out Saturday night. I also like the end when all my gear is packed up and ready to go on the truck. What a fun life we get to live.
PBRC:  What song to you most closely associate with the PBR, and why?
TS: "Don't Stop Believin" by Journey. It's our go-to on the sing-a-long side of things and a must play for the 3D Bull Riding crew. We have created some cool moments with that one across the country for a few years now. It might be the same thing and people probably know it is coming, but they still scream it out. Motley Crue is still going to play "Kickstart My Heart" every night and people expect it.
My other favorite in the past few seasons would be "Knocking at the Door" by the Arkells. I have helped direct and curated the opening videos up here for the past few years and in 2018 after the PBR's Global Cup in Edmonton I sent "Knocking at the Door" to our office in Pueblo for the newest set of videos that year. With the sound of the song and the lyrics it was perfect. I remember getting chills the first time I saw it. It made me want to ride bulls again and the hair on the back of my neck stood up. I was fired up. It still has a similar effect and I'm proud to have been a part of making it happen. It's going to be a tough one to top as well.
PBRC: Of all the songs you curate, which one would you be okay with never hearing again, and why?
TS: Baby Shark. I don't think I have to explain there.
PBRC: How have you been keeping busy during the unprecedented shutdown?
TS: My weekday gig is sales in Alberta with Canada West Boots and Montana Silversmiths so I've been making a ton of phone calls checking in on our accounts. The past couple weeks I've been getting back out on the road a little. While at home, my girlfriend Storm and I have been cooking more new meals than ever before and taking the dog for more walks than ever before. I also like to read. I'm on Trail Dust and Saddle Leather by Jo Mora which was suggested to me by my pal Corb Lund, The 5am Club by Robin Sharma and the magazines GQ, National Geographic and Cowboys & Indians in between.
Since all the merchandise for the Ty Pozzobon Foundation lives in my basement, I've been back shipping the orders too. Wacey Anderson looked after it the past year or so when I took on the sales work during the week and had been writing and running social for PBR Canada. I ran out of time. With less on the go and the whole social distancing business I've been looking after shipping of the orders again.