Behind The Chutes – Pete Gebraad
By: Kacie Albert Monday, June 15, 2020 @ 12:37 PM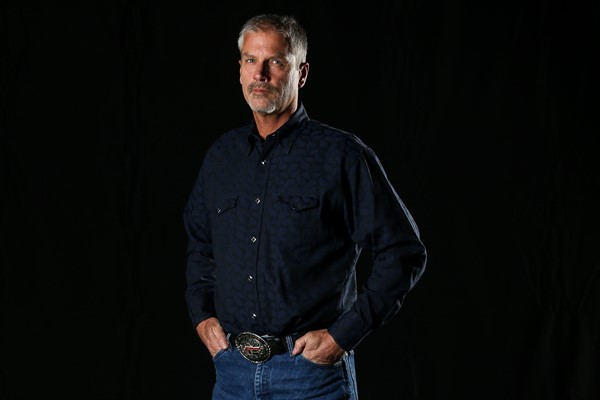 NEW YORK CITY – At any given PBR event, while all eyes are focused on the jaw-dropping feats of athleticism witnessed on the dirt by both riders and bulls, numerous event staff are hard at work behind the scenes working to ensure the high-level of production.
In the series "Behind The Chutes," PBRCanada.com will profile these staffers, giving fans an inside look at who is responsible for the operations of their favorite events, and how they came to the western sports industry.
In Volume 3, we catch-up with PBR Canada Live Event Manager Pete Gebraad.
PBRCanada.com: You have a storied career in event production/pyrotechnics. Walk us through your career so far and all the incredible properties you have worked on?
Pete Gebraad: In all honesty, I don't like talking about all the places I've worked. I think if people know my experience, then they have greater expectations of my skills, and I like being a sleeper!
Anyways, here it goes!
In the early 90s, I was the marketing manager for West Edmonton Mall, which opened doors to various entertainment companies. In the mid-90s, pyrotechnics was a novel element in sport, so I decided to take a position as the General Manager with a unique company called UnReel Effects.  In the years that followed, I established myself and our company as a leading special effects supplier in the sporting industry. Designing elaborate openings, team introductions, scoring effects, victory celebrations, and enhancing other special occasion became my thing.
I had the privilege of working for the Washington Wizards, Washington Capitals, Dallas Stars, Dallas Mavericks, Seattle Supersonics, two NBA All-Star Games, Atlanta Hawks, Atlanta Thrashers, Dallas Cowboys, Super Bowl XXXV, two MLB All-Star Games, Texas Rangers, New York Islanders, Anaheim Ducks, Calgary Flames, Edmonton Oilers, Seattle Supersonics, Portland Trailblazers – and the list goes on. I have so many amazing memories of attending and working at many spectacular events.
To be good at my job as a pyrotechnic designer, I had to understand all aspects of entertainment. Technically, I needed to understand rigging, lighting, audio and how our elements could safely integrate with those elements. I also needed to work closely with show designers to figure out what effects would be ideal for each application.  This had me involved in script writing, creating schedules and constantly thinking steps ahead in the process. So, this is how I learned production.
In the early 2000s, I started my own company, Profx, and became the supplier to The Calgary Stampede, The Vancouver Olympics, twelve Grey Cups and many other great Canadian events.
PBRC: How did you come to be involved in western sports?
PG: Well, I'm a Calgarian, so it kind of just happened! Cody Snyder contacted our company in the 90s to help with a bulls only event and the rest is history. I've been involved with countless events on dirt that include approximately 20 years doing special effects for the Calgary Stampede, numerous Canadian Finals Rodeos, countless PBR events across Canada and I was the pyro supplier to the PBR in the U.S. for the first two years that the sport started.
PBRC: You hold many roles within PBR Canada. Can you explain for us the many jobs you fill?
PG: From the production side, I am the first point of contact with the operations team at each venue that the Monster Energy tour attends. It's my job to ensure the venue is prepared for our arrival, which includes the creation of a schedule that sees the venue converting to a bull riding arena touching on items such as labor, parking, lights, production office, dressing rooms, signage, etc.
On event day, I switch hats to start preparing for the event, including the creation of event scripts, communications with our talent, ensuring all promotions and technical elements are prepared and ready. When the doors open, I then switch hats to being the lead stage manager and I call the show.  This means I sit at our front of house with various forms of communication and I cue everyone in the execution of the show including the announcers, spot lights, music, video, chute boss, etc. As I do this, it's important that I also liaise with our TV Producer to make sure his needs are being addressed while the live show unfolds.
PBRC: What is your favorite PBR event you have ever worked, and why?
PG: The 2019 Monster Energy PBR Canadian Finals in Saskatoon. This event has continued to elevate in prestige and last year's event was the best yet. I felt that our team nailed every element of production.  Our arena looked fantastic, our openings blew the roof off the building, our non-bull riding elements and promotions were tight and entertaining, and we had a phenomenal championship race that concluded on the last ride of the year.
PBRC: What is your favorite city to produce an event in, and why?
PG: Saskatoon and Lethbridge. They have great fans and an amazing venue staff.
PBRC: What is your favorite aspect of a PBR event and why?
PG: The opening because we bring it every single time. Our team worries about every little detail and it sets the tone for the evening.
PBRC: If you could change one part of any PBR event, what would it be and why?
PG: If I had a magic wand, I would make our entire arena magically disappear when our event concludes. I hate cleaning up. I'm typically emotionally and physically exhausted and it's time to roll up the sleeves and pack it all up. Not my favorite thing to do.
PBRC: PBR Canada events are known for their incredible production. What do you think is the biggest contributing factor to this?
PG: I believe this is a testament to the skill and passion our entire team has for each event. We love making our events better every week and we work hard at it.
PBRC: How have you been keeping busy during the unprecedented shutdown?
PG: I like to consider myself a bit of a handy man, so I started with fixing and upgrading a bunch of things around my home in Calgary. Now I'm spending every day over at my sister-in-law's place helping develop her basement. When that's done, I'll be painting my parents condo.
I learned years ago that the joys in life are found through having a meaningful purpose, whether that's found through work, hobbies, travel, volunteerism or whatever floats your boat.   Find something that inspires you and then run with the best you can.   Pretty simple philosophy, but it has led me to many fantastic moments and achievements