Behind The Chutes – Jason Davidson
By: Kacie Albert Monday, June 8, 2020 @ 11:48 AM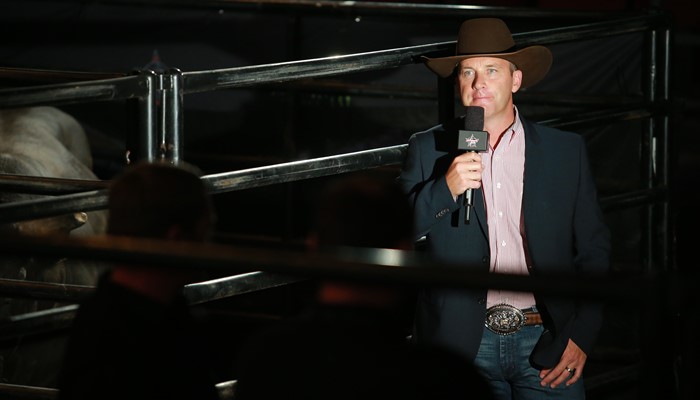 NEW YORK CITY – At any given PBR event, while all eyes are focused on the jaw-dropping feats of athleticism witnessed on the dirt by both riders and bulls, numerous event staff are hard at work behind the scenes working to ensure the high-level of production.
In the series "Behind The Chutes," PBRCanada.com will profile these staffers, giving fans an inside look at who is responsible for the operations of their favorite events, and how they came to the western sports industry.
In Volume 1, we talk with PBR Canada Director of Operations Jason Davidson.
PBRCanada.com: Before you shifted to your behind-the-scenes work within western sports, you were on the dirt as a top bullfighter. Walk us through how you came to being a bullfighter, your subsequent career and why you ultimately retired?
Jason Davidson: I grew up on ranch, so I was around livestock from an early age and for my entire childhood. I always enjoyed watching rodeo and admired what the bullfighters did. I watched Ryan Byrne in Saskatoon during the spring and summer at the Pro Rodeos on several occasions and that was the biggest influence on my decision to give it a try. I attended Ryan's bullfighting school at 19 and obtained my professional rodeo card at 20. I retired at 31, and it was just time. Wrangler offered me a position as a Sales Rep with Saskatchewan and Manitoba, and it was an opportunity I could not turn down.
PBRC: Why did you decide to pursue a career in event production with the launch of 3D Bull Riding?
JD: I had the pleasure of working for Harper and Morgan Rodeo Company in the fall of 1999. I did 14 performances for them over a three-week period and my eyes were opened to the production side of this business. James Harper's son Howard was in charge of the opening and closing ceremonies for their rodeos. It was a great experience as no one in Canada did anything with pyrotechnics, lights and music like the Harper crew.
I was selected as an alternate bullfighter to the National Finals Rodeo in 2001, and again the production of this rodeo was the best I had ever seen.  Twyla, my wife, and I produced our first event that next year in SaskTel Centre in Saskatoon and 3D Bull Riding was born.
PBRC: What was the first event you ever produced, and what was your biggest learning lesson?
JD: Eagle Creek Regional Park was a beautiful camping area about 10 miles from where I grew up, and it was the home to our first-ever bull riding event. We used old chutes, no lights, no pyrotechnics and an average sound system.  I am sure everyone watching enjoyed it, but it wasn't up to my standards of what I wanted 3D Bull Riding to be about. We fixed that at the next one.
PBRC: You have been instrumental in helping to grow the sport of bull riding in Canada. What do you think was one of the sport's most crucial developments we've already seen?
JD: Certainly the television deal with TSN, that was the game changer. We have been able to broaden our fan base nationwide which attracts the partnerships like Monster Energy. These two partnerships have been key to moving our sport in the direction where we can payout more than $750,000 throughout the season.
PBRC: How do you go about selecting cities in which to hold events?
JD: Routing is really important when we travel out East. We need to be able to do four events in five weeks or less. We cannot afford to be sitting for two weeks with two trailer loads of stock and two production trailers. In the West we have more flexibility to pick our venues and weekends as they are available around hockey schedules. Ultimately we look for venues wanting to partner with PBR Canada and work towards a long lasting relationship that brings the PBR to their community annually.
PBRC: For a PBR event, walk us through what is involved from initially selecting the city, to holding the event?
JD: This is where the 3D Bull Riding team takes over. After the venue agreement is signed, everyone gets to work. Blaine Fyson will schedule the route on how all the trucks are getting there, hire the dirt contractor, find bull housing, feed and the event's vet for the stock contractors, and hire the set-up crew for each market. Blaine also works with the Feature Production team to be sure all their needs are met in the venue.
Bret Hart does all our marketing, from scaling the building on ticket prices to buying all media in each market. He plays a significant role in making sure our PBR event gets all press we can get in that market. Peter Gebraad is our Production Manager. He coordinates everything inside the venue from working with Feature Productions on their television needs, to hiring the pyrotechnics staff and scripting the performance. Pete is the heartbeat of the live event. He is constantly sending cues to numerous production people, including our Official Entertainer Brinson Harris, announcer Brett Gardiner and sound man Ted Stovin.
I can brag on this team all day long and they deserve all the credit – 3D Bull Riding has the best team in the business!
PBRC: In addition to operating the events, you also serve as the Canadian Livestock Director. What do you look for in a bull when selecting your pens for each event?
JD: It's pretty simple – if a bull is not good enough to come to PBR event, he doesn't get to come. I get a lot of videos sent to me and it allows me to evaluate two or three trips that the bull has had before he gets to the bright lights of the big city.  I have been selecting bulls for these PBR events for almost 20 years.  It allows me to continue my relationship with the stock contractors which I really enjoy.
PBRC: As the Canadian Livestock Director who do you think are some of the top Canadian bulls going, and who should we lookout for in the future?
JD: I think we have a lot of very solid bulls up here in Canada. The United States stock contractors are buying two or three of our top bulls every year. Currently I would say the household names for bulls are Homegrown and Happy Camper. Both have been selected as PBR Canada Bull of the Year. Due to the pandemic it has kept us from watching a lot of our future bovine stars, but one bull that stood out in Calgary and Lethbridge is one called Vertigo Spy. He looks like he could be a Bull of the Year contender.
PBRC: What is your favorite event you have ever operated and why?
JD: That is a tough question -- so many relationships, stories and good times over the years. Before we had the TV deal in place with TSN, 3D Bull Riding produced as many as 17 events in a year in communities all across Western Canada. I don't think I could single one out. I usually remember how great an event was by the number of great rides were made.
PBRC: What is your favorite city to hold an event and why?
JD: This question is equally as hard as the last one. If I have to pick one, I have to go with Lethbridge, Alberta. Something about that sold-out crowd that just continues to lead the pack. When our team is dialed in on a Saturday night, it doesn't matter where we are at, we will knock you on your ass!
PBRC: PBR Canada events are known for their quality of production. What do you think is the biggest factor to this, and what makes you so successful?
JD: I have all the confidence in the world in our Team. Its dialed in. From the TV crew, to the set-up crew, everyone gels and gets what needs to be done, done! I wouldn't trade anyone of them, they are family and they know it. I think that's what makes them so good.
PBRC: How have you been keeping busy during the unprecedented shutdown?
JD: Full-time working on bringing the PBR back by September. PBR CEO Sean Gleason has been supportive of all our plans in Canada to be sure our staff and riders can get back to work in a safe environment and equally as important allow our fans to get back to watching our great sport safely.