Behind The Chutes – Geoff Bacchus
By: Kacie Albert Monday, June 22, 2020 @ 11:57 AM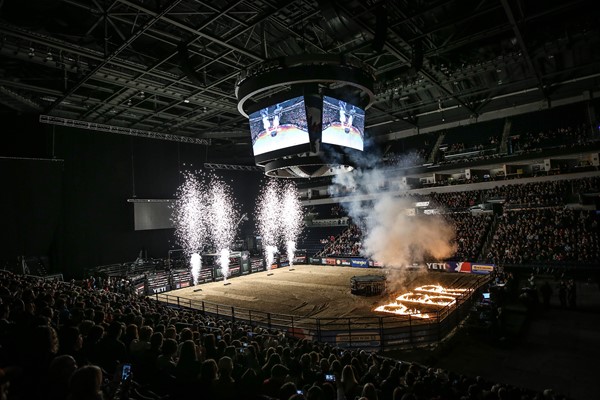 NEW YORK CITY – At any given PBR event, while all eyes are focused on the jaw-dropping feats of athleticism witnessed on the dirt by both riders and bulls, numerous event staff are hard at work behind the scenes working to ensure the high-level of production.
In the series "Behind The Chutes," PBRCanada.com will profile these staffers, giving fans an inside look at who is responsible for the operations of their favorite events, and how they came to the western sports industry.
In Volume 5, we catch-up with PBR Canada Pyrotechnics Director Geoff Bacchus.
PBRCanada.com: You have an interesting role within the PBR Canada shows in orchestrating the pyrotechnics. Can you tell us how you came to that profession?
Geoff Bacchus: I've been working in live theatre since high school and attended a technical theatre program at college after. I linked up with some former students that had moved on to doing pyrotechnics and special effects in the live event and movie industry and the rest they say is history. They have all been great mentors throughout my career. I discovered early on that I wasn't really cut out to do the same job, going to the same office day in day out. Live events allow me to be doing something different every show and most often in different venues in different parts of our country. I get to meet a lot of great people and work with amazing talented professionals in our industry!  Who could ask for anything more!
PBRC: Pyrotechnics is unique on its own, but doing them for western sports, let alone bull riding, is even more interesting. Can you talk about how you made the transition to working bull riding events?
GB: Rodeos and PBR's are a great supporter of the pyrotechnics industry, from small-town performances to the CFR. Working many of these events I found the rodeo family a close-knit group and it allowed me to take on a bit more of a creative role and helped to design a lot of the shows we did. My first PBR was for an event Jason Davidson was doing in Langham, Saskatchewan. I had no idea what to expect. I arrived at a field of dirt outside of Saskatoon, a circus type tent and some fencing for an arena. Jason greeted me with that cowboy handshake and welcomed me in. I was hooked from that point on! When the opportunity came to become more involved as the Lead Pyrotechnician for PBR Canada I knew it meant working with a talented bunch of people and being able to help create some amazing performances.  
PBRC: What makes working a western sports event different from any other event that also has pyrotechnics?
GB: The pyrotechnics for a PBR typically happen for openings so we have a very small window to make an impact that will leave an impression on those seeing it for the first time or for others that have been to many events.
The PBR family is unlike any I've ever worked for. They are all very supportive and encourage new and creative ideas. Everyone has their own jobs to do, yet in the same instance we're all there for each other. We have some very talented people working PBR Canada. From the top down with Jason Davidson and Blaine Fyson running the operation they set a great example of the hard work it takes to produce all these events. We all want the spectators, organizers and bull riders to have an experience they won't forget. I'm proud to be part of that team.
PBRC: Each opening show is intricately designed. What goes into creating the perfect pyro display for a bull riding event?
GB: More than most people would think! I start a couple months out from each event in discussing our shows with PBR Production Manager, Peter Gebraad. Peter is also one of Canada's leading pyro designers and has VERY creative ideas. It is my job to take his creativity and turn it into something that works operationally. I then spend time building hardware and set pieces in order for us to have a smooth and efficient opening. We don't have a lot of time in the arena and it needs to work flawlessly. A month out I'm working with local venues and fire departments securing all the correct permits and other paperwork required. Pyrotechnicians in Canada are required to be licensed by the federal government and we have very specific guidelines to follow.
I typically arrive the night before our performances. Scout the venue, locate our workspace and gear that Blaine works hard to transport most of the time for us. Our shows are computer controlled so I get everything warmed up and charging. On show day it takes two or more pyrotechnicians depending on the event to execute the pyro portion of the show. We typically start around 9 a.m. for a 7 p.m. performance. We load all the pyro, chalk out the arena with letters, maple leafs or other designs Peter has come up with, meet with local fire marshals for final sign off and wait for the bulls to arrive! We also check that everything is wired properly and in its right spot. The openings themselves only last for us about 10-15 minutes, but are filled with intensity and we must be on our game the whole time. Keeping our spectators, riders and staff safe is our top priority so I'm always watching to make sure everyone is where they are supposed to be and that the pyrotechnics are functioning properly. When the opening is done, we do a quick tear down and reload for a small closing and then pack it all away for loading on the truck for the next city. We usually finish our day around 11 p.m.
PBRC: What is your favorite event you have ever worked and why?
GB: Boy that's hard to choose. I've worked great events in the span of my career. Many football and other sporting events. Grey Cups in almost every major Canadian city with amazing halftime performers including Shania Twain and Nickelback. I've worked numerous CFR's in Edmonton and had some great moments with them. Summer and Winter Provincial and Canadian games. Fireworks shows in British Columbia, Saskatchewan, and many in Alberta. Years at the Calgary Stampede Grandstand show. At the 2010 Olympics in Vancouver I led nightly pyrotechnics show for the two-week run in Robson Square and I got to watch a rehearsal for the Olympic opening ceremonies.  It was a wild time to live in Vancouver. Crowds like crazy and such great support for Canada.
One of the highlights would have to be the Inaugural PBR Global Cup at Rogers Place in Edmonton. Nothing like being one of first to light that place up. I still watch video replays of that opening and get chills. We had a great team and it was amazing to be part of that.
PBRC: Is there a city on the PBR Canada calendar that most excites you, and why?
GB: While working some of the large shows like the Finals is certainly exciting, there is sometimes nothing that can match the fever of small town PBRs. Yorkton, Nipawin, Prince Albert, Falher to name a few (and if I left you out, they are all great!). The commitment by event volunteers shows the true passion these people have for the sport. I was really looking forward to a trip back out east this spring to and can't wait to see events back full on again.
PBRC: What is one event you have never worked, whether it be bull riding or not, that you would one day like to be a part of?
GB: I'd love to go to the Superbowl, even if I only got to hold a fire extinguisher for the halftime show! The NFR or PBR Finals in Las Vegas would be a close second!
PBRC: If you could change one thing about the pyrotechnics at a PBR show, what would it be and why?
GB: Not to say we're ever perfect, and I'm a bit humble, but our show evolves a little bit each time to be the best it can be. When I took on this role, I thought perfect, design 10 shows each the same, same gear, same set up, paperwork always the same, easy! In the last couple years not one of shows has been duplicated and is slightly different for each performance or season. It's the expectation to be the best we can be and wouldn't want it any other way!
PBRC: What is one thing most people would be surprised to know about your role with the PBR, and why?
GB: We have a lot of great technicians that work for us and often one of them is my oldest son Max. He got his pyro certification a few years ago and it's a great way to spend time as a father and son, even thought at times he might not agree! You see this relationship a lot in the PBR from organizers, riders, fighters, stock contractors and more. All passing down the skill and trade to the next generation. You don't often see this anymore in other industries and it is one more aspect that makes it a great environment.
PBRC: How have you been keeping busing during the shutdown?
GB: I also work full time at a university which has also been very quiet during all this. I am in the process of moving so lots of packing and cleaning up the back forty. As a pyrotechnician and fireworks guy we typically work all the holidays, New Year's Eve and Canada Day included. This year I'm looking forward for the first time in about 25 years to spending July 1 in my backyard celebrating our great country. What do normal people do at home on this day anyway? Asking for many technicians out there in the same boat! Can't wait to get back to our shows!