Behind The Chutes – Ciara Yaschuk
By: Kacie Albert Monday, June 29, 2020 @ 2:22 PM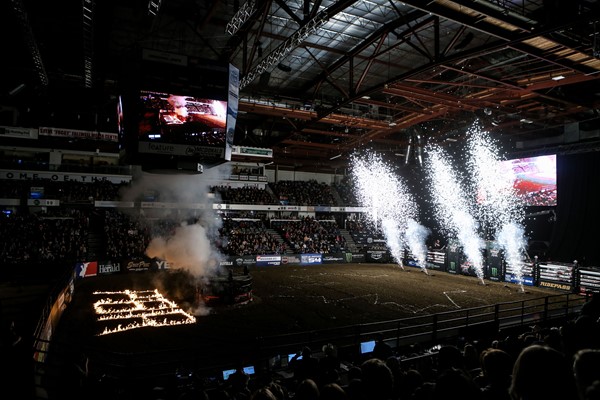 NEW YORK CITY – At any given PBR event, while all eyes are focused on the jaw-dropping feats of athleticism witnessed on the dirt by both riders and bulls, numerous event staff are hard at work behind the scenes working to ensure the high-level of production.
In the series "Behind The Chutes," PBRCanada.com will profile these staffers, giving fans an inside look at who is responsible for the operations of their favorite events, and how they came to the western sports industry.
In Volume 7, we catch-up with PBR Canada Sidelines Reporter Ciara Yaschuk
PBRCanada.com: You recently joined the PBR Canada team as a member of the broadcasting team. What made you interested in reporting, and can you tell us a bit about your career thus far?
Ciara Yaschuk: I covered the Monster Energy PBR event in Saskatoon in 2018 for Global News. And as soon as I saw the event and what PBR does I was mesmerized not only by the sport, but the show that goes on. I couldn't get enough! Covering the show now on the road is so thrilling and I look forward to each event. I am going on six months being with the team and I couldn't be more grateful! 
PBRC: Before joining the team, you frequently covered the Canadian Finals with Global TV Saskatoon. What made you interested in covering western sports?
CY: Yes! I actually in all honesty was told by my producer I would be covering the event and was terrified! I had no idea what I was getting into, but wow am I glad I did!


PBRC: What is different for you when you are working for Global News as opposed to covering a PBR Canada Monster Energy Tour event for TSN?
CY: Global News being a news outlet is more serious hard hitting stories. So covering PBR events is such a change because I can really show off my personality and just have fun with it.


PBRC: What has been your favorite moment thus far covering PBR Canada events?
CY: I think the Finals in Saskatoon in 2019. It was a two day event and the house was packed every night. I will never forget the energy the bull riders and fans brought. It was exhilarating. 


PBRC: Is there one specific athlete or stock contractor you particularly enjoy interviewing?
CY: Ahh putting me on the spot here! Let's just say, I enjoy the athletes that can give me more than a two worded answer! 
PBRC: How do you prepare for a PBR Canada Monster Energy Tour event?
CY: Definitely a lot of research and looking up stats on the rider, and watching RidePass events. Also where the bulls are coming from - where their standings are and points. The more you know they say! 


PBRC: What is it like responding in the moment with a sport like bull riding when the narrative of the event can change on second's notice?
CY: It's hard to explain! At times I can for sure feel my adrenaline rushing. You have questions you think you are going to use and literally in .8 seconds those questions can completely take a 360!


PRBC: When the PBR Canada season resumes, are there any changes you'd like to bring to your role, and why?
CY: More excitement! I think the more pumped up I am, it gets better reaction from the fans and the riders!


PBRC: Do you have any blooper moments from your career, and how did you learn from them?
CY: Oh my. Every show! Something spills out and I'm thinking 'what did I just say!?' Just really going back through each event taking the weak parts and just keep building to make that weak point, the strongest point.


PBRC: What is one thing you would say to someone looking to start a career in sports broadcast journalism?
CY: Go for it! Step out of your comfort zone and say yes! I went into covering PBR knowing next to nothing. But by saying yes and taking a chance the events are always the highlight of my week. 


PBRC: How have you been keeping busy in quarantine?
CY: I took my spin training at LIFECycle in Saskatoon! So I am now a spin instructor which is pretty cool! I did a lot of cooking too, which I absolutely love (paired with wine of course)!