Women of the PBR – Tamara Berezay
By: Covy Moore Friday, July 10, 2020 @ 10:58 AM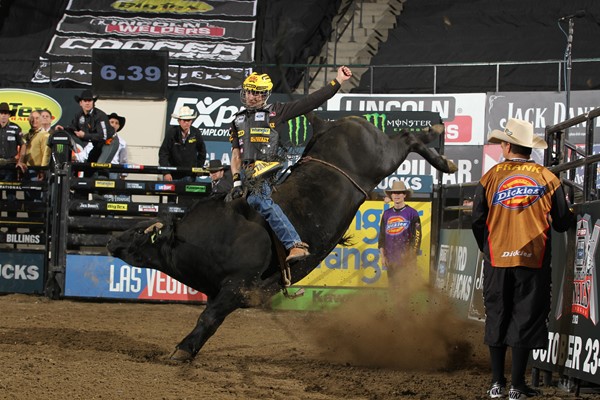 AIRDRIE, Alberta – The Two Bit Bucking Bulls firm is truly a family affair.
While Josh Berezay is commonly found on the back of the chutes with his daughter's Montana and Nevada, it is his other half, Tamara, who is crucial to help keeping the program running strong.
Raised in Turin, Alberta to a cattle rancher and grain farming father, Tamara admits the western way of life, while instilled in her from a young age, was farthest from where she was looking to go when she got to grab life by the horns.
"I went to university, I have an accounting degree," said Tamara. "I lived in Europe for a year-and-a-half, and went to university. As far as western, I grew up on a farm, that's about as west as it gets. I wasn't in the western world till I married Josh and decided we were moving to Magrath. Then the bull things came after that."
After spending that year-and-a-half in Hamburg, Germany, as well as visiting most everywhere the Euro-rail would bring her, she headed home to be back with family, subsequently meeting Josh and becoming fast friends.
Their friendship survived beyond other relationships before Tamara realized her appreciation for the big, hardworking jokester right in front of her.
"I knew Josh five or six years before we got engaged. Josh used to bug me at the local bar that I worked at and told everybody, 'I am going to marry that girl one day.' I just looked at him and laughed, and would feed him straight 7-Up with lime. You're getting straight 7-Up and you don't even know it there big guy," she said.
"We were friends for years, despite other relationships. Finally he wore me down, we took a trip to Montana in 1997 and decided we were going to get married. That was in August of 1997, and in February of 1998 we got married."
"I guess he reminded me a lot of my dad, he was a big guy and I knew he worked really hard," Tamara continued.
"And that is what I learned when I was raised, I was an only child so I was dad's boy and mom's girl. He just reminded me a lot of my dad like that, similar background and ideals. Work hard and play hard. It all came down to a trip to his family reunion in 1997 and the story goes as they say."
But it was Tamara's father, Lawrence, who on a chance trip to a PBR event in 1998 set the seeds for what would eventually be one of the most successful bucking bull operations in PBR Canada history.
"That PBR we went to was the year after we got married, 1998 or 1999. That was a long time ago. We decided to go, dad was a farmer so they would go to Las Vegas in the winter. We wanted to go to this bull riding, dad was all about it," she said.
"We got tickets and we were in the nosebleeds. We loved it, we toured around the bulls. Josh and dad were just in love with it. Dad was a smart cattle guy, he raised and bred a lot of cattle. They thought this was going to be a great thing.
"We didn't know at the time dad had cancer, so time was short for it. He passed away in 2002 at Christmas time. We bought this place in April of 2003 and started with one bull."
Knowing how much her dad loved the idea of getting involved in the stock contacting side of the game, and seeing in her husband that same level of excitement, Tamara took those early purchases into her own hands, bringing the Two Bit Bucking Bulls herd from one, to eight very quickly.
"We bought one bull, his name was Boogie Boy," she began.
"We thought we would just have this one bull in the yard, take him to a few events. A relative of mine from Magrath here, had about seven. Josh was away at work one day, so I just went and bought them. I had them all here and he came home and said 'What the hell!'"
"That's how it all started. We bought them in 2002 and did our first bull riding in 2003, at Fort MacLeod. We did tons of high school rodeos and amateur rodeo around here. Then we met Lorne High. We bought a bunch of cows from a fellow named Kerry Wilson via Tyler Thompson. We bought some cows from Lorne. The rest is history really."
Anyone can buy into the stock contracting game, but not many can have the patience and work ethic required to find that one, or two, or more than help put your operation on the map.
Spending a number of years working in the Chinook Rodeo Association, and some other amateur and open organizations, the Berezay clan eventually raised a little black horned bull named Bucking Fantastic.
"We thought there was something pretty special about him," Tamara said.
"We hauled him to Lloydminister once, and if it wasn't for that bull we wouldn't be Two Bit Bucking Bulls. We hauled him to a lot of events in Montana and North Dakota, won a derby with him in Montana. Then he was Bull of the Finals up here and he took us to Las Vegas. We owe it all to that bull."
Once they were in the PBR Canada side of the sport, they never looked back. Tamara says they set some goals from the start of their endeavor, and looking back today they have already hit them all.
"We had a bucket list as far as the bulls go," she said.
"We wanted to go to the PBR Canada finals, and we made it. We wanted to have a Bull of the Year, we did that. We wanted to go to Las Vegas, and we went there. And we wanted to get to Calgary. We hit our list. So it's now the kids turn," she said with a laugh.
And those kids are the pride and joy of Tamara and Josh.
Whether they want to fully continue the operation in the coming years or not isn't known yet, but Tamara says she is confident they will give it a go.
"We have been waiting for this a long time. Send the kids with some bulls and they can handle it. We aren't getting any younger. The bulls get faster and stronger and we are not," Tamara said.
"Montana has a cool knack of flanking, she is strong and has a great touch. Nevada knows every bull's trip, who their mom and father is, what delivery they go out of. It's a really great combination."
"They have talked about it," Tamara continued. "We have said so many times that we could sell out and quit at the top and they are like 'Are you kidding me, we are not doing that. We are going mom and dad.' It's just scary, there are a lot of things that can happen back there."
"We have our ranch set up so that when Josh is away, everything is really safe for us to handle. We can move things around safely. Hopefully we have taught them that, and hopefully they can do that. We would love to buy that coach and head south, and leave the girls to it. If we could sit in the beer gardens and watch our bulls buck, that would be great."
Beyond "mom" and the accountant of the business, Tamara says that she is the planner of the clan.
With events all over western Canada, and extending to the Maritimes with the PBR Canada Monster Energy Tour, which the Berezay's have been involved with the entire tour, there is a lot more to this game than just showing up and flanking some bucking bulls.
"I want to keep everything. I never want to sell anything or get rid of anything because they all become family around here," she said.
"As far as the business side of it, I am the planner. I plan what's going on, where we've got to be, when we got to be there and what we need to pull it off. And we have a barrel racer and a basketball player on top of all that too so there is always something coming up."
The stock contracting business is far from easy. Raising these animals is expensive, arduous and an exercise of patience. But it's the game itself, as well as the family that keeps Tamara motivated.
"I love the whole game of it," Tamara said.
"I love watching these bulls go from scraggly little calves to the animals they become. The best part of it is that it's one big family. The girls grew up on the back of a bucking chute. I didn't have to leave the kids at home to be a part of it. It became the family deal, and it still is."
"The cool thing now is that we have this huge family in this now. Look at the people we hang out with, Jenn and Nansen Vold, Lorne and Kelly High, the Wild Hogg's crew, the Chmelnyk's and Jason Davidson. Of course we are rooting for our bulls to do well, but we really are rooting for everybody else as well. It's a different game. We are all in it together to succeed, but together. It's a big family deal. We are all one big team, we aren't competing against one another so much. If it wasn't for the people in all this, it wouldn't be much fun."
"Josh said right from the beginning, when it's not fun anymore, that is when I am done. Well, its still fun."
Beyond Bucking Fantastic, Tamara says her favourite bull to come out of the Two Bit Ranch is the one and only 2018 PBR Canada Bull of the Year, Happy Camper.
"We didn't know it with him. They are little and cute and we say 'Oh, that's the pretty one.' The rule around here is that we don't name them till we buck them. Being a household of females, we become attached and then we can't get rid of them if they aren't much of buckers," Tamara said.
"He would always run at the fence, and Nevada just said one day 'Oh, isn't that just a little Happy Camper.' It was a joke, but that became his name. His personality just grew. He was an unexpected gem that we didn't see coming."
"When we first took him to Arrowwood, and we saw him buck and win that event that's what opened our eyes. He is just a really neat bull. Josh brushes him. Bucking Fantastic and Happy Camper, we raised them. It's amazing to have bulls go to Las Vegas that we raised."