Green Readies for Home Province Return to Competition
By: Covy Moore Tuesday, July 14, 2020 @ 12:47 PM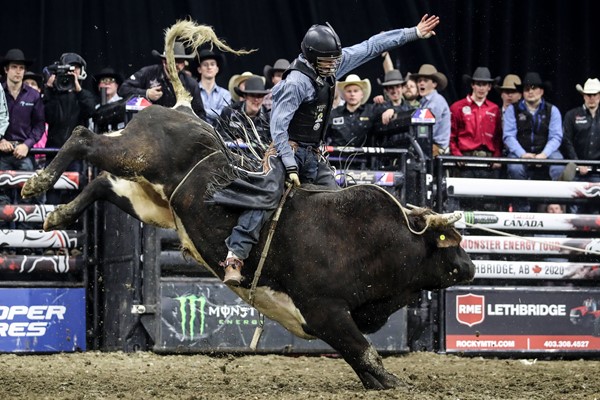 AIRDRIE, Alberta – Historically there isn't a more dominant bull rider in the spring and early summer time than Meeting Creek, Alberta's Garrett Green.
Having won the Lethbridge, Albert PBR event twice in his career (2016 and 2018), in addition to seven other PBR events, Green is always one to watch when the season starts.
And more importantly, he is also always in the conversation for a title when the year ends.
"I think it's just that you have had a chance to recuperate and get healthy again," Green said.
"It is just a really good event," he continued speaking of the historically energetic events in Lethbridge.
"They always sell it out, the crowd is really good, they are loud and really get into it. It's just one of the first events too where everybody is coming back and hungry and really wanting it. The bulls are fresh and good coming off their break. I have won that event twice – it's been a really good place for me."
As the PBR Canada Monster Energy Tour continues to expand competitive opportunities for the world's best bull riders, the 2020 season featured the debut of the 5/5 Bucking Battle, a special round of competition held at all two-day tour stops pitting the top five bull riders in the country against the event's top bulls for PBR Canada points and a $5,000 bonus.
After Brock Radford won the inaugural 5/5 Bucking Battle in Calgary, Green, who had his sights laser focused on getting as many points as possible, topped the special round in Lethbridge in early March.
"The points are great, you need as many points as you can get," Green said.  "You want to be in that Top 5 to have the opportunity for sure," he said.
With a stellar start to the season, Kindersley, Saskatchewan's Dakota Buttar has a target on his back as the 27-year-old rider is aiming to win the season outright prior to the PBR Canada Finals anticipated to be held in Saskatoon this November.
Green says that while the competition is always looking out for one another in a dangerous sport like bull riding, there isn't a competitior in the PBR Canada dressing room that doesn't pay attention to the standings with the hope of catching and surpassing the season leader.
"He is backing it up, he has stayed on all his bulls. Good on him," Green said of Buttar. "Come out and say you want to win it before Finals, that's something. The rest of us are all trying to win it too. It will be nice to get some bull ridings to go to and work at catching Buttar."
With the PBR Canada Monster Energy Tour slated to return to competition for the first time in more than 100 days on July 23 in Lethbridge, right where the tour left off, Green says he is excited to get back to work, driving towards what would be his first PBR Canada National Championship.
"I am just pumped to get on some bulls again. The last bull for me was in Lethbridge," he said.
"Having something to work for makes it a lot easier to get up and get working out and working towards it. All year you try and stay in shape and be ready for it, but with all the cancellations it gets tough to get motivated. It takes the drive out of you.
"Damn sure gives a guy a kick to get going and get in shape to get ready for it. I am absolutely pumped to get rolling again. Sitting up here watching the United States ride every week, it's fun to watch, but it sucks when you aren't competing."
With a few tickets available to those in the Lethbridge region for the PBR Canada Monster Energy Tour LIVE: Drive In Spectacular at the ENMAX Centre, Green says he is grateful to have such a loyal fan base sticking by bull riding side through an unprecedented hiatus.
"Thanks everyone for sticking by and waiting it out with all of us," he said.
"If you can make it to Lethbridge it will damn sure be an event you want to watch. All the best guys in Canada will be there and be getting on about four bulls that day. It will be well worth the price of admission."