Canadian Greats Roy and Lambert set to compete at History Making Lethbridge Monster Energy Tour Event
By: Justin Felisko Wednesday, July 22, 2020 @ 8:52 PM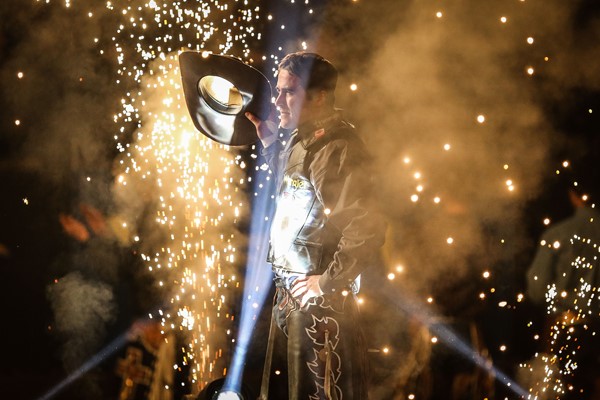 PUEBLO, Colo. – Two of the greatest Canadian bull riders in PBR Canada history will be climbing into the bucking chutes Thursday in Lethbridge, Alberta, at the ENMAX Centre.
Three-time PBR Canada champion Aaron Roy and two-time PBR Canada champion Zane Lambert are two of 25 riders competing in the Monster Energy Tour doubleheader, which is airing live on RidePass at 1 p.m. MT and 7 p.m. MT.
Roy and Lambert are the only two Canadian riders in PBR history with multiple PBR Canada championships, and both are in contention for another Canadian championship in 2020 with the season resuming following a 138-day hiatus because of the COVID-19 pandemic.
Roy, 33, is fifth in the PBR Canada standings, while Lambert, 34, begins the event sitting in sixth place.
The Cooper Tires Invitational at 1 p.m. is closed to the public before the 7 p.m. MT Built Ford Tough Invitational, which will be the first fan-attended professional sporting event in Canada since the onset of the COVID-19 pandemic. The PBR Canada Monster Energy Tour LIVE: Drive-In Spectacular will welcome back fans by bringing the high-adrenaline action from inside the closed-to-fans arena via a suspended 23-foot big screen. More than 200 parking stalls will be available to the public for purchase in the West Parking lot of the ENMAX Centre to watch all the action from the comfort of their own vehicles.
Thursday is the first PBR Canada event since the PBR Canada Monster Energy Tour event in Lethbridge on March 6.
Roy and Lambert have been reaching the 8-second mark at all levels of PBR competition for the past 15 seasons since making their PBR Canada debuts in 2006.
 Here is a look back at each of the Top 3 rides of their respective careers.
AARON ROY
92 points on All In (Bismarck, North Dakota)
There have been plenty of memorable 90-point rides at Chad Berger's annual PBR event in Bismarck, North Dakota, and Aaron Roy has one of those on his resume.
In 2009, Roy rode All In on June 19 for 92 points during the championship round of the Touring Pro Division event, which featured seven 90-point rides during the two-night event, as he finished third overall.
Speaking of Bismarck, PBR and Berger are hosting the first premier series event in PBR history in the city this coming Aug. 7-8 at the Bismarck Event Center.
92 points on Buck Wild (Sidney, Montana)
Roy posted his second 92-point ride four years later when he converted on Buck Wild at the dual PBR Canada/United States Touring Pro Division event in Sidney, Montana, on June 28, 2013.
91.75 points on Top Notch (2009 PBR World Finals)
Roy nearly became the first Canadian to win the PBR World Finals in a hotly contested 2009 Finals at the Thomas & Mack Center. Roy went 6-for-8, which would've won the Finals in other years, and he rode Top Notch for 91.75 points in Round 7. However, Roy still finished fourth overall.
Two-time World Champion J.B. Mauney won the 2009 World Finals by setting a PBR-record with an 8-for-8 performance, while 2009 World Champion Kody Lostroh (7-for-8) and Valdiron de Oliveira (7-for-8) also put forth sensational performances. Lostroh and Oliveira were a perfect 7-for-7 before bucking off in the championship round.
Roy won a career-high $103,000 at the 2009 Finals, and is the only Canadian bull rider in PBR history to surpass $1 million in earnings.
ZANE LAMBERT
92 points on Already Platinum (Wanham, Alberta)
Lambert began his path to his first World Finals appearance by winning the Wanham, Alberta, PBR Canada event with a career-best, 92-point ride on Already Platinum on June 12, 2009.
91 points on Gingas Kong (Vermillion, Alberta)
Lambert capped a 2-for-2 performance at the Lakeland College PBR, presented by ATB Financial, in Vermillion, Alberta, by earning the victory with 91 points on Gingas Kong on February 15, 2013. The win was one of four event victories for Lambert, who would go on to win his first PBR Canada title later that season.
90.5 points on Happy Camper (Stavely, Alberta)
The Ponoka, Alberta, native was one of only three riders in 15 attempts to ride 2018 PBR Canada Champion Bull Happy Camper two years ago. Lambert rode Happy Camper for 90.5 points – the highest score ever recorded on the bovine athlete – on September 1, 2018. It was sweet revenge for Lambert after Happy Camper bucked him off in 5.7 seconds earlier in the year in Lethbridge.
Happy Camper is bucking this week in Lethbridge, and we will see if Lambert and the champion athlete square off again.