By The Numbers – Buttar could set new PBR Canada record Thursday
By: Justin Felisko Tuesday, July 21, 2020 @ 10:23 AM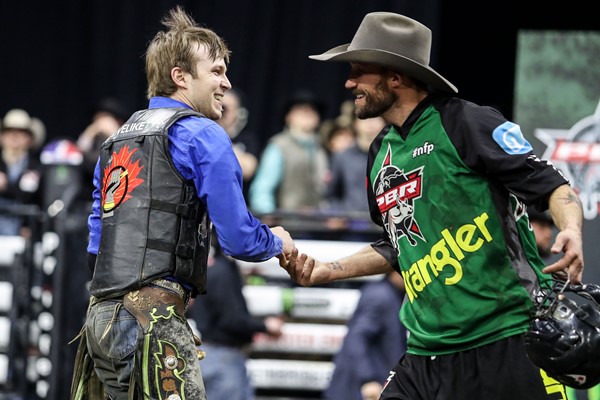 PUEBLO, Colo. – Dakota Buttar was seemingly unstoppable before the COVID-19 outbreak put the PBR Canada season on ice back in March.
The No. 1 bull rider in Canada had begun the 2020 PBR Canada season a perfect 10-for-10 and won all three events he competed in.
Buttar's ultimate goal this year is to win his first PBR Canada championship at the 2020 PBR Canada Finals in Saskatoon, Saskatchewan, on Nov. 14-15, but he has a chance to make history in a different way this coming Thursday in Lethbridge, Alberta, at the ENMAX Centre.
The 25-year-old has a chance to break his own PBR Canada consecutive ride record with two consecutive rides during the PBR Canada Monster Energy Tour's Cooper Tires Invitational at 1 p.m. MT.
Buttar has the longest consecutive ride record since 2015 in PBR Canada competition with 11 rides in a row from November 24, 2018 until July 2, 2019.
Three-time World Champion Silvano Alves owns the PBR's premier series record for consecutive rides with 24 in a row.
Top PBR Canada Ride Streaks since 2015
Dakota Buttar (11)
Dakota Buttar (10)*
Cody Teel (8)
4 riders tied at 7
*Still active
Fans can watch Buttar's pursuit of Canadian history LIVE on RidePass, and it is the first of two PBR Canada events in Lethbridge on Thursday.
RELATED: Buttar ready to reboot 2020 push for PBR Canada Championship
The Cooper Tires Invitational is closed-to-the-public before the 7 p.m. MT Built Ford Tough Invitational, which will be the first fan-attended professional sporting event in Canada since the onset of the COVID-19 pandemic. The PBR Canada Monster Energy Tour LIVE: Drive-In Spectacular will welcome back fans by bringing the high-adrenaline action from inside the closed arena to fans via a suspended 23-foot big screen. More than 200 parking stalls will be available to the public for purchase in the West Parking lot of the ENMAX Centre to watch all the action from the comfort of their own vehicles.
Thursday is the first PBR Canada event since the PBR Canada Monster Energy Tour event in Lethbridge on March 6.
Buttar has drawn Trippy Hippy for Round 1. Trippy Hippy is actually owned by fellow PBR Canada rider Shay Marks and is bucking for the first time in PBR competition.
Let us compare Buttar's two double-digit PBR Canada ride streaks.
Buttar's 2020 streak vs. his 2018-2019 run

Consecutive Rides: 2020 (10) / 18-19 (11)
Average Ride Score: 2020 (86.25) / 18-19 (85.05)
90-point Rides: 2020 (0) / 18-19 (0)
Top Ride: 2020 (89 points on Kubota's Big Orange Tractor) / 18-19 (89.5 points on Grey Tower III).
Lowest Ride: 2020 (84.5 points on Big Tymer) / 18-19 (79.5 points on All About You)
Round Wins: 2020 (2) / 18-19 (2)
Event Wins: 2020 (3) / 18-19 (2)
PBR Canada Ranking: 2020 (1) / 18-19 (2)
World Ranking: 2020 (25) / 18-19 (29)
ANALYSIS: The major difference between Buttar's two streaks is a matter of timing. In 2019, Buttar did not make his PBR Canada debut until June 8 in Moose Jaw, Saskatchewan, as he was riding full time on the Unleash The Beast. Buttar also missed out on May PBR Canada events after sitting out nearly two months with a shoulder injury. Once Buttar returned in June, he began his frantic push up the PBR Canada standings with nine consecutive rides until Come On Over bucked him off in 2.85 seconds. Buttar carried two rides over from the 2018 PBR Canada Finals, hence the streak of 11 rides. Instead of an injury getting in the way of his streak this season, it was the COVID-19 virus.