Buttar Ready to Reboot 2020 Push for PBR Canada Championship
By: Justin Felisko Monday, July 20, 2020 @ 3:05 PM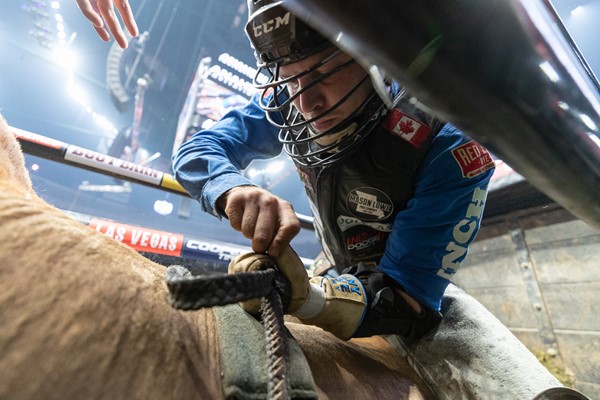 PUEBLO, Colo. – Dakota Buttar grabbed a black road case, rolled it over to himself, and popped a squat.
Buttar then leaned backed and let out a sigh as he began to explain his goals for the 2020 season deep inside the bowels of Chesapeake Energy Arena in Oklahoma City, Oklahoma.
The 27-year-old had been mulling over giving up a spot on the Unleash The Beast to so that he could pursue a PBR Canada championship full time in 2020. It was Jan. 31, and Buttar was about a month away from having to miss UTB events so that he could compete at PBR Canada events on the same weekend.
Buttar has been one of the best Canadian bull riders in the world for the last four years, but he has yet to win a prestigious PBR Canada title. 
"Last year that (PBR Canada championship) really slipped away from me, and, realistically, I had no shot at the world title," Buttar said. "I would like to accomplish my goal (in Canada) and move on and that was one that slipped away. I feel like I can't get that this year if I don't stick with it. I am not throwing away coming back next year either. This is just what I want to do this year."
Buttar had finished 450.42 points shy of winning the 2019 PBR Canada championship a year prior after losing the PBR Canada title on the final day of the season to Daylon Swearingen. Buttar had begun the 2019 PBR Canada Finals with back-to-back round wins, but then bucked off is final two bulls as Swearingen finished the Canadian Finals a perfect 4-for-4.
The four-time PBR World Finals qualifier had just won the PBR Canada Monster Energy Tour season-opener a week earlier (Jan. 24), and the No. 1 ranked rider in Canada had his eyes set on finishing what he failed to finish on home soil a year earlier.
"That is what I am shooting for this year," Buttar said. "I don't want to miss all of them events again this year. This year I am pretty set on not wanting to play catchup halfway during the year.
"Starting in March, I can keep a pretty full schedule, so I will be busy at home."
So Buttar thought.
Buttar would win the PBR Canada Monster Energy Tour event in Lethbridge, Alberta, on March 6, as he extended his PBR Canada consecutive ride streak to 10 in a row and opened up a 100.5-point lead in the PBR Canada standings.
However, five days later back inside Chesapeake Energy Arena in Oklahoma City, the COVID-19 pandemic was beginning to come front and center in the United States when Utah Jazz center Rudy Gobert tested positive on March 11 just before tipoff against the Oklahoma City Thunder, prompting the NBA to call off the game and later postpose its season.
Other leagues and sports properties began to follow suit as the pandemic began to roar to life throughout the world.
The PBR would host an Unleash The Beast event in Duluth, Georgia, on March 15-16 before hitting pause on its season until April 25.
PBR Canada would begin to postpone or cancel events on March 13, which began a hiatus of four months with no bull ridings for Canadians to compete at and earn a living.
Now, the wait is finally over for PBR Canada fans, its riders and Buttar.
PBR Canada is resuming its season on Thursday following 138 days with two events in Lethbridge, Alberta at ENMAX Centre.
The PBR Cooper Tires Invitational will be closed to the public, available only on TSN and the league's OTT channel RidePass, which will carry the action live beginning at 1 p.m. MT.
The second event, the PBR Built Ford Tough Invitational at 7 p.m. MT, will mark the first fan-attended professional sporting event in Canada since the onset of the COVID-19 (coronavirus) pandemic.
RELATED: Health guidelines for the PBR Built Ford Tough Invitational
The fan-attended PBR Canada Monster Energy Tour LIVE: Drive-In Spectacular will welcome back fans by bringing the high-adrenaline action from inside the closed arena to fans via a suspended 23-foot big screen. More than 200 parking stalls will be available to the public for purchase in the West Parking lot of the ENMAX Centre to watch all the action from the comfort of their own vehicles.
Buttar, who is ranked No. 25 in the PBR world standings, told KTTX News that is obviously excited to get the season back underway.
"This is probably one of the longest breaks I've ever taken, so I'm itching to get back to it. Things are building… so we're planning for things to go smoothly so we can hopefully keep at it," Buttar said. "There hasn't really been any bull riding since (the pandemic) hit, to be honest. I haven't seen nothing going in Saskatchewan so it's pretty well been put on hold."
Buttar had also hoped to make a run at qualifying for the 2020 Canadian National Finals Rodeo this year, but the CFR has been postponed until 2021 because of COVID-19
The Kindersley, Saskatchewan, native will be focusing now on winning his long-desired PBR Canada title at the 2020 PBR Canada Finals on Nov. 13-14 in Saskatoon, Saskatchewan.
It will be interesting to see if Buttar can pick up on Thursday where he left off in March.
Buttar had ridden 10 straight before the break. He is one ride away from tying his own personal-best of 11 consecutive rides in PBR Canada competition. Buttar began that streak on November 24, 2018 and it lasted until July 2, 2019.
Of course, Thursday will be unlike any event Buttar has competed.
Three-time PBR Canada champion Aaron Roy and two-time PBR Canada champion Zane Lambert are also tentatively scheduled to ride in Lethbridge.
Buttar doesn't expect the unique circumstances to prevent any of the riders from showing up to do their jobs.
"It shouldn't affect the riding a whole lot," Buttar said. "It's definitely going to be a lot different and awkward for the first with a mask and distancing from one another, but we all want to get back to it.
"Everybody's going to be pushing these and being as strict as we can. But when it comes down to it, when we're on the bull, that's going to be the same, nothing's going to change there. It's just going to be the rider and the bull and you go do your job no matter what."