Bull Riding Legend Scott Schiffner Continues to Shape Industry as TSN Commentator
By: Covy Moore Tuesday, July 7, 2020 @ 1:42 PM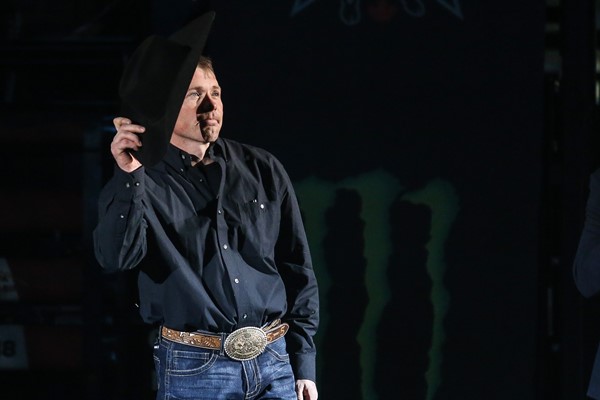 AIRDRIE, Alberta – With bull riding championships, an Olympic medal in the sport, the duties of coaching Team Canada for the PBR Global Cup, and the respect of an entire nation on his resume, Scott Schiffner is also once again the voice of TSN coverage for the 2020 PBR Canada Monster Energy Tour.
With a wide sweeping career, Schiffner says being able to step into the booth and commentate the sport that has given him everything in life, is an honor.
"I met my wife thanks to bull riding, and with that I have had my kids. My ranch was mostly paid for from bull riding. It's a way for me stay involved and see the evolution of bull riding continue on," Schiffner said.
"It's also a way for me to give back and see that other side of bull riding that a lot of bull riders, me included, didn't do for a lot of years. You really start to appreciate the committees and the pyro guys, the television guys and the effort they put into it. Without them bull riding isn't what it is today."
Schiffner has won events and ridden bulls all over Canada and abroad.
And only stepping away from the sport two years ago, he remains closely connected to just about everyone competing today. He says he is working to try and infuse that personal connection into the way he commentates events today.
"The best thing for me is whatever I see I try to put into words of the viewers," he explained. "Maybe try and find those things that the untrained eye wouldn't see and give a little insight in some of the guys' backgrounds or a bull's history."
"Sometimes I don't even have much on the ride itself, as the ride can be self-explanatory. That is my job, the way I see it. Put that vision and insight for what the viewers should be seeing on TV.
"I know a lot of those guys personally still, so I can add a little bit of that inner workings of what's going on with them, where they are coming from. Things as simple as if they are using a new rope, or a new workout program."
But that insight for Schiffner goes beyond new ropes and workout programs or a bull's history, as he says being critical of the competitors in such a high-risk, high-reward sport is important to conveying to the fan the highs and lows of bull riding.
"I will also call those guys out a little bit, especially the ones I used to ride with," Schiffner said.
"I am not afraid to say on TV what I would say to them. I won't say anything on TV that I wouldn't say to them looking them in the eye. If they have a bad day, I will make it very well known that they had a bad day and will be disappointed in themselves, and really I am disappointed in them. But that's cause I know them, and I know they have the skills to do that job."
"I am a guy that enjoys documentaries," Schiffner continued.
"The reason I cheer for different sports, different teams and different athletes is because I've either met them, or saw something in a documentary style deal on them. Something caught my attention and interest, and in return I become a fan or dislike them, but either way I want to tune in to see them in victory or in defeat.
"That is what always resonated with me, beyond just putting another bull and bull rider on TV and saying the rider did this and the bull did that. I want to make things personal for people so the fan base can build up a knowledge and a report with these guys from afar so they can become fans of a rider or fans of a bull.
"That's what caught my attention, so that's what I want to do for other people."
The lessons being taught to the retired bull rider who will never be more than a stone's throw away from bull riding arenas for the rest of his days are immense in this role, opening his eyes to the behind the scenes side of the sport more so than when he was riding.
"Bull riders have a magical mentality of thinking they are the stars of the show," Schiffner began. "They really are the stars of the show, that's why everybody is there, but in order to make them stars and known worldwide, we need all these other people. That has been a highlight of all this is to have that highlighted for me, and learn all of what goes on in the background and how many moving parts there are to a great PBR event."
"I can say this about myself, throughout my career. We become complacent on feeling like we are the show, so our chute procedure gets longer, not taking the time with the media. If I could say one thing about it, the bull riders coming up are getting better and better, but they always need to think that they should take a step back and realize that without the fans, they would be getting on bulls in their backyard for fun and not being able to get on in competition like this for this amount of money. I would like to see the whole group tighten up, chute procedure is one, availability to media and fans."
In 2020, there is no bull rider more dominant than Dakota Buttar.
He currently leads the national standings and as many will see throughout the TSN coverage, he is more than likely the one to beat in 2020. Schiffner, who rode against Buttar in both Canadian rodeo and PBR Canada competition, says he is more than impressed with the Saskatchewan rider's season so far.
"The biggest thing for everybody to watch with Dakota is his confidence level. In any professional sport, you watch the elite that are winning, you can go back to Michael Jordan days, Wayne Gretzky days, they have this aura about them, and it's just that confidence," Schiffner said. 
"Dakota has always been a guy that has confidence, but he never really oozed out of him for everybody to see. But right now, with Dakota at home and on Canadian soil he walks into the event confident, he gets on his bulls confident, he gets off his bulls confident. He even walks with confidence and knows what's coming. Even when he is speaking and doing interviews, it's confident. And that is a part of Dakota that he has always had, but he has never really let it come out.
"I don't think Dakota is riding any better than he ever has. He has always had all the talent and try in the world, he is just letting that mental part of him that knows he is good, show that he is good. He is absolutely dominating right now. It is really fun to see, especially for a guy like me."
With a bevy of TSN shows coming over the following weeks highlighting PBR Canada's start to the 2020 season, and an extensive PBR Canada schedule expected for the end of July and beyond, Schiffner is excited to give viewers a reason to become fans of bull riding in Canada.
"I want to let all our fans know, especially the Canadian fans, we are Canadian and I am very proud of where we are and the people that come from here. Whether you want to be or not, we are stuck in Canada right now. And if we are stuck here right now why wouldn't we support the absolute best we have in our game and tune in to TSN. It is a true Canadian field with all Canadian bulls and riders," he said. 
"You will quickly realize how great a group of guys we have up here, the calibre of bulls we have up here. If you take an hour out of your day and watch our show once, you won't want to miss another one."