Behind The Chutes – Brandon Thome
By: Kacie Albert Wednesday, July 1, 2020 @ 8:00 AM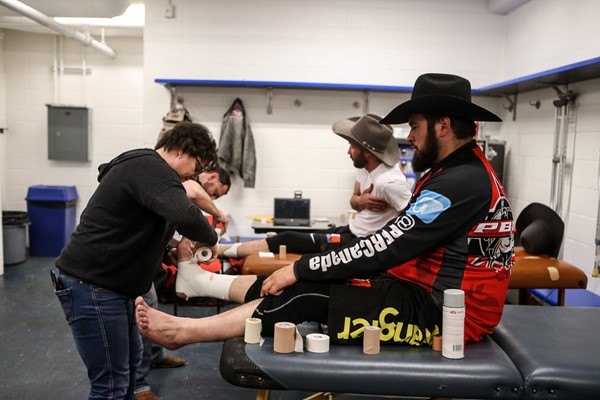 NEW YORK CITY – At any given PBR event, while all eyes are focused on the jaw-dropping feats of athleticism witnessed on the dirt by both riders and bulls, numerous event staff are hard at work behind the scenes working to ensure the high-level of production.
In the series "Behind The Chutes," PBRCanada.com will profile these staffers, giving fans an inside look at who is responsible for the operations of their favorite events, and how they came to the western sports industry.
In Volume 8, we catch-up with Executive Director of the Canadian Pro Rodeo Sports Medicine Team Brandon Thome.
PBRCanada.com: You have a crucial role with PBR Canada in leading the nation's sports medicine team. What made you want to pursue a career in sports medicine?
Brandon Thome: My cousin was an athletic therapist for the Saskatchewan Roughriders and I saw sports medicine as a way to still be involved in sports even though I couldn't play them anymore. This peaked my interest, and then I went on to take athletic therapy at the University of Calgary where I met three crucial members of the Canadian Pro Rodeo Sport Medicine Team.


PBRC: How did you come to work with the PBR?
BT: I have been working with our team since 2003, and back in the day our team used to cover a lot of the PBR events, especially when they went out east the first time. This was when I first started on the team. I worked and travelled to a lot of small town events and made connections and built relationships and eventually it became my time to help our team make the leap to the next level. In 2017 tragedy struck and we lost one of our own and it was shortly after that the Ty Pozzobon Foundation was formed and we were asked to be at every PBR in Canada and of course we said yes. Since then we have been building what we have today in the PBR Canada.


PBRC: You aren't alone in working a PBR Canada Monster Energy Tour event. What goes in to building your team for each tour stop?
BT: We try to take a team of four practitioners with us: two athletic therapists, one massage therapist and one chiropractor. Behind the scenes we have an athletic therapy, massage therapy and a chiropractor coordinator. Between us, we decided the schedule in February of who is going where depending on proximity to events and who can go. For the events out east, I try and find local practitioners to help us out and each year try to bring back the same group so our continuity of care can continue.


PBRC: How do you prepare to work a PBR event?
BT: Preparing for an event this year was going to be a lot different than in past years as we had to also include into it the baseline testing or retesting of concussions based on injuries at previous events. But we need to make sure that the supplies are packed and we have what we need. It is my job to make sure injuries are followed up on and if guys are getting on that they are safe to do so. If there are concussions that need to be re-tested we would have to do that as well before. Once we get to the arena it is go time to get everyone ready to ride.


PBRC: What are the crucial items you carry with you at all times during an event and why?
BT: We always carry with us gloves, gauze, tape and medical shears. You never know in our sport when there will be blood and whether or not a guy needs something taped right before he gets on or is running late etc. We carry scissors in case we need to get at anything quickly in an emergency. Then the paramedics are with us arena side in case anything major happens we work with them very closely. 


PBRC: What has been the biggest learning moment for you in your career?
BT: I have worked in pretty much every major professional sport except for basketball and the learning curve that I had to get past very early was how very tough this sport is and how tough these competitors can be. Their pain tolerance is high and their drive is even higher. Learning how to communicate to be able to get these guys to take the time off they need in order to do what they can was huge in trying to make a difference.


PBRC: In addition to working the events, you also help the riders with recovery and rehab plans. What goes into architecting these plans when riders often continue competing?

BT: The biggest obstacle is trying to get the riders to actually adhere to the program. I understand, that some of them have day jobs that they have to do and life can get in the way, but you need to put in the work to get the results. The next hardest thing is trying to figure out if they are going to compete, and how do they do that safely without too much more harm to said injury. Could be a tape job, a brace or continuing treatment right before they get on. Other times it is letting them know, it just may be not worth it. And for the most part this has been getting better over the years.


PBRC: You have witnessed a lot of amazing PBR moments. Which has been your most memorable, and why?

BT: I have witnessed a lot but in terms of riding, I think Josh Birks riding Slash at the Glen Keely Memorial will go down as one of the best rides I have seen live in Canadian bull riding. It was a great moment!


PBRC: What is your favorite city PBR Canada travels to and why?
BT: One of my favorite places we have been was the year we had the PBR in Kelowna. The city welcomed us with open arms and the place was packed, it was hot outside and everyone just wanted to party! It's usually the crowds that make it great.


PBRC: How have you been keeping busy during the shutdown?
BT: I have been spending time with my family. It has been nice that I have been home with my wife and my 14-month-old daughter and getting to spend so much time with them has been awesome and so unexpected. We have been continuing to fine tune our sport medicine program over the shut down so when we get the green light we will be ready to do! We are excited to hopefully get rolling again soon!