The Morning Line – Calgary – Day 2
By: Ted Stovin Saturday, January 25, 2020 @ 11:20 AM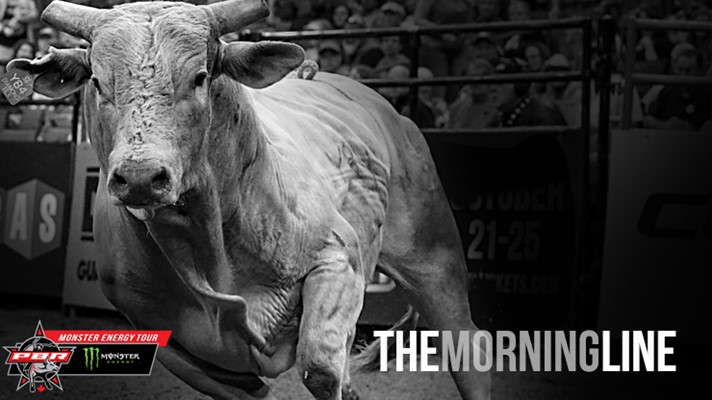 CALGARY, Alberta – With 17 rides in Round 1 from the Nutrien Western Event Centre I think we saw one of the most successful rounds ever in the history of the Monster Energy Tour as far as riding percentage goes.
The first ever 5 vs. 5 Showdown was a smashing success with Brock Raford taking the top spot at 89 points in a five man round that saw three qualified rides. Saturday's action will feature Round 2, with the Top 10 then advancing to the championship round.
We've also got a stacked championship round of bulls that includes five World Finals selections in: Catch My Drift (Two Bit Bucking Bulls), Happy Camper (Two Bit Bucking Bulls), Come on Over (Vold Rodeo), Tykro Pound Sand (Wild Hoggs/Corey Chmelnyk) and 2019 PBR Canada Bull of the Year Homegrown (Eno Bucking Bulls). Not only do we see those World Finals bulls, but also rising stars Rico, Timber Jam and Big City Nights from Vold Rodeo along with Rhythm & Blues from Flying High Rodeo Co.
Limited tickets remain for tonight, making this a can't miss event!
Let us know your thoughts and your picks for Calgary by tagging me @PBRCanada on Twitter.
RELATED: Click here for the full Saturday daysheet
Jared Parsonage vs. 54 Shock Rock
This bull has been ridden four times in eight outs. One of those rides was for 83.5 points by Nick Tetz in Edmonton last fall and one of the others was for 86 points by Jake Lockwood at the Ranchman's PBR in July. Most likely, however, is that Parsonage will be getting the book on this bull from Jordan Hansen, who rode Shock Rock from the Wild Hoggs in Fahler for 84 points last June. A black, horned bull, he's went both ways and should be perfect for Jared to go 2-for-2 on after recording an 84-point ride in Round 1 on Friday.  
Brock Radford vs. 434 Crank-it-up
Radford may have been bucked off in Round 1 but his 89 won the 5 vs. 5 Showdown. Crank-it-up from the Eno's actually went to Minneapolis last fall and was ridden there for 83.25 points by Alisson de Souza. The bull bucked off Parsonage in Coronation a few months before that. A black, brockle-faced, horned bull, he was taken to the whistle by Australia's Lane Mellers for 85.5 points in Czar Lake last summer too. Look for Raford to rebound in Round 2, but it's going to take a high score to get him back on one after so many rides on Friday.
Riley Gagnon vs. 504 Sick Rhymes
A Two Bit Bull from Josh, Tammy, Nevada and Montana Berezay of Magrath, Sick Rhymes has only been ridden once in 11 outs on record. That was his second trip last year, and his career on the stats. It was right here in Calgary in Round 1 with Jordan Hansen for 83 points. Black with a star on his head, he was kind of a flat spinner to the right away from Jordan's hand. Coming into this bout, he's bucked off 10 guys in a row. Gagnon was bucked off in Round 1 and will look to rebound on Saturday night.
Nick Tetz vs. Z1 Uptown Funk
Only ridden three times in 21 outs, Uptown Funk is not an easy bull to get by, but he was conquered a couple times last fall. Thor Hoefer II picked up 86 points on him in Saskatoon at the Canadian Finals. Maybe the bull got a little steadier in those last few trips, or maybe the intimidation factor just let up a bit once a couple guys started riding him. Logan Biever made a huge ride on Uptown Funk for 87 points as well in 2019 on the Canadian Monster Energy Tour in Abbotsford. He's a big bucker, but it's the kind of bull that will make Tetz a hero in front of his hometown crowd on Saturday night. He's also the kind of bull Tetz needs to get by to get himself to the next level. There's nowhere tougher to ride than in your hometown however it didn't phase him on Friday. He put up a score of 83 points which tied for eleventh. Another score would likely send him right into the Top 10 to contend for the Calgary Classic event title.
Dakota Buttar vs. +212 Mish Mash
Not looking too deep into things I think this is the most experienced bull in the Round 2 pen. It's actually a rematch from Day 1 in Saskatoon from the 2019 PBR Canada Finals where the two danced for 86 points to win the round. Advantage Dakota here against the veteran bull. With only seven qualified rides in 29 outs, this bull might be getting a bit easier to ride in his fifth pro season. Taking a weekend off from the Unleash The Beast, Buttar made it count for an 85.5-point ride in Round 1 and split of fourth on Friday.
The conclusion of the 2020 PBR Monster Energy Tour Calgary Classic gets underway at 7:30 p.m. MST on Saturday, January 25 at the Nutrien Western Event Centre at Stampede Park. Tickets are available at Ticketmaster.ca and fans can watch LIVE, at RidePass.com or via the mobile app.
Follow @TedStovin on Twitter