Girletz Forecasts Strong Showing from a United Team Canada at 2020 PBR Global Cup USA
By: Covy Moore Friday, January 31, 2020 @ 3:35 PM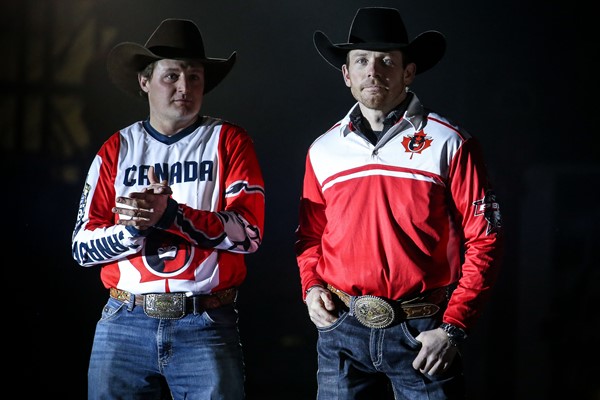 CALGARY, Alberta – If the performance of the Team Canada riders competing at the season-launch PBR Monster Energy Tour Calgary Classic was any indication of what is to come at the 2020 PBR Global Cup USA, the bull riding world had better be ready. 
The Calgary event was the last time anyone will see Team Canada ride in competition until they step foot inside AT&T Stadium in Arlington, Texas on February 15-16.
Dakota Buttar, Jake Gardner, Zane Lambert, Jared Parsonage and Brock Radford went a combined 14-for-16, not including re-rides. In addition to Buttar capturing the event win, Parsonage and Lambert finished tied for third and fifth, respectively. 
RELATED: Dakota Buttar Wins PBR Canada Monster Energy Tour's Calgary Classic
Comparatively, at the 2020 WinStar World Casino and Resort PBR Global Cup USA, presented by Monster Energy, will have each country will field a national team of seven riders, one of whom is an alternate, and attempt 16 bulls across the two days of competition.
And while the bull power at the event akin to the "Olympics of Bull Riding," will be a little more rank, assistant coach Tanner Girletz thinks they have the team to win.
"I want people to know that the nine guys we are sending down, including Scott and I, we bleed red and we are all proud Canadians," Girletz said. "We are coming there to lay it all on the line. These guys are all 110% behind one another.
"I think this could be life changing for some of these guys. It's unbelievable how much these guys want it."
Girletz attended the sold-out Calgary event on January 24-25, alongside head coach Scott Schiffner.
The event then kicked off a week of team building activities.
"If we get this team feeding off each other at these events in Canada and around North America before Global Cup, we can have them firing on all cylinders by the time we get there," Girletz added. 
The biggest aspect leading up to the event, according to the Didsbury, Alberta, resident is making sure the guys on the team know they were picked because they can compete with the best. 
"We are just going have to get into it, hair straight back kind of a deal and go for it. All these guys ride good enough to compete with anyone in the world, the main thing is making sure they know they do. 
"There are a few guys who might be on the lower end of the confidence side, and other guys who absolutely scream confidence. They will all come together and help one another and feed off each other."
With the format of the Global Cup once again undergoing a change, with each team now only fiedling 7 riders, for eight bulls daily, Girletz says strategy has been a hot topic between himself and Schiffner. 
"There are two guys we are going to lean on heavily to get those rank bulls rode when it comes down to the bonus round," Girletz explained.
"We are thinking about maybe keeping a guy or two fresh for those rank bulls in the bonus rounds. If we can use all seven of those guys, I don't see why we wouldn't."
Following the event in Calgary, Team Canada met in Edmonton for a team building activities, which began with a trip to Ninja Fit, an ultimate ninja style fitness facility, then wrapped up in the most Canadian way possible -- hockey. 
"We did some team building exercises there and cheered each other on. We all really saw how far we can push one another and we are all a bunch of sore buggers today," Girletz remarked. 
"We went to the Battle of Alberta (between Calgary Flames and Edmonton Oilers). When I was coming up with team building things, there isn't anything more Canadian than I could think of than a hockey game."
The following morning the team took to the ice with a few of the players from the Edmonton Oilers, and toured the team's facilities. 
As a former champion bull rider himself, Girletz has his mind set on one thing and that is bringing everything to the table he can to give Team Canada its best opportunity to win.
And what Girletz brings to the table was evident this week with the team building opportunities he laid out for the group, and his unique ability to catalogue and categorize bucking bulls. 
"I have always been a team morale kind of guy, playing hockey growing up I was always a captain or assistant captain of the team. I have always tried my best to keep people up and positive and going," he said.  
"I have developed a quite a wide knowledge base on bulls, and I think I will be able to fit guys with their bulls down there pretty good."
The 2020 PBR Global Cup USA takes place at the AT&T Stadium in Arlington, Texas on Feb 15-16. Get your tickets now at PBR.com, or follow along with the action on CBS and Ridepass.