Buttar Remains Perfect in Canadian Competition with Win in Calgary
By: Kacie Albert Wednesday, January 29, 2020 @ 3:17 PM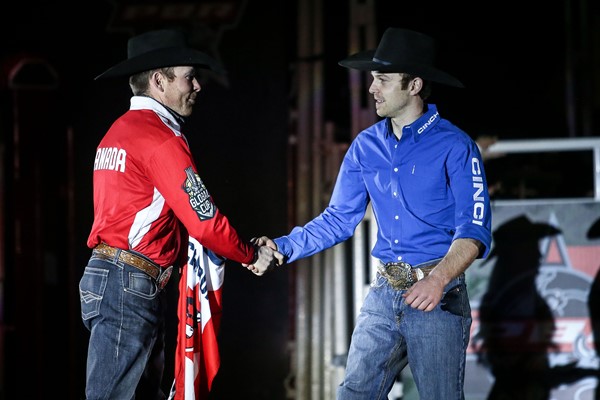 OKLAHOMA CITY – Thus far in 2020, three PBR events have been held in Canada.
Of those three events, three-time Glen Keeley Award winner Dakota Buttar has entered two.
He's won them both.
"I think I've got to keep doing what I'm doing," Buttar said of his recent dominance on home soil.
"Going and taking it bull for bull. And when I get those good draws, I've got to use them like I should and not get too far ahead of myself. Just stay calm and keep having fun."
Buttar began his 2020 season at the second Touring Pro Division event of the season in Lloydminster, Saskatchewan, going a perfect 2-for-2 to win the Lloydminster PBR Winter Classic.
RELATED: Dominant Dakota Wins Lloydminster PBR Winter Classic to Claim No. 1 Ranking in Canada
The victory, which included an 85-point ride on Obvious Enterprises Savage Sensation and 89-point trip aboard Kubota's Big Orange Tractor, earned him a crucial 350 Canadian national points, propelling him to the No. 1 ranking in the nation.
And his momentum continued to roll last weekend at the season-launch Monster Energy Tour event in Calgary.  
RELATED: Dakota Buttar Wins PBR Canada Monster Energy Tour's Calgary Classic
Buttar's march to his career-first Monster Energy Tour win began in Round 1, when he covered Scarecrow for 86 points, tying for the fourth best score of the round.
"I didn't know anything about him coming in," Buttar explained of his Round 1 draw. "But that's not always a bad thing. If they're coming, there's a reason why they're here, they've showed some kind of potential.
"He felt pretty good, just a good way to get things rolling on a nice bull like that and got some points and a little bit of money in that first round, so that helped."
Much the opposite of his Round 1 draw, Buttar faced a familiar opponent in Round 2 -- Mish Mash.
In their one meeting on record, Buttar won Round 1 of the 2019 PBR Canada Finals with an 86-point score aboard the Vold Rodeo bovine athlete.
Inside the Nutrien Western Event Centre, Buttar again made the 8, this time for 85.5 points.
While the marks did not win the round, the score, however, was good enough to propel the Kindersley man to the top of the event aggregate, giving him the first pick in the championship round draft.
With the first selection, Buttar architected yet another rematch, choosing World Finals bucker Tykro Pound Sand.
At the 2018 PBR Canada Finals, in their first meeting, the 27-year-old rode the Wild Hoggs bull for 87.5 points.
"When I saw the short round list that's the one I wanted in there," Buttar said of Tykro Pound Sand. "I got on him a couple years ago and I rode him, but he had me loosened up at the end so I didn't ride him as strong as I wanted to. "
Fast forward to present, and bringing the sold-out, Calgary crowd to its feet, Buttar covered Tykro Pound Sand for a matching 87.5 points, propelling him to the event win at the Calgary Classic.
 "I knew what he felt like before and I knew what his deal was," Buttar explained. "I just wanted to make sure I waited on him. I didn't want to get too excited, because he'll drop you in there. I was patient, and let him keep packing me around."
"About halfway through there he'll start moving ahead quite a bit and if you're really pumping over there, he can drop you in," Buttar said further of the bull. "Or if you're not there enough, he'll get you to the outside and throw you out. You've got to be right in the middle and patient, but you've got to be there too at the same time."
For his efforts, Buttar collected $5,373.70, in addition to 535 Canadian and 30 world points.
Additionally, Buttar covered his first-ever 5 v. 5 draw, riding Hanna Motors Homeboy for 86 points to finish second in the special round, and net an additional 150 Canadian points and $1,500.
As a result, Buttar extended his lead atop the national standings, now 582.5 points in front of No. 2 Brock Radford.
On hand to see Buttar's win on the Monster Energy Tour was a record-setting crowd at Stampede Park, including Saturday night's sold-out fandom.
"Last time I was there, the event wasn't that big," Buttar reflected. "So to see that building sold out like that, it was pretty awesome to see not only our sport growing with riders, it's pretty good to see that many fans showing up and expanding that way, so that was pretty cool.
"And they were pretty in to it, so that's good to see, fans getting excited about it like that. It only makes things bigger for us when we're getting that kind of exposure."
Also riding in Calgary alongside Buttar were four of his 2020 PBR Global Cup USA Team Canada riders – Jared Parsonage, Zane Lambert, Radford and Jake Gardner. With both coaches present, Scott Schiffner and Tanner Girletz, the team members shined, with Parsonage and Lambert both finishing inside the Top 5.
"I think this weekend really helped us, because everyone on the team that was here rode awesome," Buttar said. "It just gave us a whole bunch more confidence and that's going to be good for us rolling into Arlington because there's not really anything in Canada until then.
"We ended this weekend on a good note, so everyone's going to be rolling high going into Arlington. That's good, that's what we need."
And of the group, Buttar will ride in the strongest wave of momentum, now 6-for-6 on Canadian soil in 2020.
"In our sport, you can't get too far ahead of yourself there's a lot of factors that can play into things," Buttar said. "But I am pretty set on my goal for this year and I am going to stick to it and just keep plucking away at my plan for the year."