Team Canada Looking to go From Worst to First at Global Cup
By: Justin Felisko Sunday, February 16, 2020 @ 10:07 AM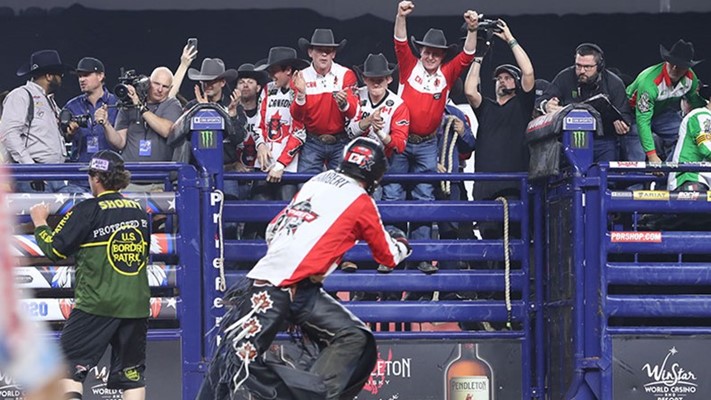 ARLINGTON, Texas – All week long, and in the months leading up to the 2020 WinStar World Casino and Resort Global Cup USA, presented by Monster Energy, Team Canada coach Scott Schiffner and his bull riders continuously said that the team's last-place finish at the 2019 Global Cup was a thing of the past.
Still, walking back into the site of last year's house of horrors could have played mind games with Team Canada on Saturday night.
It was inside AT&T Stadium that Team Canada went 3-for-18 and finished in last place.
Two-time PBR Canada champion Zane Lambert has not forgotten about that disappointment, and he made sure to set the tone for the Canadians in Round 1 on Saturday night.
Lambert began the night with 87.75 points on Artic Assassin as Team Canada emerged from night one in Arlington sitting in second place (3-for-8) and as a strong contender to win the 2020 Global Cup USA on Championship Sunday.
Team Canada is only one ride (87 points) behind the Team USA Eagles for the event lead heading into Round 3. Fans can watch all of the action Sunday on CBS Sports Network at 8 p.m. ET and on RidePass at 2:45 p.m. ET.
RELATED: Championship Sunday Global Cup daysheet
"We can't afford to mess up here," Lambert said. "We don't want to take anything for granted. We want to make sure we ride our bulls proper, and prove that we are here. Last year was pretty hard on me in this building. I wanted to come in and prove myself, ride good and show everybody I can ride. That is what we are here doing. We are here to represent.
"Last year hurt all of us, and we know we ride better than that. Coming in this year, we are more hungry."
Jake Gardner made it two consecutive rides for the Canadians when he converted on Medicine Man for 87 points in Round 1.
Jordan Hansen then helped Canada earn the top pick for the Bonus Round draft when he rode Apocalypse for 85 points.
Schiffner was happy with his team's effort, but he knows they left plenty on the table in the long round.
"Ups and downs," Schiffner said. "We started out real good, and it kind of played out the way we expected it to. Then in the middle there, a few got away from us that dang sure shouldn't. I don't have to tell the guys that. They know it. They are more disappointed than I was, for sure. Jordie then come back and made a good ride and everything went our way."
Canada could not maintain the lead in the Bonus Round, though, as Foghorn Leghorn bucked off Hansen in 4.25 seconds, while Shay Marks could not convert on his re-ride bull, Sitting Bull (3.12 seconds).
Two-time World Champion Jess Lockwood pushed Team USA ahead of Canada with his 88.5-point ride on Red Dawn in the Bonus Round.
"In the bonus round, we kind of let it slide away," Schiffner said. "The thing is, that is bull riding, and I refuse to make excuses for the guys. And they don't make excuses for each other. We will come back and go through this set of bulls and try and redeem ourselves."
Lambert added, "We can't slack off now. We have to keep the gas going and not really lighten up. Just focus. I am going to try and carry that on to the other cowboys and make sure they don't slip up either."
Schiffner is in his first year at the helm of Team Canada, and he has brought a no-bullshit mentality to the team. Accountability continues to be important to him, and he is expecting his squad to be that much better on Championship Sunday.
"The way we look at it, and people may think I am hard on it with this, but we are one bull behind and we should be three ahead," Schiffner said. "That is the way we have to look at it. We can't accept mediocre. I won't, and I know the guys in there won't."