Shay Marks Readies for Global Cup Debut
By: Covy Moore Friday, February 14, 2020 @ 1:59 PM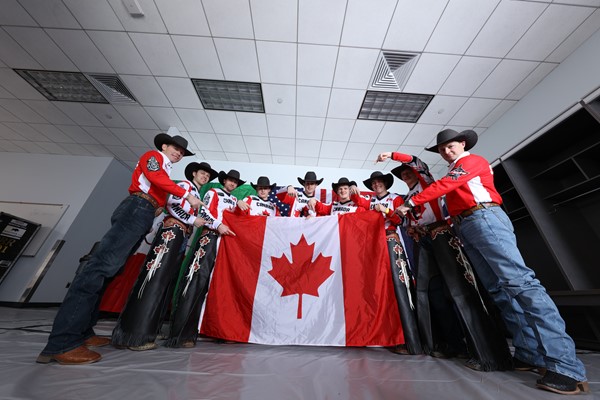 CALGARY, Alberta – Way back in April of 2014, PBR Global Cup Team Canada member Shay Marks was invited to the Billings, Montana Unleash the Beast. 
It was his third PBR sanctioned event for the then 18-year-old Sunnybrook Alberta native. 
Since that first experience under the bright lights of the league's top tour, Marks has experienced everything this sport can deal competitors. 
He has won seven events, he has travelled all over North-America, and has even fought back from surgery to become a title contender in 2019, leaving the decision up to the final event of the season in Saskatoon. 
"It was huge once it all settled it," Marks said of being notified he was picked for Team Canada. 
"It means they believe in me and that I am one of the top Canadians. It means a lot and is a big boost for your confidence and shows that what you are working for is paying off."
As each of his teammates have admitted leading up to the 2020 PBR Global Cup USA in Arlington, Texas, this weekend, Marks is one of the grittiest riders in Canada. 
"I think that I bring a lot of grit and try and I really enjoy playing that team player role and cheering your team and teammates on."
The opportunity for Marks to ride in a team environment alongside Canadian Rodeo Champions Dakota Buttar and Jordan Hansen, as well as PBR Canada Champion Zane Lambert is one that Marks will be relishing, but admitted he thinks each member of the team has something to offer. 
"I wouldn't single one guy out, I feel like I can go to any guy on this team and find a lot of really good guidance. They are all very experienced and they know what they are talking about, especially our veteran guys," Marks said.
"Those guys are catching things that we younger guys miss."
The overwhelming topic of conversation for Team Canada has been its coaching staff in Canadian bull riding legend Scott Schiffner and PBR and Canadian Rodeo Champion Tanner Girletz. This will be the first time in the four-year history of Global Cup that Team Canada has had a new coach, replacing Aaron Roy. 
"[Schiffner] definitely has his ups and downs, but he pushes us all to be better and has his expectations as well. I think it's really good to have these guys as coaches," Marks said.  
"[Girletz] knows the bull power and literally has been studying it. He is going to do a great job picking out the matchups that will do best for this team."
As for those matchups and like every guy in the locker room, Marks wants a shot at Smooth Operator. But also added in the consistent, and flashy, bull Chiseled.
"For me it would really be Chiseled or Smooth Operator, those are two bulls that a guy can be 90-plus points on, and I think I would have a good shot in getting those bulls rode. It would be a massive opportunity to get on either of those bulls, and then to ride them and help this team out would be huge," he said. 
"[Chiseled] goes right there to the right, which is into my hand and really bucks. He looks fairly rider friendly for how hard he bucks and with how flashy he is."
As for his own expectations, Marks says that it likely isn't different from any of the 41 riders walking into AT&T Stadium this weekend. 
"The plan is to win. I think this team has everything it needs to do so. That is what I would like to see. As long as everyone tries and does their part, I think we can win."