Schiffner Sees Bright Future for Team Canada at Upcoming Global Cups
By: Covy Moore Wednesday, February 19, 2020 @ 9:09 AM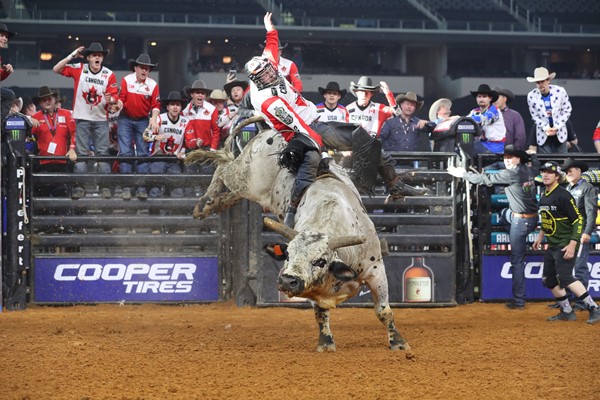 CALGARY, Alberta - Team Canada entered AT&T Stadium in Arlington, Texas and quickly reminded the bull riding world that Canada is not only on the map, but ready to win the PBR Global Cup. 
Recording the first two qualified rides of the event quickly, and maintaining a lead over the entirety of the first day's competition up until the very last out in the bonus round, Canada had momentum. 
Head Coach Scott Schiffner said the plan with Assistant Coach Tanner Girletz was to play the momentum game early and set the team up for success. 
"We knew this would be a momentum team whether we wanted it to be or not, so we arranged the matchups to set it up to get those scores right away," Schiffner said. 
"We had some tough luck in the middle, and ended with Jordan [Hansen] on a really good bull. It was good to have momentum on our side and it was good for me to see the other riders and the fans there take a step back and say Canada does belong here.
"In the bonus round a couple got away from us, but they got away from a lot of guys."
But those three qualified rides from Zane Lambert, Jake Gardner and Hansen would become the only three rides the team would log for the entirety of the event, going 0-8 on the second day of competition.
"Heading into Sunday we were very confident," Schiffner explained. "It was one of those things where a couple got away at the beginning and that is tricky. Anyone who has rode bulls knows it's all a momentum game. And when it's this big, it's super highs and super lows. When you let one slide away from you, you aren't just disappointed yourself, but you take that on as letting a whole team down."
"In the next Global Cups I think that is our biggest stone to climb is getting those guys to the point where we aren't such momentum swingers, everybody is there to do their job, and if one gets away, I need the next guys to rise to the occasion, not go down with them," Schiffner continued.
"That is the biggest thing. The talent is there, the ability is there. These guys are mentally strong enough to do this, Tanner and I just need to work with next year's team that much harder on that. I am not saying anything that anyone doesn't know, we just need to make sure we address it as a team."
Team Canada would end the event fourth overall with a 3-for-16 record, behind eventual winners Team USA Eagles (6-for-16), Team Australia (6-for-16) and Team Brazil (5-for-16), collecting $67,900 for the finish.
Interpersonal issues were a subject of conversation in Canadian bull riding ahead of the Global Cup, but Schiffner says he was proud of the effort each member of the team put out, and that if there are any issues among the team, they were put aside to battle for Canada this past weekend.
"Before we showed up there all differences were put aside, and we showed up as a united team," Schiffner said without hesitation. "It really showed."
"At the end the results were disappointing for everybody and I take it solely on my shoulders. It's unacceptable where we ended up. It's not a lot different from last year when I wasn't a part of it. You can't change the past. We learned from it, and we will move forward and on to the next one."
"This whole team stepped up."
Schiffner spoke about the trials and tribulations the team went through, and individually spoke about each riders strengths in this format. But he was also reflective, admitting he identified some ways he can be a more effective coach for the team if he is chosen to do so in the future. 
And that lesson was taught in a high intensity, high pressure moment toward the end of the second day of competition.
Awarded a re-ride after being tossed about in the chutes, Dakota Buttar was told that he wouldn't be getting on the re-ride by Schiffner, who identified along with Buttar the strategic advantage they could deploy by putting a fresh rider on his bull, a rule laid out by competition ahead of the event. The call, however, wasn't allowed.
"We were pulling Dakota on his fourth bull of the day. He had already had some trouble in the chutes, and re-rides and in a building like that there is a lot more to it. It's not like you get a re-ride and they load him up right there, he had to run 3/4 of a mile to get on another one," Schiffner said.
"Production got in the way of that, we knew the rules and they didn't know them and they forced us into this situation. My hat is off to Dakota, he did get on that fourth one and it didn't go the way we all wanted, but he was 100% gassed, and sore and hurt and we should have been able to roll an alternate into that position.
"The biggest thing for me, I need to turn it up a notch. I fully had this team's back 100%, but I regret not totally fighting that whole deal with Dakota. Whether that changes anything or not, I feel that's a deal next time that won't happen like that."
One of the biggest threats Team Canada had going into this year's edition of the Global Cup was Girletz. The Canadian Champion bull rider, turned assistant coach knows bucking bulls like no one else. And Schiffner says that they felt the strategy of the weekend went very well.
"We felt we had a good handle on strategy. This would be half the team it is without Tanner. We bring out the best in each other, the bulls are his kitchen and I don't try to cook when he is in there. He had the call on that, nobody else knows bulls better and I was proud of have him in my corner."
While each rider showed their value to the team in their own way during a tough weekend in Texas, Schiffner said the performance that Gardner put out on 2019 PBR World Champion Bull Smooth Operator solidly put the British Columbia native on the map. 
"Jake opened everybody's eyes. I saw something in him as a bull rider a year-and-a-half ago. We had a lot of eyebrows raising, not just in the PBR world but in the rodeo world in Canada when we selected Jake for this team," Schiffner said. 
"A team environment like this suits Jake to a 'T'. He is a super hyped guy, but when he has guys in his corner it's that much easier for him to excel. And he did. He was two tenths of a second away from letting the world really know who he is, but they already know. The sky is the limit for someone like him."