Radford Eyes Global Cup after Top-10 Finish at Iron Cowboy
By: Covy Moore Tuesday, February 11, 2020 @ 6:11 PM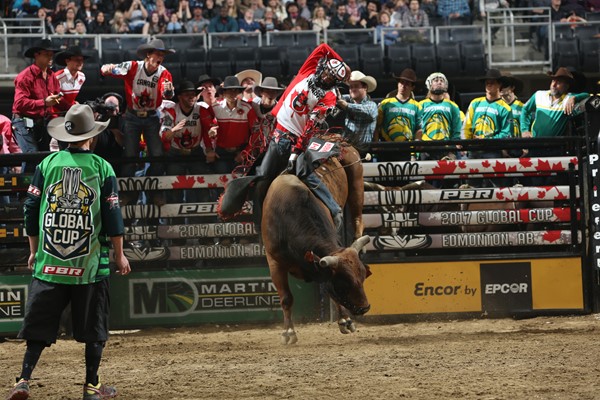 CALGARY, Alberta – The 2020 Unleash The Beast Iron Cowboy, presented by Ariat, at STAPLES Centre in Los Angeles was an up and down event for De Winton, Alberta's Brock Radford. 
He began the event on a high note, riding Powerstroke for 86.75 points, tying for fourth in Round 1. 
RELATED: Radford Looking to Become First Canadian to Win PBR Major
However, Radford bucked off his second round bull, making his chances to push forward in the elimination style Iron Cowboy format a lot tougher. 
"I just made mistakes in the second round, and those are the events where you have to be perfect and ride all your bulls, ride what they put under you," Radford said.
Heading into the final bull of the second round, Radford was holding on with his single score and admitted he thought he had a chance, until he saw who that final rider was. 
"I kept changing my mind. I took my tape off and was watching and thought well maybe there is a chance, so I re-taped," Radford explained.
"I am not ever betting against those guys, they are all proven and are the top guys in the world. You don't ever really bet on yourself with one score at these events, it's just not safe."
"It kept getting closer and closer. I actually walked back to the dressing room early when I saw that it was Jess [Lockwood]. Lockwood is the last guy out with one rode already, there is no way he will fall off."
For his efforts, Radford, however, was able to scratch together 11.5 world points, which launched him to No. 31 in the world standings. 
"My number one goal is World Finals again this year, but it is only February right now. Taking it one weekend at a time, we will let the rest take care of itself."
This coming weekend, Radford, along with eight of his countrymen, will head to AT&T Stadium in Arlington, Texas to represent Team Canada for the 2020 WinStar World Casino and Resort PBR Global Cup USA, presented by Monster Energy.
RELATED: Canada's Best Bull Riders Travel to Dallas for 2020 PBR Global Cup USA 
This year's edition of the Global Cup will mark the fourth time Radford has been named to the team, and third time he will ride for the national contingent, missing the 2019 PBR Global Cup USA due to injury.
Radford says the dynamic on the team this year is very different from past experiences mainly due to the new coaching staff in Scott Schiffner and Tanner Girletz.
"I think we have a good balance this year," Radford said. "I expect Schiffner to be intense. He doesn't like to lose. If you screw up he is going to tell you about it. He really just expects the best out of each of us. It is going to be really good this go round."
With six of the seven team members having PBR Global Cup experience, all eyes will be on Team Canada rookie Shay Marks, along with Jake Gardner, who has competed for the national team just once prior in Edmonton in Nov. 2017.
Radford, however, feels they are the grittiest members of the team who can be counted on for a lot more than just getting bulls rode.
"Shay isn't a rookie by any means, he is a bit older and was out for a while with his shoulder in 2018, but he is only gaining steam each and every day he gets on bulls," Radford said.
"He never quits. That guy will hang, shake and rattle before he comes off a bucking bull."
"[Jake] is still maturing as a bull rider and is really finding his groove. That guy gets better each event. Both of these guys are great assets to this team, they are both very cowboy, they are gritty. They will take those bulls that nobody wants, and they will go ride them.
"They will be key to this team's success."
It is no secret that Radford is a high intensity rider, being quoted by teammate Dakota Buttar as the "Chase Outlaw of Canada," and besides his ability to ride rank bulls Radford thinks his intensity will be a big asset to this team.
"I am little more revved up when it comes to pre-game stuff, I get my motor going and get other guys going. I like to bring the intensity to the team and help fire up the guys and get everyone ready to go."
Global Cup action gets underway at 6:45 p.m. CST on Saturday, February 15 and will conclude on Sunday, February 16 at 1:45 p.m. CST.
RidePass coverage will begin at 7:45 p.m. EST on Saturday, February 15 and at 2:45 p.m. EST on Sunday, February 16.
On Sunday, February 16 at 12:00 p.m. EST, check your local listing, CBS will televise a one-hour highlight special from the opening night's bonus round. Also on Sunday, starting at 8:00 p.m. EST, CBS Sports Network will air all the action from the final day of competition, preceded by a 30-minute B&W Hitches pre-show.
Tickets for the 2020 WinStar World Casino and Resort PBR Global Cup USA, presented by Monster Energy are on sale now and can be purchased at the AT&T Stadium Box Office, online at ATTStadium.com or SeatGeek.com, or via the phone at (800) 732-1727.
For more information on the event, including premium experience and elite seats offerings, visit PBR.com/GlobalCup.
Be sure to stay tuned to PBRCanada.com for the latest event information, and follow the team's journey on Facebook (PBR Canada), Twitter (@PBRCanada), and Instagram (@PBRCanada).