Lonnie West to Return from Injury at Monster Energy Tour Stop in Lethbridge
By: Covy Moore Saturday, February 29, 2020 @ 10:39 AM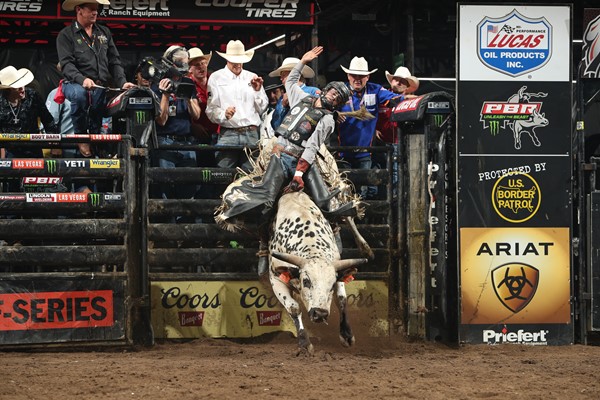 CALGARY, Alberta – Danger is a reality of bull riding, and injuries are a regular part of the sport -- even when you are winning. 
In late 2019 at the Celebration for the Two Bit Nation PBR in Magrath, Alberta, Lonnie West was on a roll
Entering the event he was on a summer drive that included wins in Oyen, Alberta and Coronation, Alberta. 
Then the course of his season took a sharp turn in Magrath.
After riding his championship round bull Fidget Spinner for 83.5 points, West injured his left shoulder on his dismount.
Despite the injury, however, West won the bull riding.  
"My last two injuries have been my shoulders. I have dislocated both my shoulders over the last two years," West explained.  
"I have avoided surgery, which I don't know is good or bad, but missing the bull riding and stuff has set me back from accomplishing my goals."
West rolled forward with the sore shoulder, until he flew down to Washington D.C. for the Unleash The Beast event in nearby Fairfax. It was there where Dr. Tandy Freeman told West it was dislocated and should be addressed. 
"Before Magrath it was completely fine, never injured it before," West recalled.
"It was on my dismount, I landed on it. I ended up winning that bull riding, but ever since then I have fought with it, not really knowing the extent of it. I knew it was bad, but I didn't want to tell myself that. I was qualifying for all the Finals at the time. I had a really good final push." 
"I didn't want to accept the fact that I was going to miss that stuff," West continued.
"You work your whole season around making finals. I was down about that, I put it to the side and rode with it, taping it down. It just got worse."
After the Canadian Finals Rodeo in November, West took the necessary time off to recuperate.
And that time away has motivated him like never before, eager to accomplish some of his career goals in 2020. 
"It has lit the fire in me to go accomplish those things that I want to accomplish. It has been nothing but fuel for my fire for this season," West said. 
"A lot of it has to do with sitting at home and thinking and reflecting on what you could have done if you didn't get hurt. You come back to answer all those questions and ditch the doubt you may have or other people may have about you. You want to come back and lay it all on the line, you don't have anything to lose when you come back from an injury."
And the comeback is on.
West's first PBR event back will be the PBR Canada Monster Energy Tour stop in Lethbridge Alberta on March 6-7.
While he admits every bull riding is a good bull riding for someone who loves the sport as much as he does, West says there isn't anything comparable to the Monster Energy tour, and he wants to set the bar high. 
"That Homegrown of Eno's, I'd like a rematch with him. He was one of my first ones back after another injury last winter, I got on him at Marwayne, Alberta.  I wouldn't mind getting on him and really set the bar high for my season. He is a big bucking bull, and was really good all year," West said. 
With the time away, West hasn't lost a single ounce of confidence, and is coming back a stronger rider, both physically and mentally.
"A guy's career is short. You need to win as much as you can as fast as you can. I haven't done what I want to do yet. It's time to quit pissing around and get shit done," West said. 
"I don't want to miss out on those big events, and things like a chance at the Global Cup. Things like that can change your life and your career and your legacy. I don't want to miss out on any of that stuff.
"Any event I miss is a missed chance at winning."