In the Bull Pen with Five-Time Stock Contractor of the Year Nansen Vold
By: Covy Moore Wednesday, February 26, 2020 @ 11:33 AM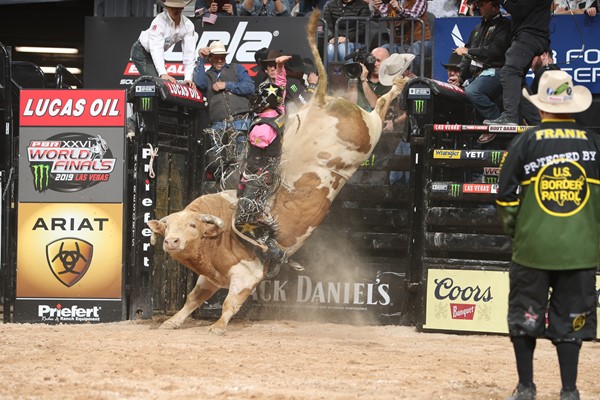 CALGARY, Alberta – If you recognize the name Cooper's Comet or VJV Nailed from the elite PBR Unleash The Beast, then you should also know the name Nansen Vold. 
From Ponoka, Alberta, Vold hails from one of the most recognized families in western events in the entire industry, but luckily for the PBR world his focus is bulls.
"It was something we did as a family from day one," Vold said. "I got started in this when I was young, I got working with my uncle and it just progressed from there. You build such a love for these animals that you want to be a part of it every day." 
"These animals mean everything to us."
When a bucking bull shows incredible consistency and athleticism in Canada, interest from contractors stateside is swift.
And that is what happened with the aforementioned Cooper's Comet and Nailed.
"They were litter mates, while they didn't come from the same string, I called them the two yellow whales. They went south together and bucked at the top level," Vold explained. 
"Nailed has been nothing but an outstanding animal that came from a guy east of Ponoka. I bought him as a calf. He is still going today, he is 10 years old. He was at the Global Cup last week, bucking off Jess Lockwood. It's pretty amazing to see that kind of stuff come from a little farm in Canada and be on the world stage of bull riding."
Out of bucking bull operations in Canada, Vold is one of the biggest.
And while he brings dozens of new bulls each year to different events all over western Canada and the United States, Vold still maintains that his operation is a family affair with his young son Jaden, daughter Cheyanna and wife Jenn. 
"It's always good to have somebody backing you up in anything, it's not just one man's job, my whole family is involved," Vold said. 
"It takes a lot of people to get this done every day. Jaden has loved it from day one, he is my video man at the house when we are bucking bulls. Hanging flanks, he will be doing this job in the next few years so maybe I can take a step back and look at things from another angle."
As for what bulls to watch out of the Vold pen in 2020, Nansen has his eye on a few bulls that are coming into their own in the arena. 
"522 Vertigo Spy is a bull that came out of Blaine Fyson's cow herd. Then we have another one called 540 Swagger that come from the Nelson's in Nanton area," Vold noted. 
"Those are two little bulls that aren't so athletic in the kick department, but they are fired up and have a lot of action in their spin.
"Speed is a real thing for these two. You will see them in the short go likely coming up in Lethbridge."
Vertigo Spy started his PBR career in 2019, and ended the year with 10 trips.
Ridden just three times, the bovine athlete had a standout performance in Pendleton, Oregon, teaming up with João Ricardo Vieira for a monstrous 91.5-point score. 
Meanwhile, Swagger boasts similar stats, ridden three times in 11 trips in PBR competition last year.
With a finite group of championship round-caliber bulls in Canada, rivalries and good match-ups become very evident over the course of a grueling PBR season.
"Brock Radford is a good one to have, and Shay Marks can showcase a bull's strength really well. Then there are guys like Jared Parsonage, he is a great guy and a good draw, but he is a tough hand to get your bull past," Vold said. 
"Brock has loved 411 Grey Tower from the start. I think he has been 88 or 89 on him a few times. Zane Lambert always had 008 Heavens Basement, he was a menace for Zane. I think he got on him eight times in total and rode him once.
"Not sure what will happen matchup wise this year for bulls, but Lethbridge will give everyone a good idea of some rivalries we can expect."
The 2020 PBR Canada Monster Energy Tour continues on March 6-7 in Lethbridge, Alberta, at the ENMAX Centre for the South Country Cop-OP Showdown. Action gets underway at 7:00 p.m. MST, and tickets are still available at www.enmaxcentre.ca, via phone at (403) 329-7328 or at the ENMAX Centre.